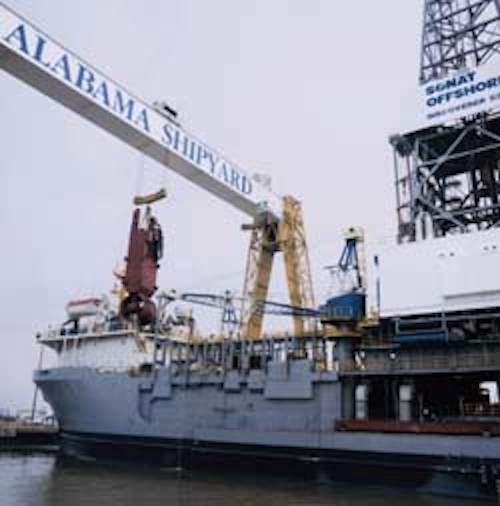 Michael Crowden
Houston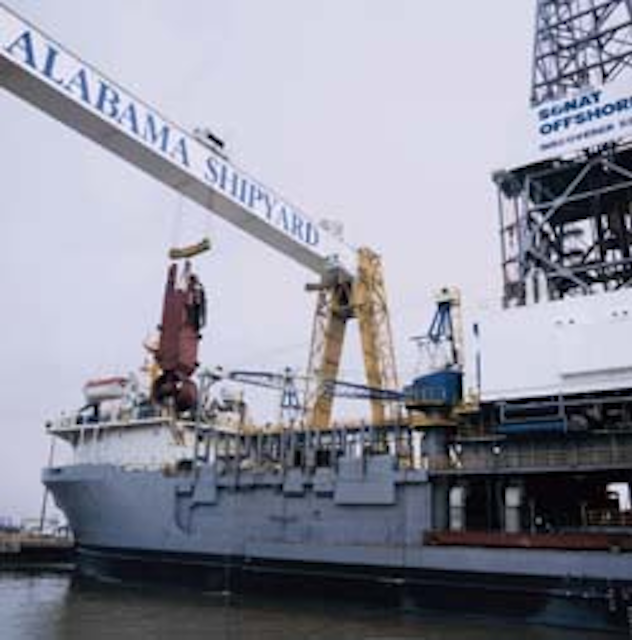 Sonat's drillship Discoverer 534 was recently outfitted at Atlantic Marine's Alabama Shipyard to drill at the record depth of 7,800 ft in the Gulf of Mexico.
---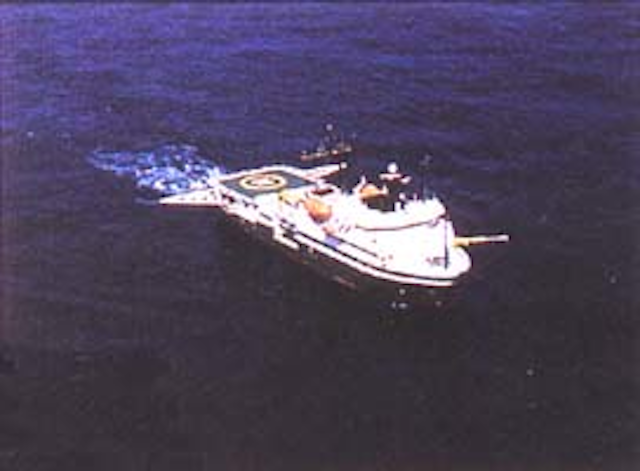 Western Geophysical, using the Western Spirit (shown here), recently completed its 705-block Mega Survey in the Gulf of Mexico, the area's largest 3D spec survey to date. Ocean-bottom cable technology was used to acquire 17,000 sq km of the seismic data.
Gulf enthusiasm prominent at OTC
Enthusiasm was reintroduced at last month's Offshore Technology Conference in Houston. Prompted by the resurgence of activity in the Gulf of Mexico, conferees were markedly enthusiastic about the industry's prospects.
"To think that it was only four years ago when the Gulf of Mexico was sadly being dismissed as a mature, drilled-up basin. How wrong this perception was," said Matthew Simmons, president of Simmons & Co. International and chairman of the National Ocean Industries Association. "Today the Gulf of Mexico stands out as an offshore technology showcase, where every bit of genuine high technology used to produce energy from the ocean is now being employed," said Simmons. "In fact, what cynics described as the Dead Sea only four years ago has suddenly risen from the ashes of 1992 to become an offshore Silicon Valley."
OCS Sale 157 sets record
Aparently drawn by deep-water royalty relief measures, oil companies responded in record fashion in late April to the federal government's offer of leases in the central Gulf. OCS Sale 157 saw a record 924 tracts draw a record 1,381 bids. That's the most bids offered in a federal lease sale.
In 1970, 1,043 bids were offered for 127 tracts. It is the highest number of tracts drawing bids. Atotal of 684 tracts drew 931 bids in March 1988. The MMS reports that Sale 157 drew high bids of $520.9 million.
Barney Congdon said. "I think the main interest is the royalty relief bill that is being implemented in this sale for the first time."
The sale drew 401 bids for tracts in water depths exceeding 800 ft. Another 41 bids were offered for tracts in water depths of 400-800 ft. The deepest tract lies 201 miles off the coast of Louisiana beneath 9,091 ft under water.
Aker completes Petronius study
Aker Omega recently completed a concept screening study for the development of the Petronius field, in 1,750 ft of water at Viosca Knoll 786. Texaco, operator, and Marathon are partners in the field. The study sought to prepare technical and commercial information for use by Texaco in identifying facility concepts and development scenarios.
Four candidate systems emerged: (1) a subsea production system tied back to a new shallow-water host platform; (2) converted and newbuild semisubmersible floating production systems; (3) tension leg platforms; and (4) spar platforms. A compliant-piled tower was studied separately.
Seagull moves ahead at Ship Shoal, Brazos
Seagull Energy is developing production facilities for Ship Shoal 129 after drilling three successful exploration wells. A platform is expected to be installed and in service by early 1997. Meantime, Seagull has logged 30 ft of natural gas pay in an exploratory well drilled at Brazos 399. Production from the well was expected to begin in late May. Production facilities already are on site.
Apache active in SMI, Eugene Island areas
Apache recently completed a development well at South Marsh Island 33, about 50 miles offshore Louisiana. The well, D-10, tested 31million cf of gas and 540 b/d of 49.5° crude oil through a 56/64-inch choke. The well is producing and connected to a pipeline. Total depth is 13,178 ft. Well D-11 is being drilled nearby.
Apache also completed a development well in 198 ft of water at Eugene Island 81. Drilled from the platform, the A4 well tested 1,020 b/d of oil and 1.6 million cf/day of gas with 1,200 psi flowing tubing pressure on a 20/64-inch choke. Perforations are between 6,200 ft and 6,214 ft in the Pleistocene 6100 sand.
Aviva set to begin drilling
Aviva Petroleum says it will drill a development well in June to test two exploratory targets in the Main Pass area of the Gulf of Mexico. The prospect area comprises Breton Sound 31 and Main Pass 41.
Potential drilling locations are being determined by recently acquired 3D seismic data.
Oceaneering wins Mars contract
Shell has contracted Oceaneering to provide ROV support services during installation of the Mars TLP at Mississippi Canyon. A 75-hp Quantum ROV will be deployed from the Ocean Service support vessel.
Additional rov support will be provided by a Magnum ROV deployed from J Ray McDermott's Derrick Barge 50.
The Quantum will assist in landing the flowline terminations into their respective receivers on trees and guide bases, and perform hydraulic hookup. The vehicle will also assist in the stab and hingeover of the control umbilical and monitor the umbilical seafloor touchdown during installation. As-built surveys of the pipelines, flowlines, and umbilical will be done from the Ocean Service. Simultaneously, the Magnum vehicle will support the installation from the DB 50.
Destin Dome yields Norphlet discovery
Partners Chevron, Conoco, and Murphy Exploration & Production have announced test results from the Destin Dome 57-1 well. A flow rate of 41 million cf/d with no liquid hydrocarbons was achieved from the Norphlet formation below 22,000 ft. Each company owns a one-third working interest in the well, which is located about 26 miles offshore Pensacola, Florida. Destin Dome is part of the Norphlet Trend, a major producing natural gas trend extending westward in the Gulf of Mexico from the Destin Dome blocks to offshore blocks south of Pascagoula, Mississippi.
AOD acquires Gulf Coast Marine Divers
American Oilfield Divers says anticipated demand for diving has prompted it to acquire Gulf Coast Marine Divers, a medium-sized privately held company. The price was not disclosed. AOD also announced that in separate transactions, it has acquired two four-point anchor boats, and acquired from Offshore Diving and Salvage diving and related equipment, including diving chambers, diving.
Copyright 1996 Offshore. All Rights Reserved.