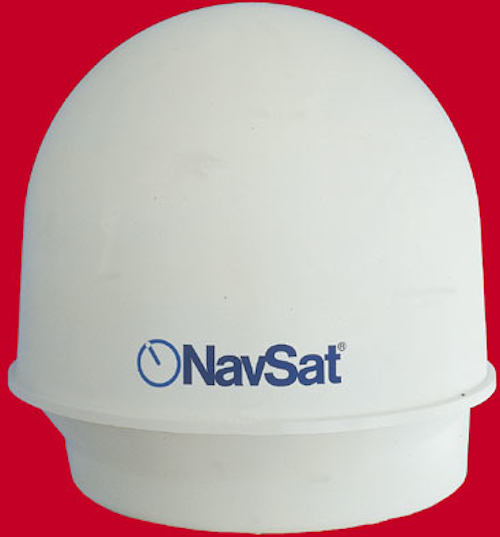 MOORING SYSTEMS
World's largest studless chains for Schiehallion
Scana Ramnas has been contracted by Single Buoy Moorings to manufacture and supply the offshore mooring chains for the Schiehallion FPSO Alliance. The award covers approximately 2,800 tonnes of 6 1/4-in. (159mm) diameter studless chains of LRS grade 3RS.
These are claimed to be the largest and heaviest studless chains ever ordered, with a weight of around 531kg/metre. Production is under way with delivery scheduled for the end of this year.
Studless mooring chains and connectors from Scana Ramnas will also form part of the mooring system used on Statoil's Lufeng development off China. Around 530 tonnes of 92mm chains and connectors of DnV grade NVR3 have been commissioned by Advanced Production and Loading in Norway for use with Statoil's MST vessel Munin, currently under construction in South Korea. The chains/connectors are due to be delivered next spring.
RINA approval
In a separate development, Scana Ramnas has just been approved by Registro Italiano Navale (RINA) for the manufacture of flash butt welded studless link mooring chain cables grade R3, R3S and R4. The studless link particulars are to be in accordance with Scana Ramnas drawing No. 3015-E-4 B open link alt. 2. Previously, Scana Ramnas has been approved as a manufacturer of studless link mooring chain by ABS, DNV and Lloyd's.
For more information contact Hakan Petterson, Scana Ramnas: telephone +46 220 22000 or fax +46 220 35837.
---
TV TRANSMISSION SOLUTIONS
Substantial cost reduction for satellite TV reception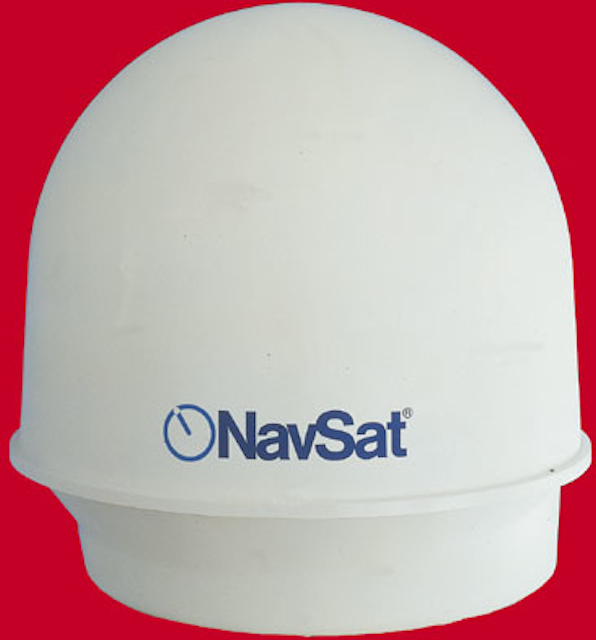 Satellite TV reception should improve with Naval Electronics' new antenna system.
A new antenna system from Naval Electronics will improve the television viewing of off-duty workers on mobile rigs and platforms at a much reduced price compared with existing systems.
The company believes it has found a reliable and cost-effective solution to the problems of providing good reception of satellite TV channels on board both ships, including those working in the offshore sector, and floaters such as FPSOs and semisubmersibles. Even when the latter are anchored up on long-term production duty, they face problems which do not affect fixed installations, for even a one-degree movement in the vessel necessitates adjustment of the antenna in order to stay locked on to the satellite signal, according to managing director Anders Edlund.
"We believe a satellite TV system must be totally self-contained, reliable and low-cost," Edlund says. "The Navsat system we have just launched fulfills all these requirements."
Simple, quick installation
Existing systems require a large number of connections - to the automatic control unit, to the ship's gyro and GPS system, and to the receiver equipment. "This means a lot of wiring, a feature we have eliminated in the Navsat system," Edlund says. "It requires only one connection, to the satellite receiver." Hence installation is much simpler and quicker, again reducing costs.
A flux-gate compass is integrated into the Navsat antenna which enables it to calculate its own position. When a new channel is chosen, the antenna automatically re-orientates itself.
Existing systems rely on three servo-motors to track the satellite signal - one each for horizontal and vertical movement and one to correct for skew. Servo-motors are expensive, which accounts for the relatively high cost of these systems. Navsat uses a completely new system, whereby the antenna is balanced around its bearings and can easily adjust its position.
Fans are used to compensate for friction in the antenna system cables and bearings, a technique that has been patented. Thus only one servo-motor is required for Navsat - this is for turning the antenna in azimuth, for which the fan system would be too slow. It means a substantial reduction in cost.
The control of Navsat is also much easier than that of existing systems. It is exercised on-screen through a hand-held remote control unit, while existing systems use an antenna control unit which is relatively difficult to adjust. Navsat is also built to a simple and robust mechanical design, thus making for lower production and maintenance costs. According to Edlund, the total cost of the system including installation is a little over half that of existing systems.
For more information, contact Anders Edlund, Naval Electronics: telephone +46 40 29 20 45 or fax +46 40 18 74 13.
---
STAINLESS STEEL
Giant tubing consignment destined for Aasgard, Gullfaks umbilicals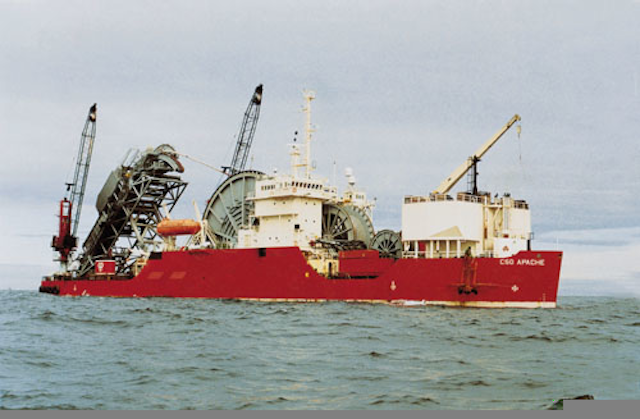 CSO Apache on site in UK Block 13/22a this spring, installing the Captain pipelines: stainless steel for the 3-in. diameter polymer line was supplied by Sandvik Steel.
Stainless tubing from Sandvik Steel will be incorporated in the umbilicals for two major new Statoil-operated projects. Kvaerner Oilfield Products is assembling 160 km of steel-tube umbilicals for the Gullfaks satellites development in the North Sea and for the Aasgard complex of fields in Mid-Norway.
Kvaerner claims the deliveries will be the most advanced of their type in this region: both static and dynamic steel-tube umbilicals are being supplied. The chemical-injection and hydraulic-operation umbilicals will be made from super duplex; the electrical umbilicals will be continuous, without splices.
Production will be performed at Kvaerner's Moss facility in Norway, with options in the contract for further deliveries in future to both Gullfaks and Aasgard's Midgard Field. Kvaerner is also providing steel-tube systems for BP's ETAP project in the UK sector.
2,500 km
Sandvik's Tube Division is supplying the tubing for these projects to Kvaerner under a $13.5 million contract, its largest ever. In total, 2,500 km of small-diameter SAF 2507 stainless steel tubes are being provided in joint-welded lengths of up to 15,000 metres, coiled on large reels before entwining with other tubing and electrical cables to form umbilicals. These will be used for remote control of production in 300-400 metres of water.
Sandvik's steel production division in Sandviken, Sweden will deliver altogther 4,000 tons of SAF 2507 grade stainless steel to Kvaerner, extruded into tube hollows. Cold rolling and finishing of the tube will be executed at the company's plants in Chomutov in the Czech Republic and Arnprior, Canada where investments in welding and coiling equipment are under way to ensure completion of the delivery. For the Chomutov plant, acquired by Sandvik in 1994, this order will represent more than half its annual capacity for small-dimension tube.
"This is an order for three projects which coincided advantageously for us," said Lars Ostlund, Sandvik's manager for the department for coiled tubing for oil and gas. "We view this as confirmation that our products meet high quality standards. It also provides us with an opportunity to rationalize production of long-coiled tube, which increases our competitiveness within new application areas."
Recently, Sandvik also acquired France's Precitube which makes seamless stainless and nickel alloy precision tubes for high performance applications, in diameters ranging from 0.2-60mm. This company, which had $6 million turnover last year, will continue to operate as a separate unit within the Sandvik group.
Foinaven
Although steel tube umbilicals have been operating for some years off Norway, the UK has only just latched on to the benefits. Foinaven Phase I represents the first application in the UK sector, and Sandvik was also involved here. It supplied over 200,000 metres of tubes in super duplex grade SAF 2507 to contractor Alcatel Kabel Norge, in diameters ranging from 12.94 to 18.50mm.
Tubing was supplied in straight lengths for subsequent welding and coiling by Alcatel into 12 separate umbilicals of varying lengths and with different technical specifications. They will control subsea facilities at 500 metres water depth. The strong sea currents and waves west of the Shetlands led to the choice of steel-tube umbilicals.
Captain
Texaco's Captain is another of the current generation of UK fields being developed through FPSOs. No steel-tube umbilicals are involved here, although Sandvik did supply the stainless steel pipe for the 3-in. diameter polymer line which will be one of four lines connecting the wellhead platform and the Captain FPSO: both these facilities are currently being installed and made ready for first oil later this year.
Pipelayer CSO Apache completed seabed installation of the four pipelines over five days this April, following welding of the pipe lengths at its Evanton spoolbase into 1km-plus sections. These were then jointed together for spooling onto the Apache's reel.
Sandvik's latest North Sea contract success, being sourced from Chomutov, is for small diameter, stainless steel heat `U' bent tubes for heat exchangers. The tubes are being assembled by Motherwell Bridge Thermal for the Chevron/Conoco Britannia development, in lengths up to 18.7 meters.
For more information contact Lars Oestlund, Sandvik Steel: telephone +46 26 263368 or fax +46 26 252770.
---
FRESH WATER MAKING
Reverse osmosis approach eases water transportation pressures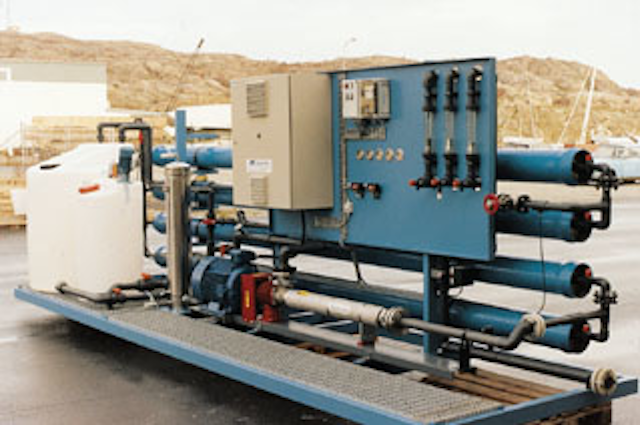 MT Freshwater's skid-mounted, 260 cu m/d reverse osmosis water treatment plant, which uses sea water as feed.
An attractive solution to the problems of providing bulk drinking water to offshore personnel is offered by the reverse osmosis (RO) systems developed by MT Freshwater. Many offshore operators ship in drinking water from shore, an operation involving the regular transport of large volumes of water which must still undergo treatment on arriving at the platform or rig. The MT Freshwater units eliminate this transport requirement by making drinking water out of sea-water in a cost-effective operation with low running costs, according to the company's Roger Olsson.
The company's systems have sold widely in the marine market, for which they are certified by DNV and Lloyd's Register. Offshore customers include the Safe Olympia and Safe Marinia mobile rigs, the Geomaster supply boat, and an accommodation unit in the Australian offshore sector.
RO is the best method for purifying large quantities of water to the standards required by offshore operators, according to Olsson. MT Freshwater's system overcomes the drawbacks inherent in systems previously offered to the market by including full pre- and post-treatment.
Pre-treatment comprises filtration to remove sediments from the water. Bacteria are then removed from the water by the reverse osmosis process, which achieves a removal rate comfortably in excess of 99%. In the post-treatment phase it is usually necessary to restore the pH balance to an optimal level, and to chlorinate the water.
Boiler water
The conductivity of the water is used as a guide to its salt content. In the North Sea a demanding limit of 750 micro-simons/cm is stipulated - MT Freshwater's units have no problems in meeting this standard, according to Olsson. The units can also produce water of sufficient purity to be used for boiler purposes, and the same plant can be used to produce both drinking and boiler water as long as this requirement is known at the design stage, Olsson says.
The company is now offering its system mounted in a container. A 20-ft container system has capacity for 200-300 cu metres/day and a 40-ft container 500-600 cu m/d. Skid-mounted units are also available; for 260 cu m/d capacity, such a unit would be 7.5 metres long, 2.3 metres wide and 2.3 metres high, and would weigh some 2,000 kg.
Whether supplied in container or skid-mounted, the units are easy to install, according to Olsson. They are also self-contained, requiring only connection to the water and electricity supply.
Running costs are modest, Olsson says. They relate mainly to the cost of energy; for a 300 cu m/d system, if the energy cost is equivalent to NKr 0.50/kWh, the production cost of water is NKr 5.00/cu m. If the energy cost is NKr 1.00/kWh, the production cost is NKr 8.00/cu meter. Evaporators use about eight times as much energy. Apart from energy costs, these calculations include costs related to cartridge changes, chemicals, service and repairs and membrane changes.
The membrane is the most expensive part of the RO system, and its lifespan normally varies between three and seven years, depending on the amount of usage and the quality of the feed water. Maintenance consists of no more than occasionally cleaning the membrane by hand. When the company recently rebuilt the Safe Olympia unit, for example, it had to change out the RO module but none of the pressure vessels in which it is contained. Normally only the element has to be changed, Olsson says.
MT Freshwater recently entered into a collaboration agreement with another Swedish drinking water specialist, ECT Offshore Service.
For further information contact Roger Olsson, MT Freshwater: telephone +46 304 67 70 50 or fax +46 304 67 27 37.
Copyright 1996 Offshore. All Rights Reserved.