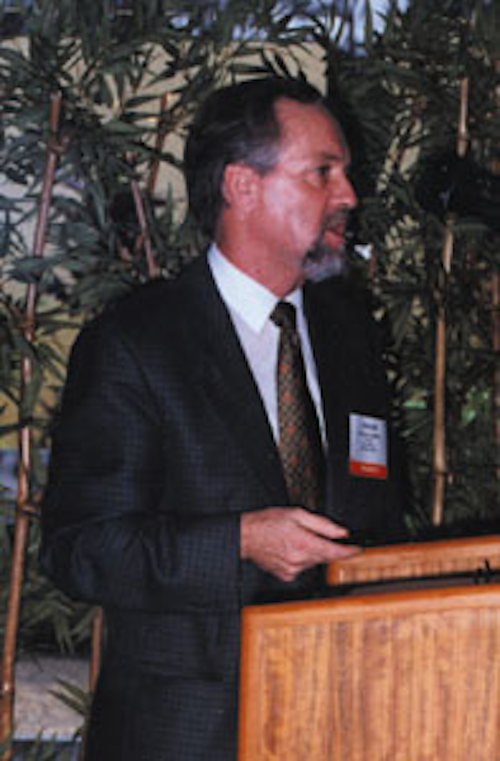 Shell's Dr. Don Henery (L)
Mobil's Larry Salz (R)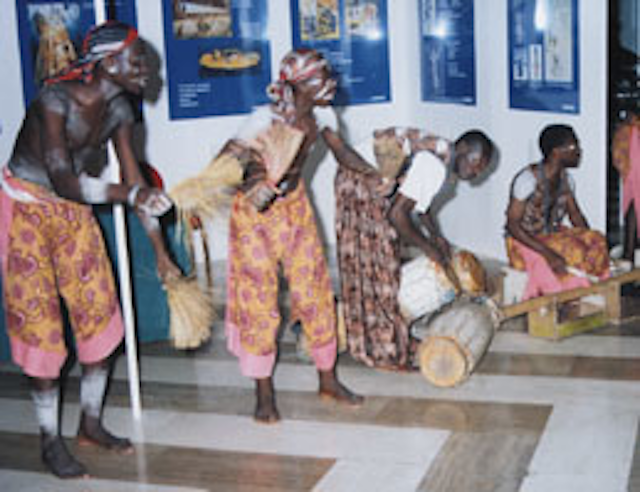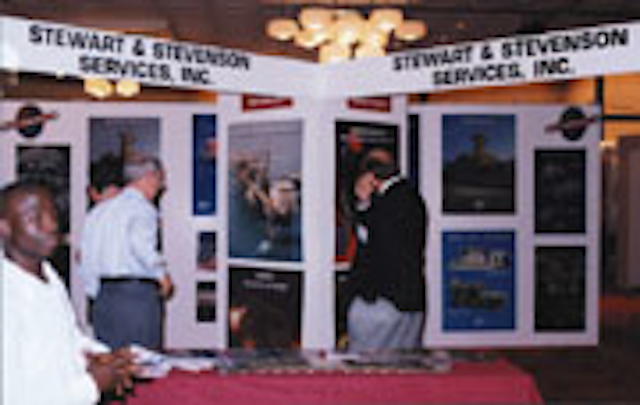 Gabonese musicians and dancers performed for the delegates (L)
One of nearly a hundred exhibits (R)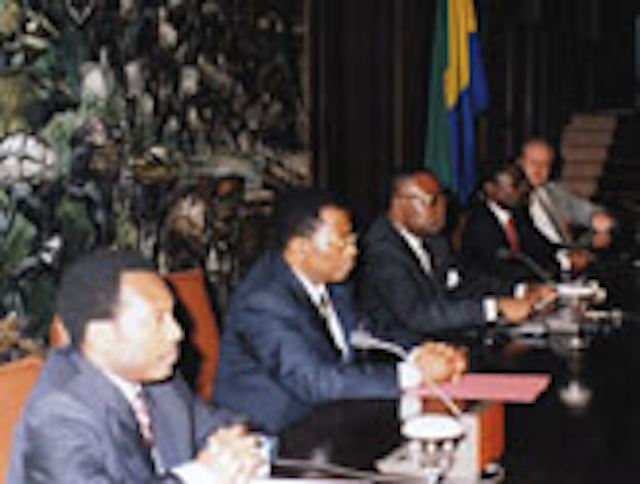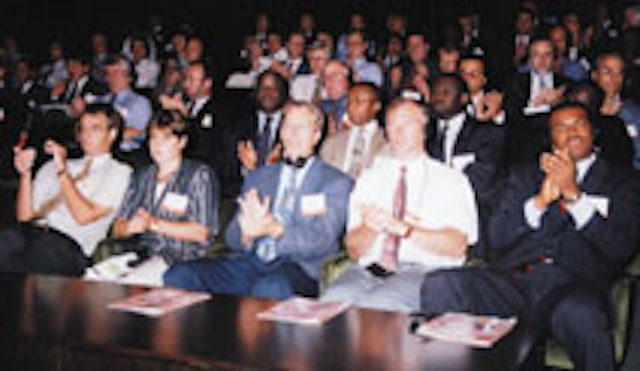 Gabon's Director of Petroleum hosted the panel of West African ministers (L)
delegates listening to a presentation (R)
West Africa's first truly international conference and exhibition focusing exclusively on the region's offshore petroleum industry has been a resounding success. Held last month in Libreville, Gabon, the event, organized by Offshore Magazine, brought together more than 500 delegates from 22 countries, and featured an outstanding array of technical papers and renowned speakers - all addressing important West African topics.
The Conference featured three principal speakers, Dr. Don Henery, Royal Dutch Shell's engineering and deepwater manager; Larry Salz, producing manager for Mobil Equatorial Guinea; and Lambert Ona Ovono, associate director general of Elf Gabon. Henery was enthusiastic about West African prospects and compared the region in importance to the US Gulf of Mexico and the North Sea. He said that the Shell Companies were major concession holders in West Africa, from the newly acquired deepwater blocks off Côte d'Ivoire to extensive Nigerian holdings, and a wide range of concessions in Angola, Gabon, and Namibia both deepwater and otherwise. Henery proclaimed Shell's dedication to the application of the latest in technology throughout the region, from seismic acquisition with the PGS Ramform Explorer to subsea and standard production both via conventional delivery systems and via FPSOs.
Describing the decision-making process, stages of development, and teamwork involved, Larry Salz told his audience about Mobil's remarkable fast-track development of the Zafiro Field offshore Bioko Island, Equatorial Guinea, a process that brought the remote field into production in less than 18 months from the day of its discovery, via subsea and floating production systems.
As the leading operator in West Africa, Elf Aquitaine has extensive operations throughout the region, but principally in the French-speaking former French colonies. As a consequence, Elf subsidiaries such as Elf Congo, Elf Gabon, and Elf Cameroon long ago took the lead in development of these areas. Outlining the company's role in the development of West Africa's prolific Gulf of Guinea, Lambert Ona Ovono drew the audience's attention to the region-wide move into deepwater and reinforced Henery's and Salz's view that the boom has only begun in West Africa.
A major feature of the conference was a panel of ministers from six West African petroleum producing nations. Ministers of petroleum from Angola, Equatorial Guinea, Gabon, Ghana, as well as Mozambique discussed the opportunities and prospects of their individual countries, and announced offerings of new aquatories, newly signed joint ventures, and current projects.
Executives of the state oil companies of Morocco, Senegal, Angola, Cameroon, Cote d'Ivoire, Congo, Ghana, Benin, and Mozambique made their cases for investment in their respective countries by foreign companies in both presentations and exhibitions. Other exhibitors included major oil companies, service and supply companies from Europe, the USA, Brazil, Japan, South Africa, and elsewhere.
Among the more popular papers were Nigeria LNG Limited's Monte-zemolo's presentation on the Nigeria LNG Project, numerous deepwater drilling and production papers, including Jean-Franois Giannesini's "Deepwater Production Systems"; Oceaneering's Bruce Crager's "Floating Production Systems & Subsea Completions - A Versatile Combination for West Africa"; FMC and Konsburg Offshore's Jim Tait's "Modular Subsea Systems for Field Development Offshore West Africa"; Elf Congo's Lucien Missamou's "N'Kossa: The Deepest Offshore Field in Congo"; and many outstanding geophysical papers, including Chevron Nigeria's Toyin Akinosho's "Structural Styles of Prospects in Deep Offshore Nigeria" and Geco Prakla's L. Peardon's "Survey Design Issues for Offshore West Africa".
[The collected papers of Offshore West Africa '96 are available from Offshore Magazine.]
Copyright 1996 Offshore. All Rights Reserved.