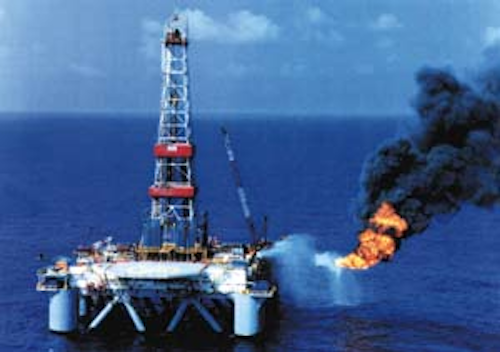 Jeremy Beckman
European Editor
Location of this year's five appraisal wells in Malay Basin block PM3. [56114002.gif -26k]
IPC's originally proposed route for the gas export line from Papua New Guinea to Queensland: Chevron may have its own ideas over the final heading. [56114201.gif -22k]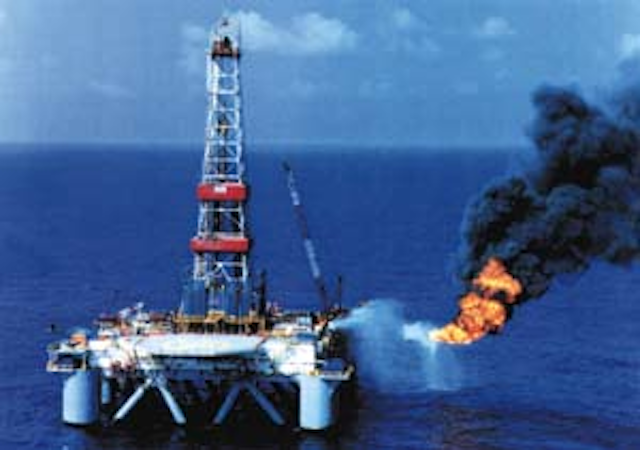 A mid-size Canadian oil company is driving two major new offshore developments in the Malay Basin and Australasia. In both cases, IPC (International Petroleum Corporation) has galvanized progress towards full production by assuming the operating reins.
The first, Block PM3, overlapping the waters of Malaysia and Vietnam, is emerging as a sizable source of oil, as a result of a concerted program of appraisal drilling and 3D seismic. The second, south of Papua New Guinea, Pandora will likely be the country's first offshore producing field following agreement over a gas export line to northern Australia.
PM3 history
Despite its known potential, PM3 has had a start-stop history. The block was first awarded to IPC in 1989, but the company moved quickly to farm out most of its interest to Hamilton Bros, as operator, Norcen and Enterprise Oil. Three productive exploration wildcats were drilled in 1991, but subsequently, partner interest waned.
A disappointing appraisal well on one of the discoveries led to a sharp downgrade of reserve estimates. Also, a border dispute arose between Malaysia and Vietnam. Having spent $40 million already on the block, and fearing Malaysia's fiscal terms, the farm-in partners elected to make a swift exit in 1993.
Exploration did not resume until 1994, when IPC had formed a new consortium, but this time as operator with 26.4% of PM3. The new associates were Petronas Carigali, PetroVietnam and Sweden's Sands Petroleum. This new grouping had much better luck with two further wildcats on the block, one of which, Bunga Kekwa-1, flowed 10,200 b/d of oil and condensate and 179 mcf/d of gas.
In 1995, part of the concession was relinquished, with the remaining acreage reorganized under the Malaysia-Vietnam commercial agreement. IPC proceeded to expand its office in Kuala Lumpur and submitted a commercial development plan for PM3, which was approved shortly afterwards by Malaysia's government. That plan called for first phase early production in 1997, followed by full-scale production in 1999. However, the second phase development scope is a little fluid right now, following an unexpectedly successful appraisal program.
Dual centers
PM3's known oil and gas is located in two areas 30 miles apart. 80% of the reserves are in the Kekwa-Raya area in the south, with the remainder in the Pakma-Orkid complex to the northwest. The reservoirs are on trend with Esso's substantial Malay Basin Fields to the southeast and the Thai gasfields to the north-west. Source rocks are gas-prone shales interspersed with localized oil-bearing shales.
According to a report by Toronto investment analysts Moss, Lawson, stacked sandstone reservoirs are trapped by fault-influenced rollover anticlines. Gross pay is over 3,000 ft with net pays of 40-100 ft on the downthrown side of the main fault. Net pays of 28-330 ft are found on the Kekwa-Raya upthrown side.
Permeability ranges from 22-1,000 MD, with reservoir pressure varying from 2,200-5,200 psi: generally, the reservoir sandstones are homogeneous. Gas is encountered typically in depths from 5-6,000 ft, with oil residing in the 7-8,000 ft level.
Under this year's appraisal program, the semi Atwood Hunter has drilled five wells, four of which will be converted to producers early in 1997 by another rig (as yet not contracted) in readiness for next summer's early production system.
Bunga Kekwa A-1, the first of this year's appraisals, was a step-out from the 1994 discovery Bunga Kekwa-1. This was drilled to a TVD of 7,800 ft, with three drill stem tests targeting the H, I, J and K sands over intervals totaling 145 net pay ft. Their combined flowrate was over 14,700 b/d of 38° API crude: associated water produced was minimal, with only a small quantity of gas from the top interval.
Well number two, Bunga Raya-2, targeted the western fault block prospectivity. It reached a TMD of 9,060 ft, with five drill stem tests over pay intervals totaling 198 ft of sand from a gross pay thickness of around 300 ft. Again, flow rates were substantial: 10,304 b/d of 39-40° API crude, 1,224 b/d of 55° API condensate and 100 mcf/d of gas, with less than 5% CO2 in the chief gas zones and no H2S.
The results of these wells suggested that the original oil reserves estimate for PM3 of 90 MM bbl was highly conservative. However, the third appraisal well, Bunga Kekwa A-2, bucked the trend. This well, which was sidetracked updip at an average angle of 33 degrees, flowed just 1,546 b/d from two of the four zones tested (6,475-6,830 ft), compared with the anticipated 5,000 b/d. There was also sand breakthrough.
Better productivity was encountered with the next well, Bunga Kekwa A-3, drilled from the same surface location of A-1 and A-2 to reach a TD of 10,255 ft with a 47° inclination. This well penetrated the two main oil and six gas-bearing horizons tested during the Bunga Kekwa-1 discovery.
Just one production test was performed, flowing 3,767 ft of 37° API crude on a 72/64-in. choke with a flowing tubing head pressure of 780 psig from the lowermost oil-bearing sand: flow was restricted by the 3 1/2-in. test string. The final appraisal well, Bunga Kekwa A-4, is being deviated currently through the western flank of the Bunga Kekwa reservoir.
According to Lukas Lundin of Namdo Management Services, the holding company for IPC in Vancouver, costs of the wells have come down progressively, partly through testing one zone instead of multiple zones. The fourth well cost $3.5 million compared with $4 million for its predecessor.
Also this summer, Geco Prakla shot and processed 3D seismic over 357 sq km around the Pakma-Orkid structures. The turnaround was unusually and intentionally fast for a 3D exercise, says Lundin, because of the urgent need to plan upcoming well locations. The results of this and this year's first two appraisal wells suggest combined potential for 200 million bbl of oil in the known structures. There are also three to four other prospects worth drilling nearby, says Lundin, which could be slotted into the Phase 2 development.
Production plan
Early production from next July will be through a minimal wellhead jacket structure accommodating the four completed producer wells. 20,000 b/d will be commingled, then sent to a dedicated FPSO for processing and storage. "Weather conditions are relatively good in this area for an FPSO," says Lundin. "The water is shallow, and it is not on the hurricane/typhoon path." But the EPS will be an unusually fast-track project, as the contracts for the platform and the vessel were still out to tender last month.
Conservatively, production is estimated to rise to 50,000 b/d and 250 mcf/d of gas shortly after the full Phase 2 comes onstream in late 1999. Current thinking over hardware for this phase is moving towards two large central platforms in the Kekwa Field, one of them unmanned, with facilities for separating out CO2 from the gas before it is piped south to Malaysia's Kerneh terminal.
There may also be unmanned or subsea facilities on the Orkid, Pakma and Raya Fields. Under the initial development plan, 17 horizontal producers were designated for Kekwa-Raya, seven deviated producers at Pakma-Orkid, with a total of 11 water injector wells. However, these numbers are under review following the new reservoir interpretation.
PM3 will be by far IPC's costliest offshore project. The first phase is priced at $75 million, rising to $600 million for the full development. However, the 16-in. diameter gas pipeline that will tie into the Peninsular Malaysia Gas Utilization Scheme will be financed entirely by Petronas Carigali. The PM3 partners are negotiating a 10-year gas supply contract.
Pandora progress
IPC's other Far East development, the planned Papua New Guinea to North Queensland gas pipeline, inevitably proved to be way beyond its financial muscle at $1.3 billion. Instead, it has ceded control of the project to Chevron. However, IPC has negotiated the line's basic route and will be able to tie in supplies form its Pandora gasfield, probably in the first half of the next century.
The most contentious part of the route was the landfall approach to Injinoo at the tip of Cape York in Queensland, followed by the continuation overland 1,200 km to Townsville, site of a proposed co-generation power plant. IPC's Brisbane team, headed by Ted Webb, flew with aboriginal leaders along this section to ensure that the route avoided the wet tropics and other areas culturally and environmentally important to the aboriginal and Torres Strait island inhabitants.
Webb spent a year over the negotiations, finally convincing the indigenous peoples that the project was beneficial in that it would provide them with some employment, as well as bringing power to the islands. According to Lukas Lundin, the subsea section of the pipeline, which will stretch 340 km from the Pandora Field, looks relatively straightforward, water depth ranges from 100 meters at the platform to 20 meters approaching the Torres Strait. The seabed is sandy and unproblematic.
Chevron will use the line primarily to transport supplies from its Kutubu Fields in Papua New Guinea's southern highlands. Kutubu gas will head 170 km southeast to the shore and then 100 km subsea to Chevron's marine terminal, currently used for offloading oil. Under IPC's original proposal, the line would then veer south 135 km to link up with the Pandora site. However, Chevron may prefer a more direct heading to Injinoo bypassing Pandora, in which case IPC and partners would install a spur line from their fields. Chevron may also choose to alter the approach around the western and northern part of the Torres Strait, but is unlikely to be able to renegotiate the contentious sections.
The line, with a tentatively planned diameter of up to 27-in., will have excess capacity to handle gas from other offshore fields as well as Pandora. IPC itself discovered Pandora's 1.6 tcf of gas through two separate wells, then farmed out to Mobil much of its interest in the surrounding PPL82 licence.
Mobil looked at the possibilities for LNG conversion, but in the end, says Lundin, "they couldn't make it fly". So IPC resumed operatorship of the block with 48.19%. There are currently six other partners in the licence. According to Lundin, the gas is "super-clean, with no CO2 or souring problems". However, a full-scale development would have to wait until Chevron had the line installed and pumping through its own gas: work on this line should get under way within the next two years.
The PPL82 partners are confident of gaining an extension to the licence from the Papua New Guinea government this month. No further exploration is planned for the time being. However, in IPC's adjoining PPL-IP52 licence area, there is an exciting prospect named Bigfoot, according to Ted Webb. To help finance the costs of a wildcat here in 1997, IPC is looking to farm out to further partners.
Copyright 1997 Oil & Gas Journal. All Rights Reserved.