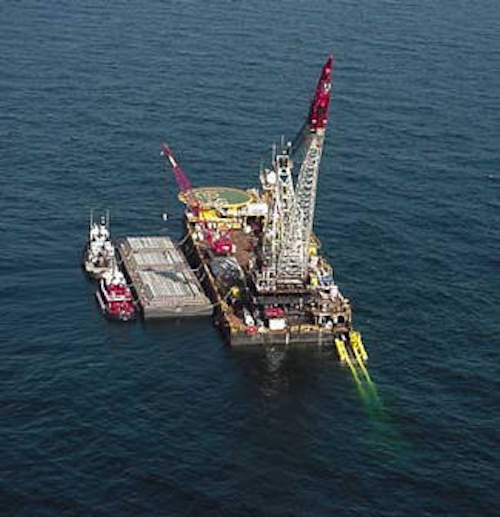 Wanted: more subsea technology
Two decades ago, offshore industry technical development advanced quickly. Today, technological progress isn't so speedy, explained Ian Ball, development adviser for subsea systems development at Shell. Recalling the 1980s birth of Shell's underwater manifold center (UMC) during a Marine Technology Society meeting in Houston, Ball said the industry is advancing technologies in terms of water depth, but not noticeably in other fields. "It (the UMC) just shows what the industry was capable of and not frightened of 20 years ago," he said. The challenge is to bring online new technology that helps companies meet their needs of lower overhead, longer tiebacks, improved safety, and higher rates of recovery. Decision makers often urge using new technologies, while failing to understand the subsea technology advances.
"That's one of the key issues keeping us from making the strides we're capable of," Ball said. False steps in new technologies, cyclical booms and busts, and little sharing of lessons learned due to competition all hamper progress in subsea technology, he said. Companies need to plow money into research during upswings as well as during the tight times. Some independents are doing just that, he noted. "We're keen to know what you're doing to embarrass the majors in terms of new technology," he said.
Infrastructure for Devils Tower
Williams is providing infrastructure for Devils Tower, a Dominion E&P and Pioneer Natural Resources deepwater Gulf of Mexico project. Under the deal, Williams will own the floating production facility and the gas and oil export pipelines.
Williams will install the oil export pipeline, which will stretch 120 miles from Mississippi Canyon 773 to Main Pass 34, and the gas export line, which will run 90 miles from Mississippi Canyon 773 to Main Pass 261. Williams awarded Coflexip Stena Offshore the contract for the design, engineering, installation, and commissioning of two 18-in. export pipelines from Devils Tower to shallow water tie-in locations at the shelf edge. Installation by theCSO Deep Blue will take place in the second half of 2002, with riser hookup in January 2003. Operator Dominion has 75% interest and Pioneer holds the remainder.
Norsk Hydro, Conoco in Gulf JV
Norsk Hydro and Conoco entered a joint venture (JV) for Norsk Hydro to acquire 25% working interest in five firm and three contingent exploration wells in deepwater Gulf of Mexico. Norsk Hydro was assigned title interest in 55 leases covering the subject prospect areas, largely acquired in 1996 and 1997.
Norsk Hydro Senior Vice President for New Ventures Frank Pedersen said the company regards entry into deepwater Gulf of Mexico as a strategic move for long-term profitable E&P growth with good prospects for value creation. "The Gulf of Mexico is considered to be a prime arena for further development of deepwater oil and gas technology," Pedersen said.
Independents report Gulf finds
ATP Oil & Gas said its South Marsh Island 190 well was flow tested from the drilling rig and now requires a pipeline connection. A well at Brazos 544 was connected to the platform serving a previous Brazos 544 well. The two Brazos wells are flowing at 25 MMcf/d. ATP estimates the two new wells increase the company's developed reserves by 9 Bcf. ATP holds 100% in both wells.
In another section of the Gulf of Mexico, Cheniere Energy affiliate Gryphon Exploration began production from the High Island 52 well at 10 MMcf/d of natural gas. Operator Gryphon holds 50% in the well. Gryphon's West Cameron 43 well is awaiting production facilities and should begin production in 1Q 2002.
New AUV in deepwater trials
Selandia, the latest Maridan 600 autonomous underwater vehicle (AUV) built for survey operations down to 600 meters water depths, was due in the Gulf of Mexico after completing a series of deepwater trials north of Denmark. Maridan expected the Selandia to be delivered to deploy it for oil and gas surveying projects in the Gulf of Mexico this month.
Mica onstream early
The Mica subsea development in the Gulf of Mexico began producing three months early in late August. The US$330 million deepwater project is tied back to the Pompano platform 29 miles away. Mica, in 4,350 ft water depth, is producing over 140 MMcf/d and 13,000 b/d from two wells. The subsea system in Mississippi Canyon 167 and 211 will accommodate up to four wells, and production should peak at 150 MMcf/d and 15,000 b/d later this year. Operator ExxonMobil holds 50%, and BP holds 50%.
Unocal plugs Ponza
Unocal's Ponza prospect in Keathley Canyon 774 is not likely to be commercial. The company said the deepwater well reached its objectives and penetrated hydrocarbon-bearing zones. The well was plugged and abandoned, but evaluation of data from the Ponza well continues. Operator Unocal has 50%, and Ocean Energy and another company hold the remaining interest in the well.
Brutus now producing
Shell Exploration & Production Co.'s 100%-owned Brutus tension leg platform (TLP) has begun producing oil and gas. The Brutus TLP is located on Green Canyon 158 in 2,985 ft water depth. Brutus is flowing at 25,000 b/d and 35 MMcf/d of gas from the first well. A peak production rate of 100,000 b/d and 150 MMcf/d of gas is anticipated by 2Q 2002.
Mustang Island 818 wells tested
Vector Energy Corp. said it tested three wells at its Mustang Island 818-L facility. The Mustang Island 818-L No. A-1 well flowed at 600 Mcf/d and 30 b/d of condensate. The Mustang Island 818-L No. I-1 well tested at 1 MMcf/d of gas and 150 b/d of condensate. The Mustang Island 818-L No. A-7 well tested mainly water. Three wells remain to be tested, Houston-based Vector said.
Western Pride survey underway
WesternGeco'sWestern Pride seismic survey vessel was working its first Q-Marine survey in the Gulf of Mexico over the Hoover, Diana South, Rockefeller, Madison, and Marshall fields. The Western Pride, equipped with WesternGeco's Q-Marine single-sensor technology, deployed eight 8-km streamers.