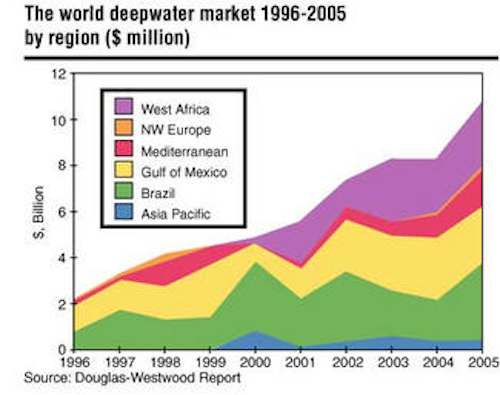 There is a growing likelihood that annual offshore capital spending for West Africa will grow in the coming years, probably reaching $10 billion before 2006, accor-ding to analysts at Douglas-Westwood. But the region's political instability could be a significant hurdle in the race for offshore development - not only in providing the terms necessary to continue exploration investment, but the infrastructure development that will support growing production operations.
Nigeria continues to wrestle with government turnover that periodically wreaks havoc on offshore oil licensing.
Angola, sub-Saharan Africa's second largest oil producer and one of the most promising deepwater exploration plays, is laboring to reach a level of capability to negotiate on an even footing with foreign investors. As a country, Angola is striving to develop state-owned Sonangol into a resourceful national oil company and to grow the Angolan oil industry into a stable taxpayer and employer.
Equatorial Guinea is in the same position, trying to create a national oil company that will increase the country's negotiating power to secure better deals for offshore oil rights with foreign firms. In Equatorial Guinea and Nigeria, where sizable fields are in operation and more are possible in the coming years, governments are trying to establish investment terms favorable to the country, yet attractive to foreign investment.
The resolution of a boundary dispute between Sao Tome and Principe and neighboring Nigeria indicates countries in the Gulf of Guinea are putting aside boundary posturing to facilitate development, perhaps driven by the probability that bigger discoveries may be at stake in disputed regions.
Deepwater strength
Preliminary 2D seismic surveys and geological comparisons with West Africa's continental mirror-image - offshore Brazil - suggest that future deepwater discoveries along much of the coastline could be sizeable. Considering prospects for the period 2001-2005, West Africa offers the largest average size at 535 million BOE.
Click here to view Potential and ongoing West African field development 2001-2003
This survey is in PDF format and will open in a new window
Some geologists working in the West Africa deepwater areas find that basement rocks are fairly deep and that sedimentary basins above continue to run thick far out into ultra-deepwater. Whether this continues to yield large discoveries will be determined in the next couple of years.
The consensus among exploration companies is that most of the future development offshore West Africa will take place in deepwater nearer the coastline. The Douglas-Westwood report notes that as water depths increase, so does the size of the field prospects. In this dynamic market, there is one constant: each time the deepwater sector is examined, more opportunities surface. If the report is accurate in its prediction that 27% of the world's deepwater development will be offshore Africa by 2005, West Africa could become a major market with some very large individual field developments.
E&P drivers
What are the main drivers behind the energetic shift to exploit deepwater exploration prospects? The report cites the following:
Ongoing depletion of shallow water reserves and declining productivity in mature provinces
Larger reserve size and high productivity of deepwater fields
Buoyant oil prices and the growth in global demand for hydrocarbons
Technological advances, resulting in dropping deepwater development costs
Innovative financing structures and management procedures within the fledgling West Africa industry
Developing government support, especially through favorable fiscal policies.
The majors have a potential advantage in developing these areas because large portfolios of field development prospects allow them to take a measured risk on costly but lucrative prospects in deepwater. However, not all of the risky innovation is dictated by the size of the company. Many of the industry's leading developments resulted from the efforts of smaller players, who sometimes bring in partners to meet higher investment schedules - and sometimes not.
Enter the independents
An enormous amount of West African offshore acreage is held by independents, including Triton Energy Ltd., which holds 3.7 million gross acres in the Gulf of Guinea. Vanco Energy, the largest acreage holder in the region with 26 million gross acres, has at least twice as much acreage as any other producer in the area and will soon launch a program for development in a number of countries.
Before long, a major discovery, or two or three, will likely push the independent exploration companies into shoulder-to-shoulder competition with the majors. Great discoveries usually make it much easier for independents to attract private investment, even if public equity shares fail to create interest.
Based on data showing potential field development offshore West Africa in the coming three years, there will be a lot of activity in the areas that have seen recent discoveries, including Angola, Nigeria, and a number of countries around the Gulf of Guinea. With the large amount of money being funneled into the area by exploration companies, it is clear that many believe they will soon see a sizable return on their investment.