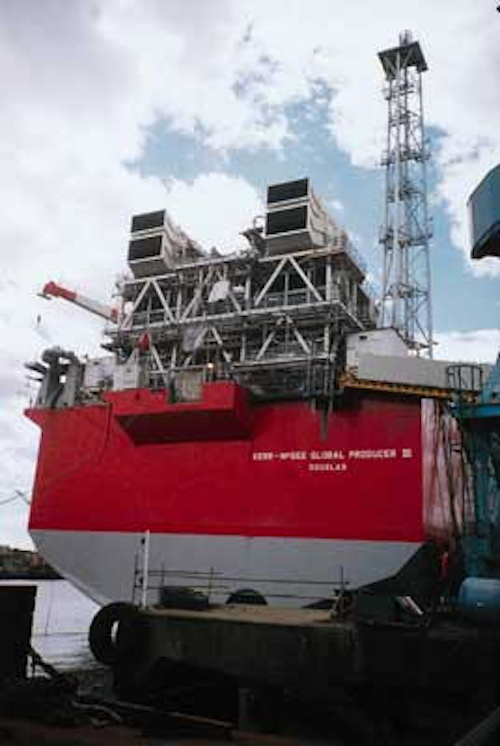 Kerr-McGee's new Leadon Field FPSO will be powered by two gas turbine generating sets built by Alstom in Sweden. Each of the skid-mounted systems will comprise a GT35 gas turbine, rated at 17 MW, an electric generator, a waste heat recovery unit and auxiliary equip-ment. The turbines will be fueled by natural gas with diesel oil as a backup. The Global Producer III FPSO is due to start operating in the UK North Sea by year-end.
Alstom won this order following an evaluation process based on anticipated life-cycle costs, including maintenance. The GT35's reliability and high efficiency were other clinching factors. This is a lightweight, heavy duty gas turbine. In open cycle operation, its typical efficiency is 32% (ISO). Currently, 16 other GT35s are in operation on offshore platforms around the world, in power generation and mechanical drive applications. Three GT35s installed in BP Norge's Ula platform in 1985 registered power degradation rates of less than 2% following 40,000 hours of service. They have since clocked up around 90,000 hr in operation, with availability of over 98%.
Recently, Alstom enlarged its manufacturing plant in Finspong with a new rig intended primarily for testing the GT10C. This turbine is designed for dual-fuel capability - the new facility will enable testing of both gas and liquid fuels. A 17-meter-high tank with a volume of 100 cu meters will supply gas for the tests. The rig is also equipped with all the turbine's auxiliary components, including the control and lubricating oil systems. Estimated capacity is around 20 GT10C tests annually, with each test expected to last around two to three weeks.
The GT10C can be used for mechanical drive and power generation. As a skid-mounted package with single-lift capacity, it is also suited to offshore applications.
For more information, contact Inger Welander, Alstom Power Sweden. Tel: +46 122 81000, Fax: +46 122 16580, E-mail: inger.welander@power.alstom.com