BRAZIL: Brazil oil production bounces back as deepwater search broadens
Loop current no match for Amazon flows
Jul 1st, 2001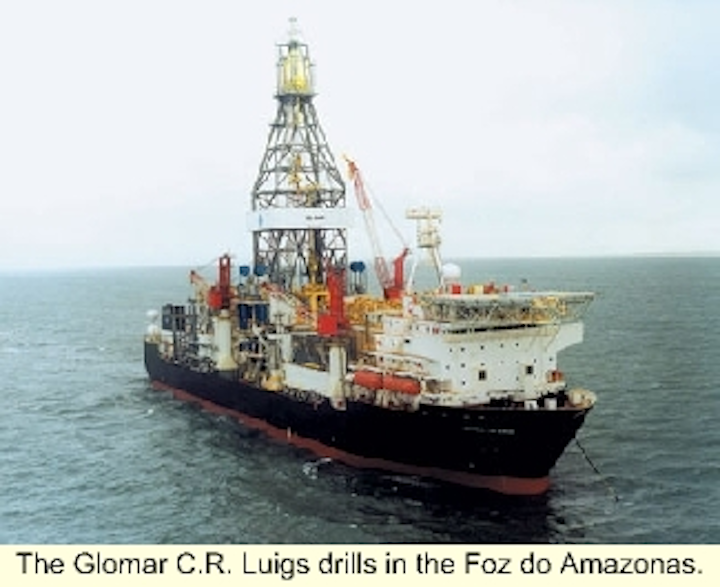 Brazil's domestic production of oil increased again in the month of April, reaching 1,311,000 b/d, up 0.6% over March, which was 1,303,000 b/d. According to Petrobras, the ongoing production growth demonstrates the producer's success in adopting measures to minimize the impact of the loss of the P-36 semisubmersible production platform in March in terms of oil production.
The P-36 unit was then producing around 80,000 b/d. Recovery came about as result of the startup of production from four new oil wells in the Campos Basin (RJ). Three of these are in the Marlim field, while the fourth is located in Marlim Sul. The wells each produce an average of 13,000 b/d of oil. With the overseas production of 45,000 b/d through Petrobras Internacional-Braspetro (Petrobras' international subsidiary), total production reached 1,355,000 b/d in April.
Petrobras and the new producers licensed for blocks offshore Brazil are spreading their search for deepwater oil from Campos Basin to both the northernmost and southernmost offshore sedimentary basins off the Brazilian coastline.
Indicative of the importance that Petrobras and the new operators attach to the Campos Basin specifically and to deep waters in general, is the fact that of the total of 34 offshore wells now being drilled off Brazil, 13 are in Campos (followed by six in nearby Santos and three in nearby Espirito Santo). Of the overall total of 34 wells, an impressive 21 are being drilled in deepwater and ultra-deepwater - from 600 meters to 2,225 meters.
Other areas
Although the greatest concentration of exploratory activity continues to be concentrated in the Campos area, southern neighbor Santos Basin, and northern neighbor Espirito Santo, both Petrobras and some of the newcomers, attracted by the prospects of giant field discoveries in other parts of Brazil, are venturing into frontier regions and making heavy investments in the expectation of big returns.
Since the new opening of licensing to outside operators, Brazil's frontier exploration activities have increased, and some companies are betting that high risk can also result in high profits. In this category are such companies as British Petroleum, Exxon, El Paso, and Petrobras, all of whom are exploring in blocks in such frontier basins as Pelotas, Foz do Amazonas (Mouth of the Amazon), both offshore, and the huge Parana Basin onshore. The only time in the past these regions attracted so much attention was in the risk contract period - 1974 to 1988 - when selected multinational operators were allowed to drill.
Active basins
Currently, in those three basins, six areas are being explored. Three are in the Foz do Amazonas: BFZ-1, with Exxon, and BFZ-2 and BM-FZA-1, with British Petroleum.
Two are in the Parana Basin: BPAR-10 and BT-PAR-4, both operated by El Paso. And one is in Pelotas, Brazil's southernmost basin: BP-1, operated by Exxon until a short time ago, but now managed by Petrobras.
In the past 30 months, since the opening of the oil sector here, five wells have been drilled in these regions. Three were drilled by El Paso in BPAR-10, and two by British Petroleum in BFZ-1, in the mouth of the Amazon.
At the moment, another four wells are being drilled: two in Parana (El Paso), one in Pelotas (Petrobras), and another is still being drilled in Foz (BP). Investment and increased frontier exploratory activity have yet to be rewarded by strong results. The first well drilled by BP was dry, and those sunk by El Paso presented some traces of gas in the presence of water. Three more wells are scheduled to be drilled by Exxon this month - two in Parana and one in Foz - as the American company returns after many years to explore again in Brazil.
Even before the risk contracts in 1974-1988, Petrobras had been probing these frontier basins, but there have only been two discoveries, both by Petrobras: (1) onshore Barra Bonita, in Parana in 1996, and (2) offshore Pirapema, in Foz do Amazonas in 1975, in about 135 meters water depth. Neither of the wells was considered commercial.
Northernmost: Amazonas
In the Foz do Amazonas, a basin that extends for 268,000 sq km off the coast of the northern states of Para and Amapa, the first exploration work began in the 1970s when Petrobras drilled well 1-APS-1. At the time, explor-atory activity in the region was at a peak, with up to four rigs simultaneously in action. Since then, Petrobras has drilled 71 wells, mostly in shallow water, and has invested about $1 billion.
Nine foreign companies were also attracted to the area during the risk contract period: Shell, Elf, Total, His-panoil, Exxon, Citgo, Mara-thon, Pecten, and Conoco. They drilled a total of 21 wells and acquired nearly 45,000 km of 2D seismic data. But again there were no discoveries.
Exploring the Foz is costly and complicated. The two deepwater wells BP has planned will cost up to $40 million each. The operators will have to cope with strong currents (6 knots), abnormal reservoir pressure, and great distances to the supply bases (more than 500 km).
Petrobras sources said that of some 90 wells drilled in the Foz up to now (71 by Petrobras; 19 by foreign companies), 30 had to be abandoned, mostly because of problems with high pressure and or tool loss.
Exploration in the Foz is at the stage of examining the "source rocks," but BP and its partners on this project - Exxon, Petrobras, Shell, Agip, TotalFinaElf - think the multimillion-dollar investment is worth it. The drillship Glomar C.R. Luigs was contracted to drill the two BP wells.
Southernmost: Pelotas
Covering an area of 300,000 sq km (35,000 sq km onshore and 265,000 sq km off the southernmost coast of Brazil in the state of Rio Grande do Sul), the Pelotas Basin was opened to exploration in 1958 through an onshore well, 2-GA-1. The first offshore well, 2-RSS-1, was drilled in 151 meters water depth in 1975. This basin is considered under-explored, with only 20 wells drilled, 12 of them offshore. Seismic lines total a mere 35,000 km of 2D. The lack of seismic data is believed to be one of the main reasons the area has failed to pique the interest of foreign companies. - The announcement was made by Petrobras' Director of E&P, Jose Coutinho Barbosa. He said the equipment will be installed in Roncador field in September 2002 and will operate as a provisional system until 2007, when the permanent Roncador production systems should be in operation.
In Pelotas, after investing $380 million over 43 years of exploratory activities - albeit sparse - Petrobras has discovered neither shows nor traces of hydrocarbons. Petrobras is now drilling in the Rio Grande Cone, where like BP in the north, they are looking for the source rocks.
---
SBM's floating producer initial replacement for lost P-36
A 90,000 b/d crude oil capacity floating production, storage, and offloading (FPSO) vessel, owned by SBM, was chosen by Petrobras as the first replacement for the P-36 Roncador field production semisub-mersible, which sank in March.
The announcement was made by Petrobras' Director of E&P, Jose Coutinho Barbosa. He said the equipment will be installed in Roncador field in September 2002 and will operate as a provisional system until 2007, when the permanent Roncador production systems should be in operation.