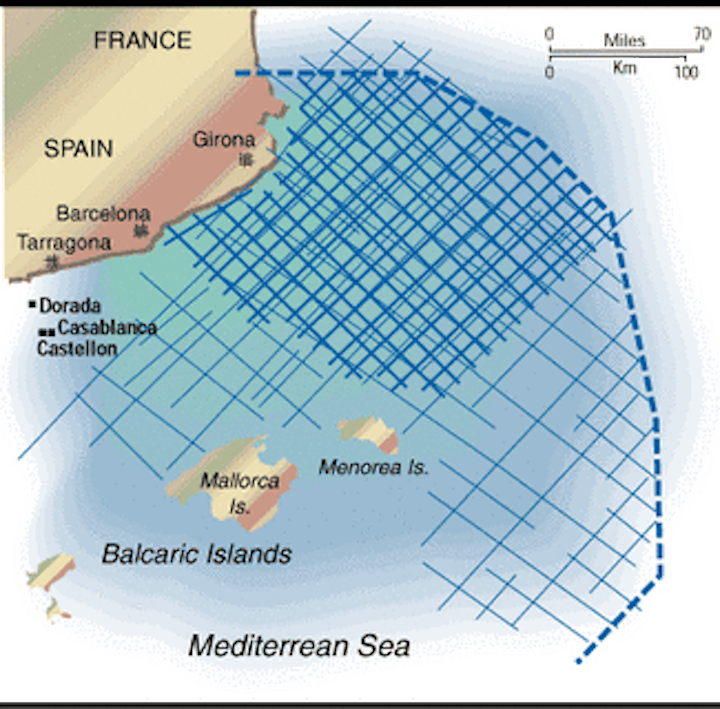 Looking deep
Understanding oil plays requires understanding the forces that form sedimentary basins. Plate tectonics theory is being augmented by work on deeper earth processes. More and more of the controlling factors are being discovered deep within the Earth - in the relationships between deep mantle plumes and the tectonic plates of the planet's crust.
Kevin Burke, a professor at the University of Houston, has proposed that a mantle super-plume under Africa fixed its location over the past 30 million years and set the styles of both the basins and the resulting sediment deposition. According to his theory, presented at a recent seminar, the super-plume is centered under Ethiopia and is responsible for the Afar large igneous province in east Africa.
Convective cell movement away from the super plume is postulated to have formed Africa's secondary basins. This helped focus sediment erosion into the basins and down rivers.
Looking back
The Ocean Drilling Program (ODP) recently completed an expedition to the Shatsky Rise, a remote plateau in the northern Pacific. The drillship, JOIDES Resolution, recovered 16 cores from eight locations in 2.0-3.5 km water depth.
The cores contain sediment from the last 145 million years and have color-banded layers produced by climate variations created by periodic changes in the Earth's orbit. Warming periods were seen dating back to the Cretaceous. The warming occurred over 1,000-yr periods and may have been triggered by large volcanic eruptions.
A second warming event occurred about 55 million years ago, at the end of the Paleocene Epoch. Cores show that this 200,000-year event caused extinction of 30-50% of deep ocean life, while simultaneously allowing new species to evolve in the surface layer. This event was likely caused by the burst of methane, according to ODP researchers.
Gulf of Mexico, Atlantic geological studies
The Minerals Management Service (MMS) released OCS Report MMS 2001-086: Atlas of Gulf of Mexico Gas and Oil Sands as of January 1, 1999. This new study is available on compact disc (CD) and details 65 oil and gas plays across the northern Gulf of Mexico. These established plays contain proved and unproved reserves totaling approximately 168 tcf of gas and 15 billion bbl of oil. Contact MMS at Tel: 1-800-200-GULF or Email: GulfPublicInfo@mms.gov.
Also, the MMS released seismic map and line images from the Gulf of Mexico and Atlantic Outer Continental Shelves on CD. The first set of disks for 2001 release contains seismic line and map images. Additional CDs will be available December 2001. Contact David Cooke at Tel: (504) 736-2609.
---
EXPLORATION
Spanish-Med survey
Spectrum Energy & Information Technology and InSeis announced the start of a 6,275-km non-exclusive survey over the North Balearic Basin. Multiwave's S/V Polar Princess will shoot the survey to tie several nearshore wells and infill an earlier deepwater survey over the Ebro and Rhone deltas. Tertiary and Mesozoic deepwater fans are the main exploration targets.
Spanish-Atlantic survey
TGS-Nopec Geophysical announced a non-exclusive 2D seismic survey offshore Spain. The 2,800-km project, located in the southern part of the Gulf of Valencia, is a joint TGS-Nopec/Fugro Geoteam program. The MV Geobaltic is acquiring the new seismic data with a 6,000-meter streamer. Final data will be available during the first quarter of 2002 after processing in Fugro Geoteam's center in Oslo, Norway. The company will also acquire a 22,000-km aeromagnetic survey to complement the new seismic data.
---
TECHNOLOGY
Linux/PC magic
Magic Earth announced a Linux-PC version of GeoProbe™ 3D interpretation software. GeoProbe 2.6 will be available on selected models of the IBM IntelliStation®, which will run the Linux operating system. The software/hardware combination will be sold together as a bundle. "Desktop Linux has emerged as a viable computing platform for businesses in the energy industry, and Magic Earth is responding to the growing demand for Linux," said Yin Cheung, Magic Earth's Executive Vice President and Director of Technology. The new interpretation system will be available Q1 2002.
Reservoir simulation
Schlumberger Information Solutions (SIS) announced the release of ECLIPSE™ reservoir simulation software. This release includes two new applications: PlanOpt™ determines the best location for new wells based on a comprehensive set of user-defined constraints. NearWellBore™ enables fast, detailed flow and well modeling for near wellbore localized simulation runs.
Nine-track to DVD
HyperDynamics Corp. announced that SCS Corp. has developed a process to convert old but valuable well log data stored on deteriorating tape media over to CD-ROM and digital video disks (DVD). These are optical rather than magnetic media. The company recently converted 846 nine-track tapes of well log data onto less than 1/2 of a single DVD. Peggy Percival, Vice President of Operations for SCS, stated, "The optical media is a breakthrough for our industry, just like it is for the movie industry. We now have a way to put truckloads of data into a protected, professionally documented, and securely accessible form, while saving management time and storage fees."
VR center
Schlumberger Oilfield Services opened its new Houston iCenter™, which the firm says is a networked, collaborative, virtual-reality center. The new center features 3D visualization capabilities and workrooms for well planning and drilling/reservoir optimization. Other centers are available in Cambridge, England, UK; Ridgefield, Connecticut, USA; and Stavanger, Norway.