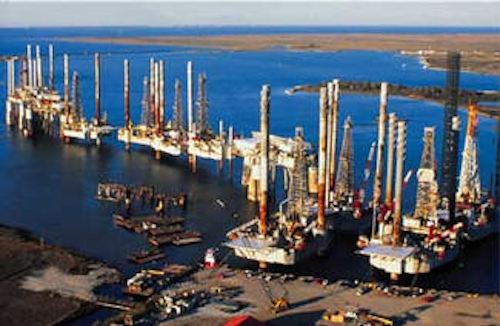 On the surface, the prospect of broad global economic recovery looks grim for the short term. Since oil prices are closely tied to economic activity and the movement of goods to market, the worldwide drop in demand for goods has suppressed all forms of business activity, especially air transport, that utilize energy as a major input. Oil demand has slowed, oil supplies have increased, and OPEC is trying to ratchet down oil production to keep the market in balance at US$22-25/bbl prices.
The US is in recession, as are the export economies of the Pacific Rim. Europe is now experiencing similar conditions. The US Federal Reserve continues to lower interest rates to sustain investment, and Europe is following with a similar rate decline. At this point, what cannot be determined are the duration of the global recession and the velocity of the recovery.
In hindsight, the recession appears to have begun with the US dot-com collapse in March 2001, and gained momentum through the year. The terrorist attacks of September 11 simply sped up the across-the-board collapse in US economic activity and drove the global economy in a similar direction.
What has changed the most recently is the uncertainty level of general business risk. The major points surrounding this growing uncertainty include:
Continued terrorism
Transportation delays
Conflict duration
Middle East political uncertainty
Weakness of oil demand.
Rebound next year
There will be a rebound next year because of the strong action on interest rates. That fiscal stimulus should take hold by Q1 2002. The uncertainty factors cited previously could delay a recovery until Q3 2002, but by then, sufficient momentum will build toward a strong Q4. Despite this extended recovery period, there are positives:
Because of adequate oil supplies, heating oil for the northern hemisphere's winter season is readily available. This should help consumers and bolster confidence.
Falling or weak commodity oil and gas prices provide confidence that business in general can produce goods at rea-sonable costs, in turn assuring them a profit in a weak profit climate.
Lower oil prices will keep transportation costs moderate.
Lower interest rates will make investment in new equipment and people possible.
Deflation in prices will focus business and consumer purchases to those areas that have real value for the future.
Consumer's discretionary spending will be held to a minimum, forcing businesses to do a better job of marketing and distribution.
This very conservative business position will create a bedrock foundation on which to build a faster recovery.
Oil production
What does this mean for oil and gas exploration and production? As usual, the industry is at the mercy of outside forces and OPEC policies. It is in OPEC's interest to restrain production and balance lower demand with lower supplies. Non-OPEC producers Russia, Norway, and Mexico may also yield and temper production levels. The aforementioned non-OPEC producers, by the time this is published, will likely have agreed to check export production, in an effort to keep prices from slipping further. The traditional Q2 oil demand slump is occurring six months earlier in this cycle, due to the timing of the global recession. If OPEC can reduce production quickly enough, the 2002 summer vacation driving season in the US will begin to lift overall demand. The US still consumes 25% of global oil production, so the impact globally is significant.
Natural gas
Across the globe, for the short term, there is sufficient natural gas to meet heating and manufacturing needs for the world's major markets. However, over the long term, the world will soon experience supply tightening and even shortages, as soon as economic growth conditions return to normal. An additional point of consumption will be growing domestic needs for gas in Third World countries.
Because of high transport costs, natural gas markets and consumption are still regional. This regional emphasis will begin to change, but not rapidly. The major markets in the US and Europe are demanding more gas for "clean" power generation, and China's entry into the World Trade Organization will drive it to seek even more low-carbon energy supplies, including gas, to support its export push and environmental compliance efforts. China will need new LNG supplies from SE Asia, which should build additional long-term business relationships across Asia.
There is significant potential for LNG to expand, especially in the US and China. Supplies from Russia and the North Sea will meet Europe's demand growth. Canada helped meet US needs in 2000, but it cannot supply the US' longer-term gas demand growth. The US will need more natural gas from Mexico, and before long will need to import LNG from South America and Africa.
Conclusion
Despite appearances, the present economic contraction appears to be a short-lived affair, even with the uncertainty created by terrorism and the shift of national resources devoted to the ensuing conflict. Increased security costs will create an additional economic drag. Despite this, and barring new incidents, terrorism should become a lesser concern for consumers in 2002, allowing business activity to resume a normal pace.
As the recovery begins, and energy demand responds accordingly, how will oil and gas prices move? One thing the industry has learned in recent years is that excess volumes in storage will not help bolster oil and gas prices, and at the same time, huge oil and gas price increases will stifle an economic recovery. Moderate oil and gas prices go hand-in-hand with economic recovery.
Where does this leave oil and gas exploration and development spending? The most optimistic note right now is that some operators are contracting for drilling units because day rates are low. Is this a new contrarian position? Maybe, and maybe they are seeing something not in range yet.
What may be taking place is that a recovery in energy demand could come very quickly, despite slow contracting activity and weak contract prices, and so could drilling and development. There are still lots of exploration and development prospects in the pipeline.
This is a time to invest strongly in development projects to meet the future demand growth as recovery gains momentum. This should happen within 18 months. With interest rates at historically low levels borrowing costs will be minimized as energy demand growth returns to its historic 2%/yr level.
In previous decades, recovery of E&P activity took years, because it took that long to unwind from excess production capacity. Today, with oil and gas storage volumes sensitized to shifts in prices, and reaction to price movements coming quickly, a turnaround can come in only a few short months.