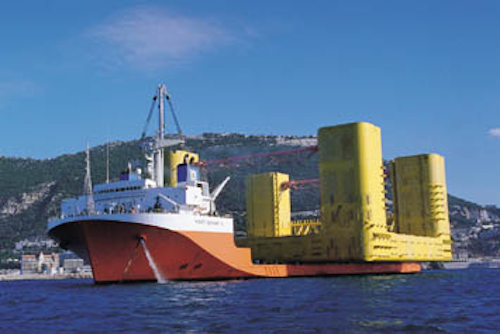 Jeremy Beckman
London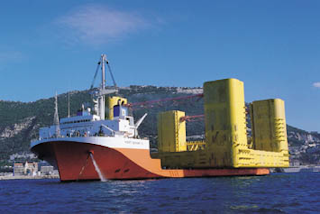 Shown is the 14,000-ton lower hull structure for the Troll C Field, on its way to Norway from the Hyundai construction yard in Ulsan, Korea via the Dockwise vessel Mighty Servant 3. The hull's 20 meter overhang on each side of the vessel led to unusual buoyancy effects - these were modeled at the Marin test basin in The Netherlands in conditions replicating 8-meter high waves. The results impacted design of seafastenings and cribbings and also led to reinforcements in the FPU bottom.
Norwegian exploration down, but still productive
Norsk Hydro is not going overboard about its latest core area discovery, in block 30/9 10 km west of its Oseberg complex. The 30/9-19 well found oil and gas in Middle Jurassic sands, prompting a subsequent appraisal side-track drilled to a T/D of 3,775 meters. Although flow rates of 5,733 b/d of oil and 360 MMcm/d of gas were recorded, Hydro seems to think that only the gas is worth developing, possibly in combination with other small gas reservoirs nearby through existing Oseberg infrastructure.
This fall, Statoil is shaping to drill its first well offshore the Lofoten Islands in the Norwegian Sea, although local fisheries may object. In total, Statoil plans to drill 10 wells in the Norwegian sector this year, also participating in two other wells - that represents a 20 % cut in its exploration budget compared with 1998. Of late, it has been testing prospects near the Norne and Kvitebjoern fields. Overall, the Norwegian Petroleum Directorate forecasts 20 E&P wells offshore Norway - six down on last year's figure.
Production soaring, despite falling value
Analyst Wood Mackenzie foresees total oil production across North West Europe climbing to 7.4 million b/d by the end of December - 1.3 million b/d up on last December's figure. This suggests that at $10/bbl, upstream revenues can outstrip production costs, even in the North Sea.
That contribution to global over-supply might have been even higher, had it not been for teething troubles on new Norwegian field developments and production cuts incurred by redevelopment of some UK fields. Levels will rise again as these delayed projects finally crank up in 1999. Denmark is also set for a huge production surge as the Siri and South Arne fields come onstream, eventually contributing 315,000 b/d. Dutch output is the exception, with daily levels expected to dip to around 25,000 b/d.
In the UK sector this year, Wood Mackenzie forecasts 15 new field starts, but some such as Bittern/Guillemot and Renee/Rubie share the same FPSO or subsea facilities. None are platform-based projects, although a few of these are coming together for the new millennium. And no new pipeline export routes are associated with these projects. The eight based around FPSOs are all in the intensively mined central North Sea.
If prices stay low or worsen, more UK fields may come forward for decommissioning, the analysts forecast, ranging from single-well satellite fields to high-end projects such as North West Hutton and Maureen. More seriously for UK contractors, new construction and maintenance opportunities in the sector will likely ground to a dead halt. Of late, the British government has been considering remedial action, including exemption from royalties to keep older fields in production. No carrots have yet been uprooted for new field developments.
Industry asks for emissions re-think
Norway's Oil Industry Association (OLF) is asking its government to drop taxes on carbon dioxide emissions as part of a package of measures to keep Norway's oil and gas sector solvent. The Energy Ministry has promised to review petroleum taxes in general during the spring budget, but the portents are not good, in view of the stiff emissions limit just imposed on two planned power stations to be fired by Norwegian gas, at Kolsnes and Kaarstoe. Operator Naturkraft - a joint venture between Norsk Hydro, Statoil and Stadtkraft - requested a carbon dioxide emissions allowance of 1.1 million tons annually from the pollution monitoring authorities, but this was scaled down to just 112,000 tons by the state. This has put the project's future in jeopardy - Hydro may decide to pull out and build its own power station further down the west coast.
As further evidence of the difficulties besetting the Norwegian sector in a minimal oil price environment, new figures from the government suggest that nearly all new Norwegian offshore projects from 1994-98 over-ran their budgets. The report, commissioned last year by Energy Minister Marit Arnstad following the state's refusal to sanction 12 new field developments, found that 13 projects during the cited period spiralled excessively - total over-spending was more than the NKr 22 billion put into new Norwegian sector projects last year. Aasgard and Visund were among the prime escalators. Rising drilling and completion costs were largely to blame, with rigs having to be upgraded for more advanced drilling tasks.
Veba, Elf in development mode
One small ray of light has emerged from the Dutch sector, where Veba Oil and Gas is aiming for a mid-year construction start for its 7,500 ton Hanze Field platform, following upcoming contract awards. Progress on the development has speeded up following the transfer of operatorship from Germany's RWE-DEA last year. Hanze is the only oil discovery of note in the Dutch sector in recent years - reserve estimates have varied from 50 - 100 million bbl.
The reliable Dutch North Sea gas patch continues to throw up new accumulations close to existing platforms. Elf recently announced three new discoveries last summer, two of which were brought swiftly into production. The K4N Field came onstream last July, one month after its discovery, at 400,000 cu m/d, while the F15-B Field in block 15-A delivered first gas in November, two months after being identified (700,000 cu m/d).
Exploration prospects also look strong in block A/15, newly awarded to Wintershall, Marathon and Dana Petroleum under the 9th Dutch licensing round. Several large gas structures are thought to be present in the block, which is close to the route of the new pipeline carrying gas south from Wintershall's current A6/B4 development in the German North Sea.
Deepwater risers under test
Riser reservations have dogged deepwater Atlantic Margin development. One industry initiative; however, is aiming to genereate confidence in large diameter, steel catenary risers for floating production. Stride (steel risers for deepwater environments) is funded by 14 oil companies and contractors. From the outset it has focused on vortex-induced vibration (VIV) as the key design issue. Small-scale tank tests in Portsmouth, UK recently graduated to trials in a deep fjord off Stavanger.
To simulate deepwater currents flowing over an SCR, two 10-in. diameter, 200-meter long welded steel pipe strings were towed at speeds of up to 3 m/s. Pipe incidence angles varying from near horizontal to near vertical were assessed at different tow speeds. One pipe was towed bare while the other was fitted with profiled rubber helical VIV suppression strakes designed by lead Stride contractor 2H Offshore Engineering.
Instrumentation was strapped on the wall of each pipe at 5 meter intervals, including hard-wired and standalone tri-axial linear and rotational accelerometers. According to 2H's Neil Willis, these devices did their job: "Pre-analysis work had predicted high rates of fatigue damage due to VIV and consequently fatigue failure of the pipe girth welds was a serious concern." Stride's near-term aims are to improve understanding of riser VIV response and achieve validation of VIV prediction software - in turn generating confidence in less conservative, lower cost riser designs.
Copyright 1999 Oil & Gas Journal. All Rights Reserved.