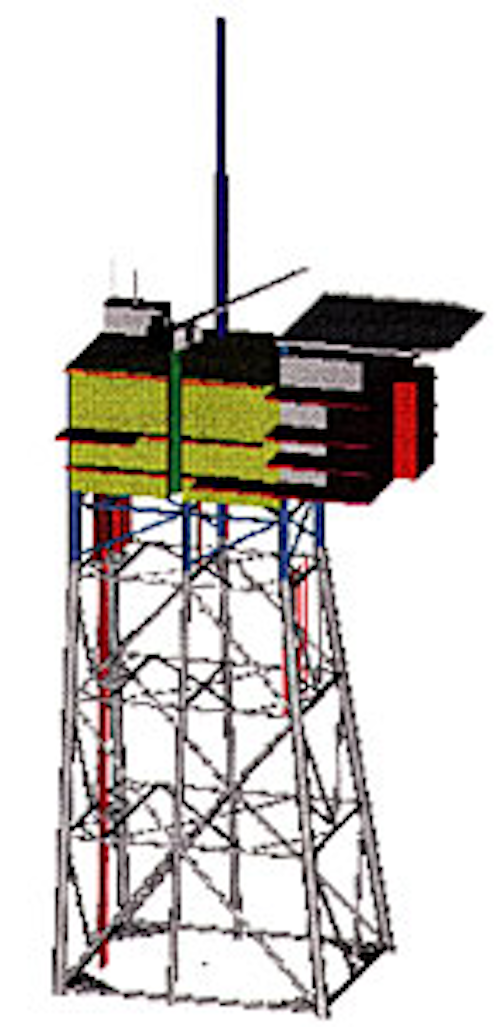 Drilling to begin this fall
Jeremy Beckman
Editor, Europe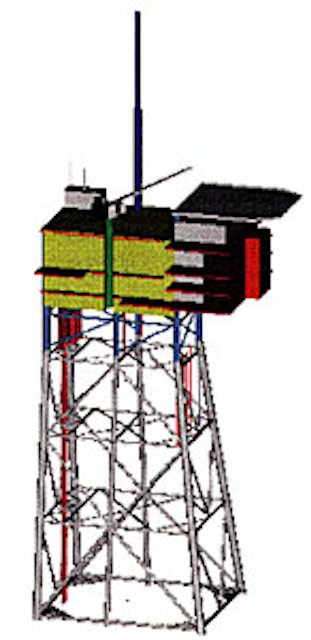 Computer-generated image of the minimal facility A/6-B/4 platform.
Germany's first offshore gasfield development is under way, with supplies scheduled to begin flowing in the fall of 2000. However, the project may be remembered more as the trigger for a new wave of exploration and production in the south-central North Sea.
The A6/B4 Field, situated 300 km off the German coast, will be exploited via a new platform and pipeline feeding gas southwards into the NOGAT trunkline in the Dutch sector. Several other promising, though technically awkward, accumulations lie close to the route of the line, and further finds should emerge from a new round of wells planned for this region. In anticipation of resultant field developments, the new pipeline will have excess export capacity.
Sanction for the project follows five years of feasibility studies directed by Wintershall Noordzee in The Hague. A6/B4 was originally discovered by Germany's BEB in 1974 - three more wells penetrated the reservoir in 1976, 1984 and 1988. "That typifies the slow pace of German North Sea exploration," says Wintershall Noordzee's Development Manager Ed Mol.
With no infrastructure nearby, there had been little incentive to speed up the appraisal program over the years. Partners in the wells also had commitments to other more readily commercial development projects in the North Sea.
The decision to undertake a concerted review of A6/B4 in 1994 led to a new 3D seismic survey over the reservoir that year on behalf of the Deutches Nordseekonsortium (Wintershall 40.45%, BEB Erdgas und Erdoel 40.45%, BASF 12% and RWE-DEA 7%). Interpretation of this new data helped resolve lingering uncertainties over hydrocarbon volumes. Other analytical techniques employed at this time included use of a Eclipse reservoir simulation program.
Other projects
There are two separate reservoirs on A6/B4 containing over 450 bcf of good quality, nitrogen-rich Rotliegendes gas plus 4 MM bbl of condensate. The gas volume was far from sufficient to justify a dedicated pipeline to the German shore, but several other export options were emerging nearby. One was Amoco's new Valhall wellhead platform in the southern Norwegian sector.
After evaluating, then discounting, various other options in the Danish sector, the focus of planning then shifted to the Dutch North Sea, where the major players were contemplating an extension of the NOGAT trunkline in order to boost E&P activity in the northern A and B offshore quadrants. This became the chosen option of the consortium, culminating in a sales agreement with Dutch utility Gasunie in February this year. Gas has been contracted from the consortium for up to 16 years from 2000, depending on general economic conditions.
Parallel pipelines will carry A6/B4's gas and condensate 117 km south to NAM's F3/FB platform (which will in turn undergo modifications). Installation of the lines will be executed by Allseas, starting next March, using the large diameter pipelayer Solitaire. From F3/FB, the gas will be directed into the NOGAT system to the Dutch mainland, while the condensate will be removed by tankers.
Drilling plans
Up to DM 400 million has been earmarked for the project, including the pipelines, platform, and two new development wells to be drilled some time this fall. None of the existing wells was considered usable. Negotiations continue over the jackup, as Wintershall would like to tie up the same rig for Dutch North Sea exploration. Whatever the agreement, the consortium should benefit from the current rig overcapacity. "A year ago, North Sea jackup rates were four times higher than their current levels of $25,000-35,000/day," says Wintershall Noordzee's Director and General Manager Barend-Jan Smits.
"That helps a lot, as these are expensive wells to drill." Both development wells will be drilled from the 1,100-ton jacket, currently under fast-track construction by Heerema Havenbedrijf. Wintershall Noordzee, as project coordinator, is still working on the well track and bottom hole locations - both wells will be either slanted or near-horizontal.
Wintershall has over 30 years' experience operating in shallow to mid-depth waters in the Dutch North Sea. A6/B4, in 48 m of water, is a little beyond its usual range. Currently it operates seven Dutch fields. Three feature normally unmanned platforms built to the same, off-the-shelf design.
"Over the past 10 years, there has been more emphasis on minimizing life cycle costs, minimal facilities and re-usability," says Mol. "On production platforms, we want to invest more in automation, as this can reduce the required outlay over the platform's life."
Front-end and detailed design engineering for this project was entrusted to ABB Global in Leiden. Grootint has the EPIC contract for the steel platform, which will be 44 meters long and 24 meters wide with a six-pile foundation. The jacket should be installed this July using Heerema's crane vessel Thialf, just five months after the construction start.
Fast tract platform
"We have achieved this in three months before," says Mol. "To do this, we free-issue all main tubulars to the construction company, so that at the time of award, all main materials can be delivered quickly. That saves a lot on the schedule."
The deck, weighing just under 3,000 tons, is due to be delivered around July 2000. When fitted out, this will feature onboard wellhead separation, following gas dehydration. After four to five years of gas production at around 120 MM cf/d, depletion compression will have to be added. The deck has been configured to include two compressors outputting 4-4.5 MW. These will be fitted into position using the deck crane.
Amounts of associated condensate (up to 3,000 b/d) are unusual for a gasfield in this part of the North Sea. This also presented one of the project's main technical hurdles. The solution will be to perform flash and heat stabilization following separation, with the piped condensate stored in the F3/FB platform's gravity base structure. "We decided it was better not to vent the gas in the stabilization process," says Mol. "Off-gas compression will therefore be required from startup." Dresser-Rand will supply the 750 kW reciprocating units.
The A6/B4 platform has been designed for easy removal and complete disposal onshore following depletion of the field. "We are the most experienced operator in the North Sea in abandoning steel structures," says Smits, "having removed two in the late 1980s and two more in summer 1997. We did a great job there, with more than 98% of the platforms re-used or re-cycled."
There is no great trick to the removal method - it's simply a case of including lift and strategic access points early on in the design. "The problems arise if you put these features in too late," says Mol. In accordance with German law, the platform will also have its own biological sewage water treatment plant.
Timing of the abandonment may depend on exploration in the coming years. Ultimately the platform may take on supplies from satellite fields as A6/B4 depletes. Close to the route of the gas pipeline are several substantial Tertiary gas discoveries operated by NAM and Wintershall in the A and B quadrants.
Development
Development will not be straightforward, however. "Ours are shallow gas and low pressure, probably requiring some form of depletion compression from start-up," says Smits. Also, these are unconsolidated reservoirs which would need sand control and equipment to handle water production early on. One reservoir is shaped like a flat pancake." Wintershall currently plans one exploration well in block A15, awarded under the recent Dutch licensing round.
Assuming a general will to progress development of these discoveries, the 20-in. A6/B4 gas line will have a capacity of 500-700 MMcf/d, according to UK analysts Wood Mackenzie, allowing it to handle additional volumes of third party gas.
Despite its problems in the Norwegian sector during its initial year in service, the Solitaire has been contracted for the laying with a view to speeding up the installation. Wintershall aims to improve productivity further through qualifying ultra-sonic inspection for the pipeline welds. There is no certified approval process in the industry. Laying of the lines should be completed within a month. Wintershall will coordinate production and logistics operations from its shore base in Ijmuiden. The platform will be manned by eight staff at most times with a boat shipping over supplies once a week. Dutch North Sea operators are co-operating to optimize supply boats usage - shared cost helicopter flights may also follow.
Dutch sector projects
Elsewhere in the Dutch sector, Wintershall as operator has just completed hook-up of a new production platform on the D15 Field in waters close to the UK median line. Production should be just under way from the 10 bcm gas reservoir, which is also the first Carboniferous offshore development in the Dutch North Sea.
At one time a joint development was discussed involving Fina's Orca and Beta discoveries 10-20 km away in the UK sector. These are currently on hold following the Total-Fina merger, but their gas could conceivably still be received, treated and compressed at the D15 platform. D15 is the starting point for the NGT trunkline extension, which has been sized at 36-in. to take supplies from future gasfield developments.
Wintershall also holds equity in the K13 trunkline to Den Helder, which begins at the Markham production complex.
Copyright 1999 Oil & Gas Journal. All Rights Reserved.