Fueling power stations with nearshore supplies
Jeremy Beckman
Editor
Europe
Deepwater gas is an unloved commodity off West Africa, but some of the shallower, nearshore fields cannot be disregarded. Given the right set of economic circumstances, development can be viable.
Two projects are currently under investigation in southern Cameroon and southern Namibia. Both concern power stations that would be fueled by indigenous offshore gas. In Cameroon's case, this would lessen dependence on hydro-electric power, which caused problems during last year's drought. The other scheme would render Namibia self-sufficient in its energy supplies.
Last summer, Calgary-based Ocelot Energy completed a feasibility study for gas-fired power generation in southern Cameroon, in association with the Societe' Nationale des Hydrocarbures (SNH). Both the World Bank and the Agence Francaise de Developpement have expressed interest in partial financing of the project, leaving Ocelot hopeful of achieving financial closure during 1999.
The gas would come from the Sanaga Sud gasfield, 10 km offshore the coastal town of Kribi. This field was discovered by Ocelot, in association with Mobil and Total, during the late 1970s. Following the initial discovery well, two delineation wells were drilled, with at least 600 bcf proven up. However, in 1993, the trio decided to relinquish the concession at the end of its third mandatory exploration stage. A new hydro-electric dam had just been installed, and with Cameroon's economy heading downwards, there seemed no prospect of a market for the gas.
The scale of the project was by then below Mobil and Total's interest threshold, but Ocelot maintained a watchful eye as other parties entered and exited discussions with the government. A year ago, Ocelot decided to re-enter the frame, following an upswing in Cameroon's economy.
Hydro not enough
According to Ocelot/SNH's feasibility study summary, the country lacks the power generation capacity required to fuel forecast growth of 5% per annum over the next few years. Current peak capacity from hydro-electric power is 650 MW, declining to 454 MW in a normal dry season. Last year was so dry that for several months, swaths of the nation were without power. That included southern Cameroon's highest profile and biggest employer, the French-owned aluminum smelter Alucam.
Alucam was supposed to be guaranteed 145 MW, and it would be prepared to purchase an extra 15-20 MW, if that were available. Although additional power could be supplied from barge-mounted diesel generators, this is considered only a short-term, and very expensive, solution - especially in view of the large, undeveloped gas reserves nearby. Unless action is taken, there could be a 120 MW shortfall by 2001.
Building another dam is a further option, and finance is accessible, according to state electricity utility Sonel. But this would not be operational before 2003 at the earliest. A new gas turbine power plant in Kribi could be in service by late 2000 - even earlier, if it ran on liquid fuel until Sanaga Sud came onstream.
Ample supplies
Sanaga Sud has been well appraised, according to Donald MacPhail, Vice President of Ocelot International in Guildford, UK. The 600 bcf proven would be enough to supply a 120 MW plant on a 66% load factor for 65 years. However, a 120 MW plant, staged to 175 MW, is being proposed to meet all contingencies.
Gas pay from Sanaga Sud is impressive, MacPhail claims. "The top of the formation is 1,300 meters deep - not a significant drilling depth. Net pay thickness is over 250 meters, with gross pay of 325 meters. So it's a good gas column."
A minimal facility platform is envisaged, exporting gas directly to Kribi over 20 years through a 10 km, 10-in. diameter pipeline. "The project could be supported by one well," MacPhail says "although we may need a second well for security of supply purposes." Existing wells on Sanaga Sud are not in good shape, as might be expected after years of inactivity. One might be re-enterable, but Ocelot will more likely re-drill two new wells from the platform, one vertical and one directional.
Liquids processing
The gas also contains around 15 bbl per Mcf, which would be stripped out once the gas reaches Kribi for use as LPG (no onboard processing is planned for the platform). There is a proven local LPG market, says MacPhail. "The most realistic additional market for the gas is via incremental power generation, including exports to Equatorial Guinea."
Development of the gasfield is expected to take 23 months. It would be concurrent with construction and installation of the offshore pipeline, the gas processing and power plants at Kribi, and a new 225 kV power transmission line heading north from Kribi to the power plant at Edea where the aluminum smelter is located. Project cost is estimated at $162 million at 1998 prices - Ocelot is committed to paying 25% of field development costs. It is currently talking to potential partners that would handle the power generation and transmission aspects.
Key contractual issues that have to be resolved include a power purchase agreement between Sonel and the power plant, a gas supply agreement between the gas producer and the power plant, and a credit support package for the power purchaser. For Sonel, which is currently undergoing re-structuring, the development may also add value, in the minds of potential investors in the company.
Kudu expansion plans
In southwest Africa, markets are slowly emerging for the Kudu gas field off southern Namibia, discovered by Chevron in 1974 but currently licensed to Shell and its partners - Energy Africa and Texaco.
A decision is expected later this year over whether to proceed with a planned 750 MW combined cycle power plant at Oranjemund, southern Namibia. This would require gas supplies through a marine pipeline at a rate of 100 MMcf/d over 20 years - enough to satisfy thinly populated Namibia's projected needs. However, it would not satisfy the Kudu partners, who have bigger plans for what is emerging as a world class gas asset.
A step-out well was drilled this past November from the main part of the field (containing the previous four successful wells), 8 km to the southeast. On test, it flowed similar volumes to the other wells, indicating that it is, ostensibly, an extension of the reservoir.
Should subsequent analysis confirm this view, reserves could be significantly higher than the 1.3 tcf proven so far.
But only 750 bcf are needed for Oranjemund, so why prove up further quantities? The answer, according to Energy Africa's managing director, John Bentley, is to demonstrate that several tcf could be in place. That would justify a second phase of Kudu, involving construction of a 650-km marine pipeline south to Saldanha Bay on South Africa's western Cape.
"Shell has done extensive studies, and they believe there is a market that can be developed," says Bentley. Kudu second phase investment is put tentatively at $2.5-3.0 billion to cover gasfield development, pipeline infrastructure, and downstream installations.
Politicians in both countries have been supportive of the scheme. Namibia, which has hitherto depended on South Africa for its power supplies, would suddenly become a net exporter to that country. The move would also accord with the principles in the RSA's recently drafted Energy White Paper. These advocate a role for gas in sustainable development within South Africa, and increased competition in the country's energy sector, currently dominated by coal and nuclear power.
Potential industrial users along the route of the proposed pipeline include Reunion Mining, which operates a zinc mine in southern Namibia, and Saldanha Steel (located near the planned southern termination point), which currently relies on coal-fired power.
Transporting coal from mines deep in South Africa to the western Cape is expensive. New gas-fired power stations might be cheaper to run, and would also give power utility Eskom more flexibility at times of peak load, says Bentley. However, Eskom itself has been less than lukewarm, claiming that South Africa has plenty of spare capacity from its existing coal-fired stations or other mothballed power plants.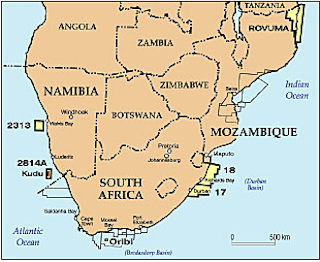 Location of the Kudu Field off Namibia in relation to prospective customers down the coast on the western Cape.
Other factors which could hamper progress on Kudu are:
The continuing low oil price
Uncertainty over Texaco's commitment to the project.
Energy Africa's own future has looked uncertain, following Petronas' intention to acquire its majority shareholder, Engen. However, Petronas has given assurance that Energy Africa will continue as an independent exploration and production company. "We ourselves remain committed to Kudu," says Bentley.
In light of widespread cuts in E&P programs, further wells on the field look unlikely this year. All necessary seismic has already been acquired (just as well, perhaps, as sharks in this area have been known to attack seismic streamers).
However, further appraisal is needed to delineate reserves and the field's areal extent. Kudu lies in thin, cretaceous dune sands. "Another characteristic of the reservoir is that it is over 4,000 meters below the seabed," says Bentley, "which adds to seismic interpretation difficulties."
Kudu's gas is very dry, with virtually no condensate, so processing requirements offshore will be modest. A very minimal facility platform can be expected, although detailed studies have not been concluded.
Copyright 1999 Oil & Gas Journal. All Rights Reserved.