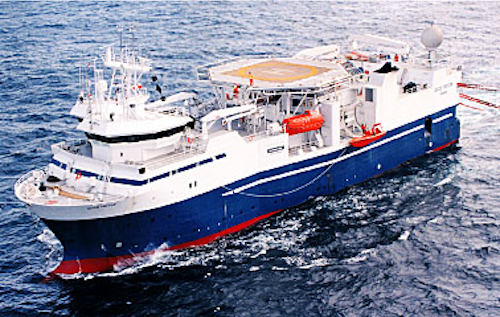 Emil M Janson
Geco-Prakla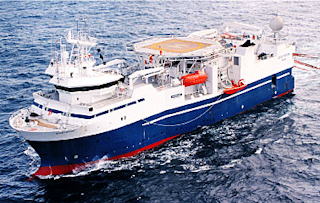 Geco Triton is the newest addition to Schlumberger's seismic fleet and is claimed to be the most productive acquisition vessel in Africa today.
Frontier exploration has nearly always commenced with the acquisition of non-exclusive (speculative) regional 2D surveys by seismic contractor companies, who then process the data before licensing on to interested parties. Over the years, finding costs and exploration cycle times have benefited from advances in acquisition technology and in communications generally.
In Africa during the late 1980s and early 1990s, seismic contractors acquired thousands of kms of non-exclusive 2D regional well-tie surveys from Cameroon to Namibia. These surveys have allowed oil companies to explore for hydrocarbon reserves and build datasets in a cost effective manner.
Despite high profile successes such as Angola Block 17 and the Niger Delta, much of Africa's aquatory still remains relatively unexplored. Even at today's oil price, companies continue to build up their portfolios in the region. The licensing of non-exclusive seismic data remains a cost-effective exploration tool.
After 25 years of non-exclusive acquisition experience in Africa, Schlumberger Geco-Prakla continues to acquire, process and deliver non-exclusive data (TQ2D & TQ3D Surveys), attaining standards of data quality and turnaround which are no different from the majority of 3rd party surveys, and available for license at a fraction of the cost.
Data flow process
Typically, the process starts when legally binding joint-venture or brokering agreements are first established with governments, state oil companies or their appointed agents. It is an important facet of the Schlumberger Geco-Prakla approach that governments and/or state oil companies are fully involved and consulted to ensure that the exploration needs of that particular country are properly addressed and planned. Schlumberger Geco-Prakla does not enter in to commercial equity deals involving acreage holdings as this position may involve a serious conflict of interest with those of our clients.
With all the necessary documentation and contracts in place, pre-committing oil companies are typically invited to contribute throughout the key stages of the project. As with other surveys in other countries, the TQ2D-GUDW97 survey acquired over Gabon's ultra-deepwater blocks was the key initiative in stimulating and promoting interest in Gabon's 8th Licensing Round in late 1998.
The survey was carried out on behalf of the Ministry of Mines, Energy and Petroleum of Gabon. Schlumberger Geco-Prakla has been successful in developing long relations with the Republic of Gabon, where both parties have shared the information and skills necessary to advance the country's exploration efforts.
The TQ2D-GUDW97 survey presented the oil industry with over 15,000 kms of high quality, cost-effective seismic, magnetic and gravity data over the most promising areas. The survey was successfully licensed by Schlumberger Geco-Prakla and Petrolin UK to several exploration groups intent on increasing their knowledge of offshore West Africa's massive hydrocarbon potential.
Following the close of Gabon's 8th Licensing Round, the Ministry of Mines, Energy & Petroleum expressed satisfaction at the interest shown by the international oil companies and announced that it was pleased to receive offers for Blocks H97, J97 & M97. The offers were forthcoming from the Gabon-based offices of major international explorers Total, Elf, Amerada Hess, Shell and Santa Fe. Further consultations are now ongoing between the parties in order to advance the exploration process. Opportunities continue to abound offshore Gabon.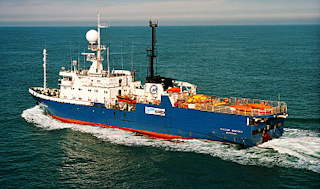 Akademik Nemchinov is undertaking a range of strategic 2D and 3D surveys throughout West Africa.
---
Vessels working on array of non-exclusive surveys
With 27 seismic vessels strategically positioned around the globe, Schlumberger Geco-Prakla is continuously adding new, non-exclusive Total Quality (TQ) data to a portfolio already in excess of 2 million kms of TQ2D, and in excess of 100,000 sq kms of TQ3D. Since the close of the summer season in the Northern hemisphere, Schlumberger Geco-Prakla says it has been the busiest and most productive seismic company in Africa, with four high capacity 3D vessels towing 34 streamers between them as well as two single-streamer operations.
Undertaking several strategic 2D and 3D surveys throughout the region is Akademik Nemchinov, which will travel between Morocco, Ghana and the Ivory Coast. Working offshore Mauritania, the Akademik Shatskiy has newly completed acquisition on a full 2D exploration grid. Further down the coast is Geco Diamond, currently working on a large 3D survey out in Nigeria's Deep Water Acreage. The vessel has a spread of eight 5000-meter streamers.
Offshore Port Gentil, Gabon, the Seisranger has begun work on the first of several 3D surveys in Gabonese waters, acquiring data over some of Gabon's deepwater prospects. Meanwhile offshore Congo, the Geco Topaz is engaged in a 3D survey, acquiring with eight streamers.
Accompanying the vessel in this work is Geco Triton, Schlumberger Geco-Prakla's latest addition to the fleet and, after only a few months in service, the most productive acquisition vessel in Africa today. Geco Triton is capable of pulling 10 streamers, achieving separations in excess of 1100 meters.
Copyright 1999 Oil & Gas Journal. All Rights Reserved.