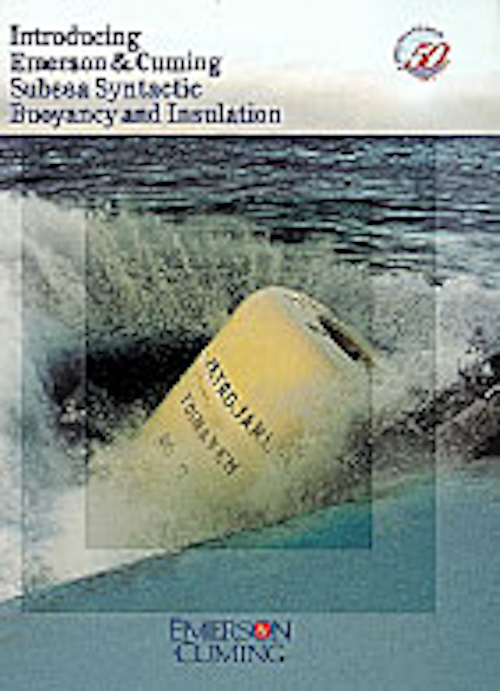 Leslie Bellfore
Houston
Syntactics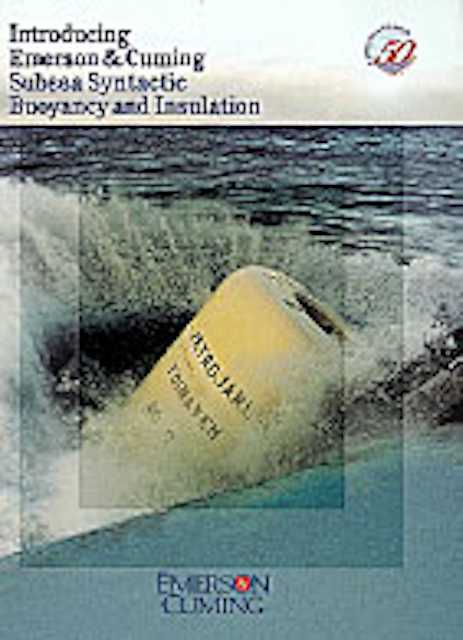 Emerson & Cuming have released its new full-color brochure detailing its Subsea syntactic buoyancy and insulation products and services. Syntactic products include the Eccofloat, Eccotherm, and Eccosphere.
Scanning system
John E. Chance & Associates (Lafayette, Louisiana) has developed an innovative process to capture a picture of the ocean bottom for better planning of drilling and construction near a structure. Sonavision 4000 scanning sonar system collects data of seafloor features along with a proprietary image enhancement and analysis software.
Floating production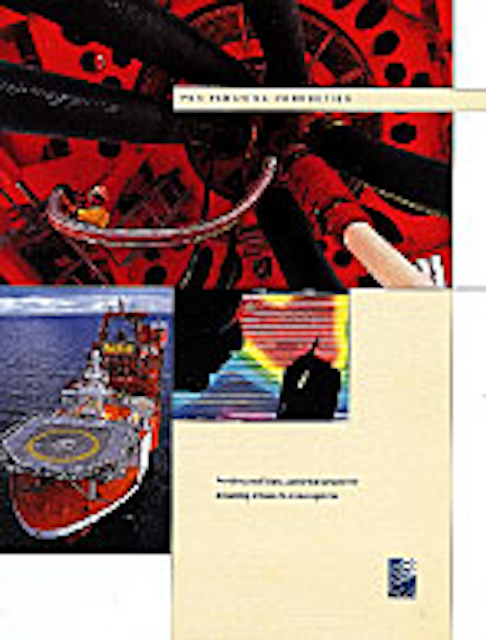 PGS Floating Production (Houston), in a new full-color brochure, profiles its offshore developments. Included is the Ramform Banff, Petrojarl 1, and the Petrojarl Foinaven.
Holding anchors
Aker Marine Anchors (Houston) is offering its holding anchors. Anchors provide three adjustable angles 32 degrees, 41 degrees, and 50 degrees.
Low-horsepower AC
ABB Drives & Power Products (New Berlin, Wisconsin), has announced its new Comp-AC program, covering a power range from 0.5 to 50 horsepower. A variety of drives within the Comp-AC family provides users with a range of features and options.
Cooling Package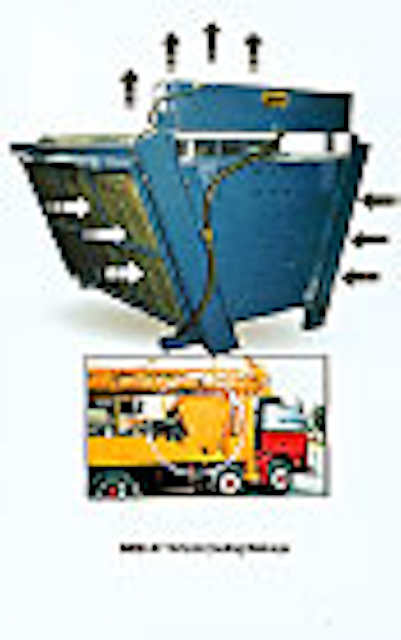 L&M Radiator (Duluth, Minnesota) has released its new MESABI V-Pack cooling package. The radiator forms one half of a "V"-shaped frame and the oil cooler the other half. Both share a horizontal fan at the top of the "V," pulling air through the "V" and allowing it to exhaust upward.
Online monitoring
Steptech Instrument Services (Herts, England) is announcing its new continuous online oil in water monitor. The new instrument, according to Steptech, will replace the existing infra-red method. The unit consists of a multistage centrifugal pump, which delivers the homogenized and degassed sample stream to the detector cell through a "fast loop."
Subsea control module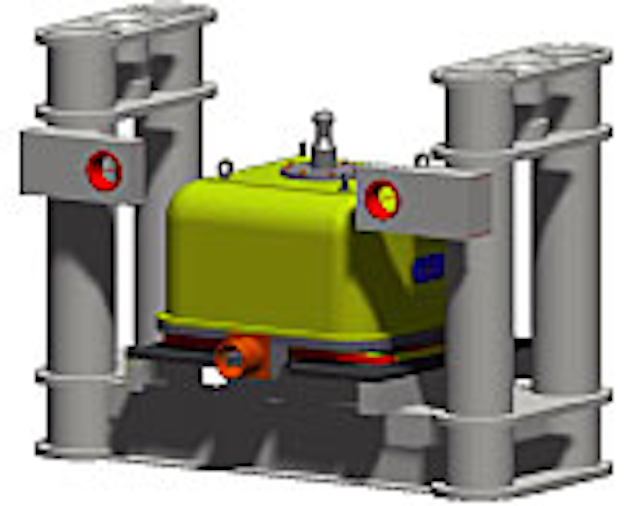 CAC (Houston) has developed its new Electro-Hydraulic Subsea Control System, designed for service up to 3,000 meters. The integrated system provides monitoring, control, and shut down functions, for wet christmas trees and subsea manifolds, by means of multiplexed electro-hydraulic control, utilizing communications power between a Surface Master Control Station and a Subsea Control Module, via a composite services umbilical and appropriate subsea distribution modules.
Video monitoring
Precision Solutions (Pearland, Texas) has introduced VRTUtrademark. The video monitoring technology allows seamless integration of real-time video into process control system HMIs as an ActiveX control and the transmission of that video utilizing existing Modbus RTU and Modbus Plus protocols.
Petroleum services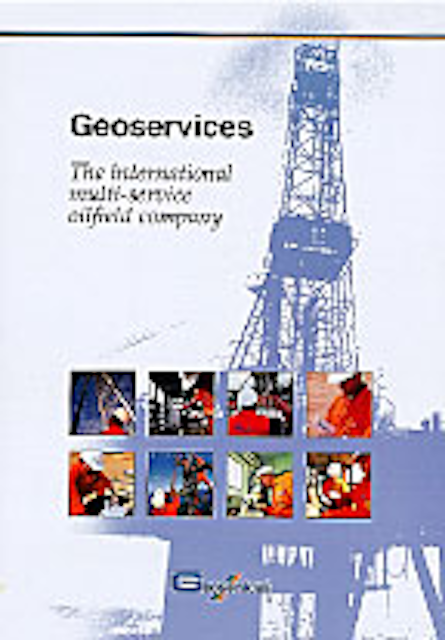 Geoservices (Mesnil, France) is claiming itself as the international multi-service oilfield company. In a new full-color brochure, Geoservices profiles its various oil field services in the disciplines of Mud Logging, Production, Directional Drilling, Integrated Services, Early Production Facilities, and Field Management.
Transfer pumps
Magnatex (Houston) announces its TexelRegistered MER Series pumps, for the transfer of toxic, corrosive, or expensive liquids. The MER pump features a magnetic, sealless drive design and is compatible with standard C-flange motors.
Support bases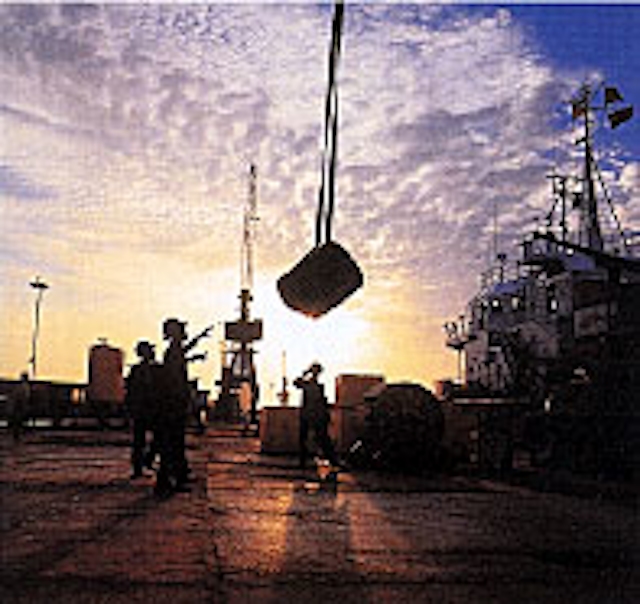 Integrated Logistic Services (London) has released a new brochure detailing its Deep Offshore Support Bases in its many locations with the Sub-Saharan West Africa region. Ready-to-go material handling and safety operations are profiled.
Optic connectors
Three E Labs (Lansdale, Pennsylvania) introduces its Envirotight Fiber Optic Connector for single mode or multimode fiber. The connectors are for use in environments prone to environments where the connector is prone to submersion in liquids or exposed to harsh environments.
Alloys
Inco Alloys (Hereford, England) has released a new brochure profiling its corrosion-resistant alloys for oil and gas production. Detailed information is given on its manufacturing, materials selection, and corrosion testing processes. Catalog comes complete with illustrations.
Fall protection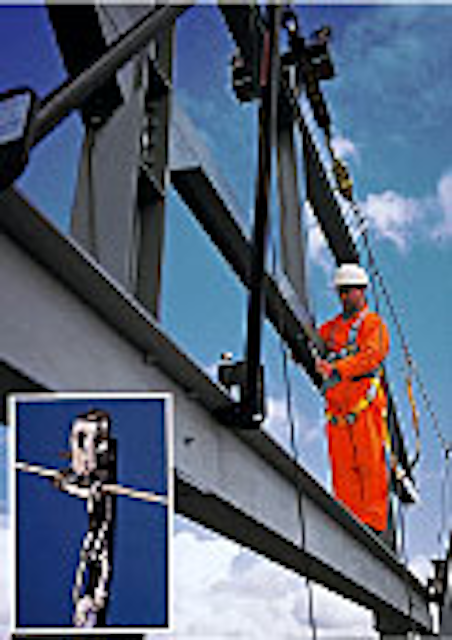 Sur-loc (Freemont, Indiana) is offering a temporary fall protection system. LatchwaysRegistered RotoLatchRegistered Temporary Fall System illustrated in a new booklet features intermediate supports with starwheel technology. Packages are available in two-man or five-man systems.
Structures
Nautica (Broussard, Louisiana), a manufacturer of buildings for the petrochemical industry, now provides a new brochure on its services and products. Included in the full-color booklet is complete descriptions and illustrations of its workspaces - modular and interiors.
Products CD
Trimble (Christchurch, New Zealand) has produced a CD covering all its marine products, including its GPS, marine survey software and communications systems. The interactive CD is free to customers.
Pipelines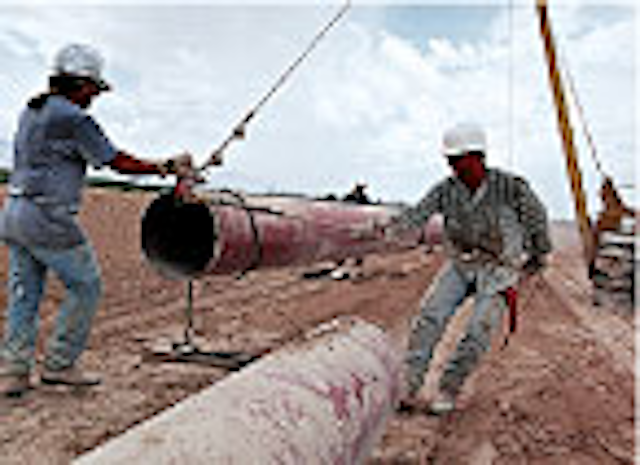 Longhorn Partners Pipeline (El Paso, Texas) has released a new brochure detailing its current projects. An overview of Longhorn Partners' current 700-mile pipeline project, economics, and benefits are included along with tables, charts, and maps.
Drill inspection
T. H. Hill and Associates (Houston) announces the Standard DS-1trademark Drill Stem Design and Inspection (second edition) CD-ROM. Standard DS-1 allows inspection for industry wide standards with used drill pipe and other drilling components.
Wellhead system
Cameron (Houston) has released a six-page full-color brochure detailing the MBO Multi-Bowl Wellhead System, a unitized wellhead system. The system can be used as an alternative to conventional wellhead systems on land, as well as platform applications, according to Cameron.
Copyright 1999 Oil & Gas Journal. All Rights Reserved.