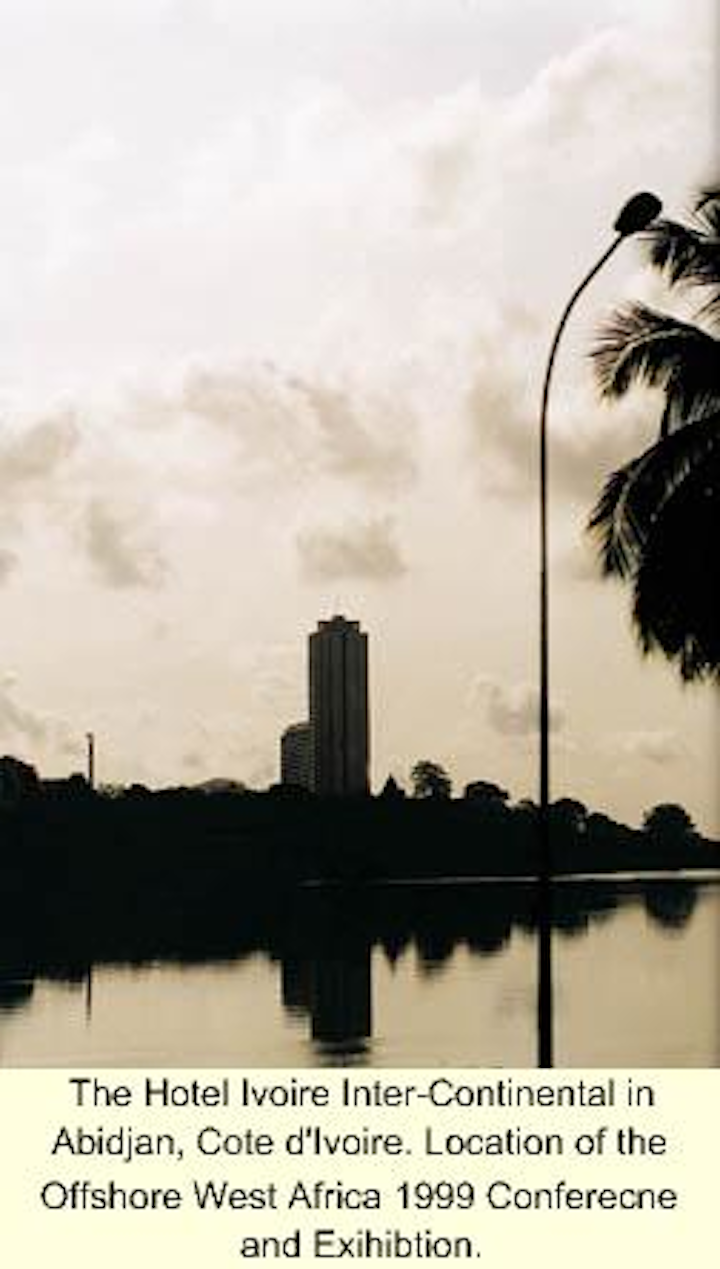 Via a number of papers outlining the shallow and deepwater geology offshore West Africa, attendees at OWA '99 (Offshore West Africa Conference and Exhibition) are learning more about what the basic attractions of the world's newest and probably most exciting exploration play.
The majority of the papers focused on engineering challenges in production and development, however, geosciences or drilling are fast-growing areas.
Over 1,000 participants from 91 companies around the world gathered in late March for the third annual conference (OWA '99). Papers presentations provided insight into ongoing projects, specifically offshore installation, platforms, and production. A large number of papers focused on the emerging deepwater oil industry in West Africa:
How preset moorings can reduce drilling costs (Bruce Johnson of Aker Marine)
Descriptions of a moored drill spar designed to operate in water depths up to 10,000 ft
Features of patented lateral pipeline tie-in system for water depth beyond diver access (Douglas Korth of Mentor Subsea).
There were also the papers presented on doing business and operating off West Africa:
Floating production, storage, and offloading vessel conversion for operating lease contracts
How satellite communications can enhance development of West Africa's offshore industry
A case history of a marginal field development for offshore Cameroon (J. E. Barnes of Paragon Engineering).
Emeka Ene's paper, "Optimizing Hydrocarbon Production Through Cost-effective Application of Rigless Well Intervention Technologies."
Kayode Edun of Halliburton spoke on "Fracturing High Permeabilities, Unconsolidated Formations using Oriented Perforations."
Fabrication yards and their role in subsea production gathering systems (Eric Hansen of ETPM)
With regard to the last paper, Hansen, who is EPTM's commercial manager in West Africa, spoke of how EPTM had begun building in West Africa "when Girassol was no more than a seismic cross section." The company identified the harbor of Lobito, an ancient port which once handled two metric tons of goods per year. Even in the process of setting up the Lobito facility, EPTM won a contract from Cabgoc. Today, that yard is growing in terms of technical achievement, supporting operations offshore Angola.
Nigerian interests
A number of papers delved on the environment, but they were too few to imprint on the conference the heightened importance of environmental activism in the West African oil industry, while not for lack of trying.
Hillary Chabozie-Nwonkonko's Environ mental Aspects of Developing Offshore West Africa: Case Study of the Mobil Producing Nigeria Idoho Pipeline Oil Spill, painted a canvas of the difficulty in which majors find themselves when they have to compensate for oil spills. He said it is less a question of the despoiled environment than the abject poverty in which people in oil communities live in Nigeria.
A more elaborate outlook on the relationship between oilfield activities, environmental degradation, the oil communities, and the Nigerian government was given in Soji Awogbade's paper: Topical Environmental Law and Policy Issues in the Nigerian Oil Industry. The paper was a comprehensive survey, calling for a searching review of how each of the parties deal with one another.
Niger, Angolan basins
At the conference, the Niger Delta and the Angolan salt basins shared the limelight with the opportunities presented by Cote d'Ivoire:
John Anderson of Ranger Oil spoke of structural influences on Miocene turbidite sand distribution in Angola.
Malvin Bjoroy provided insight into the use of geochemical data in petroleum exploration by presenting the work of his colleagues in Geolab in the paper entitled "Application of Carbon Isotope and Biomarker Geochemistry of Oils, Shows, and Source Rocks in Angola and Implications for Deepwater Exploration Potential.
Iyabo Ogun's paper 3D Reservoir Modeling of the D-07/MR-05 sand, Meren Field, offshore Nigeria, showcased the efforts of a group of earth scientists in Chevron Nigeria and Chevron Overseas Petroleum, to re-evaluate a low quality pay in the otherwise prolific Meren Field.
Round table
Also, the conference was highlighted by a round table discussion by a panel of industry experts chaired by Victor Vachier of French equipment supplier GEP. The panel included Don Henery, formerly of Shell, now a consultant, and representatives from Petroci, Vanco Energy, Texaco, Sonangol, Tidewater, Global Energy, and Chevron.
Henery gave a strong overview of the potential of the region and its increasing role as a major player in the oil and gas industry. Petroci and Sonangol representatives gave synopses on the current production and exploration activity in Côte d'Ivoire and Angola, respectively, and future potential. Joe Obiago of Global Energy gave a dissertation on doing business in Nigeria and plans for the future. Tidewater's Stephen Dick discussed the supply and service vessel market of West Africa. Vanco Energy discussed their new ultra-deepwater blocks in Gabon and Morocco concessions as well as discussing the Vanco Gabon Group partnership. Texaco also added to the discussion with recounts of recent successes in Nigeria and Angola. The Chevron representative focused on the West African Gas Pipeline project from Nigeria to Ghana via Togo and Benin.
Sixty referred papers
There were over 60 refereed papers, authored by more than 200 professionals and delivered by some 50 speakers in 18 sessions at the conference. The exhibition covered two floors inside the Hotel Ivoire. French companies exhibited in force with over 20 companies gathered in a separate exhibition pavilion.
In its third edition, OWA has turned to be a meeting point of interests that go beyond the oil and gas event as it is defined. For some conference participants, it is a point from which to divert to vacation trips. Some use it as a lobbying ground (Nigerian lawyers, geoscientists, and petroleum engineers numbering about 100, or 11% of the participants, met several times on how to convince the organizers that the next event should be held in their country). Yet for others, it is a place to connect with old acquaintances. "I met my old classmate here," said Stephen Dick, Senior Vice President of Tidewater Marine. "We last saw each other 25 years ago. He works for a competitor company now, but it was good to see him after such a long time."
The presence of an array of companies and representatives from the global oil industry provided the Cote d'Ivoire government a platform to campaign its proposed role as the Rotterdam of West Africa. In speeches beginning with the opening address delivered on behalf of President Henri Konan-Bedie to a presentation by Gilbert Yougoubare, the chief executive of the state oil company Petroci, Cote d'Ivoire reinstated its appeal as an important site for investment, with its geographical location, quality of infrastructure, measure of democracy, human freedom, and liberalized trade activity.