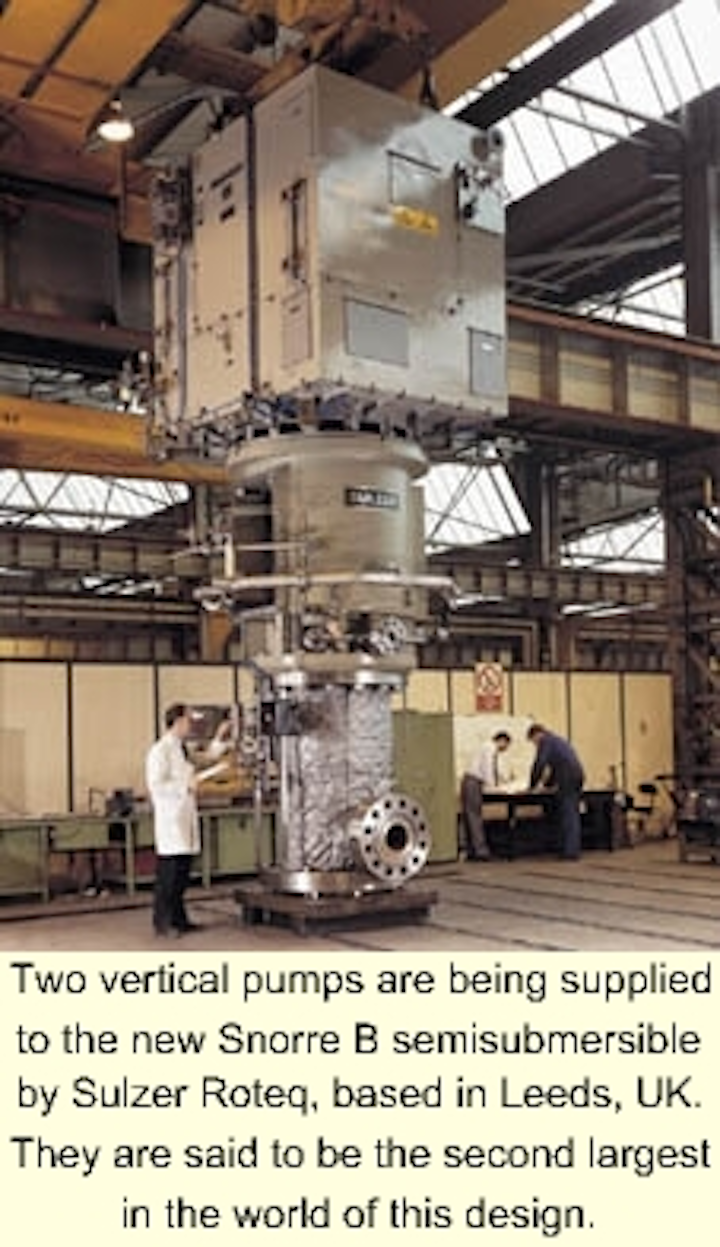 Topsides and jackets from 15 redundant Ekofisk installations could be removed for around $1.1 billion, according to a plan submitted by operator Phillips to the Norwegian Petroleum and Energy Ministry. The steel platforms would be taken to the mainland for recycling between 2003-2018. Phillips prefers to leave the field's subsidence-prone concrete tank on the seabed. Removal could add a further $400 million to the bill.
The Ministry is reviewing the plan, and will forward its own recommendations to the Norwegian parliament (Storting). A final decision is not expected before mid-2001. Environmental groups have been consulted over the proposals, with over 200 removal options having been assessed since 1994. Phillips' choice would cost NKr 3 billion more than the cheapest of those solutions. The Ekofisk partners also prefer to leave drill cuttings and around 150 miles of trenched pipelines in situ.
In the Dutch sector, Clyde Petroleum intends to re-deploy Wintershall's K10-C gas production platform on a gas field in its Q4 block. If approved, this would be the first such "hand-me-down" exercise in the North Sea involving different operators (Wintershall re-used its own K14-D topsides for its L8-H project in the late 1980s).
In the UK North Sea, DNO has acquired 100% operatorship of the Heather Field. This is one of the more imminent platform abandonment operations, but DNO hopes to extend field life a few more years through further discoveries. Two exploration wells are planed in 2000.
Output rise countered by drilling slump
Daily oil output in the UK North Sea leveled at 2.62 million b/d in September, according to the Royal Bank of Scotland, and the average for 1999 as a whole will likely reach an all-time high. Another survey, prepared by Strathclyde University for Deloitte and Touche and Aberdeen Chamber of Commerce, suggests that confidence is slowly returning to the UK's oil and gas industry. However, conditions may remain tight for a further six months, due partly to persistent doubts about the oil price recovery.
The exploration sector is most in need of a stimulus. According to Arthur Andersen Petroleum Services, only 25 wells were spudded in the UKCS between January and September, compared with 64 over the corresponding period last year. The new License Information for Trading web-site launched by the government recently may help reverse the trend. Among the first users was BP Amoco, which listed 12 of its Central North Sea blocks on the site, including four which have not been drilled for over six years.
Elsewhere, Conoco has contracted Kvaerner Oilfield Products to supply a multiplexed electro-hydraulic control system for its single well Vixen subsea development in the southern North Sea. Production will be routed 8.5 km to the Viking B complex. Further north, a subsea link to the Kittiwake platform is the likely option next year for Shell's 1998 Goosander oil discovery, according to partner Dana Petroleum.
Enterprise, Ramco in Irish gas studies
Enterprise Oil has failed in its latest attempt to prove up further gas close to its Corrib discovery off western Ireland. The 18/25s well, drilled to a TD of 3,000 meters by the Sedco 711, was targeting a different structure on the Shannon prospect, but was eventually abandoned as a dry hole. Enterprise will resume exploratory drilling next year.
Bord Gas Eireann is currently reviewing Ireland's gas-fired energy needs. In anticipation of an expanded transmission network, Granherne Engineering is performing feasibility studies for development of Corrib. The likely option is subsea facilities with a 70 km pipeline direct to the shore. First gas could come ashore by 2003.
However, Enterprise may be superceded by a consortium headed by Ramco Energy. They have been given a licensing option for the Seven Heads oil and gas accumulation in the North Celtic Sea Basin off southern Ireland. This structure was discovered and appraised by Esso intermittently between 1974-90. Four of the five wells drilled yielded significant hydrocarbon shows, according to Ramco.
The well data is currently being re-evaluated. If studies prove fruitful, the licensing option may be converted to an appraisal or development format. Seven Heads lies 32 km southwest of Marathon's Kinsale Head B platform, from where gas is piped to a terminal at Inch, near Cork. Throughput was recently boosted when the single-well SW Kinsale subsea field came onstream.
Contractor cleared for operating role
Norway's Petroleum and Energy Ministry has deemed Aker Maritime competent to develop and operate marginal oil fields. Aker has had its sights set on a more managerial role in the Norwegian sector for a while, claiming to have identified around 100 untapped development candidates. It now has to decide how to assume a leading role, whether by farm-ins or outright licence acquisitions. It will also work on areas where it lacks expertise, such as oil pollution contingency planning.
Aker did not participate in Norway's upcoming 16th licensing round. Statoil and Norsk Hydro, which have entered bids, may not garner their usual easy pickings. Oil and Energy Minister Marit Arnstad is displeased at the slow rate of progress on new projects, and has hinted that international companies, for a change, may be more favored. There are a host of would-be players waiting to be admitted, with Enterprise Oil among the more vociferous.
Aker Maritime's benediction was eased by the decision of its parent company Aker RGI not to sell off its offshore activities. There had been several non-Norwegian suitors, including Coflexip Stena Offshore. The marginal field ruling may also allow the group to shore up its work-starved Stord and Verdal yards, if suitable fields can be acquired. However, it may prefer to take on the Berge Hunin and Navion Munin production ships (it is part owner of the process facilities).
Elsewhere in the fabrication sector, the situation remains critical, with few new projects of substance going forward. Umoe's currently idle yard in Haugesund may have to be closed down, while Kvaerner is shedding 1,000 jobs at its Rosenberg site.