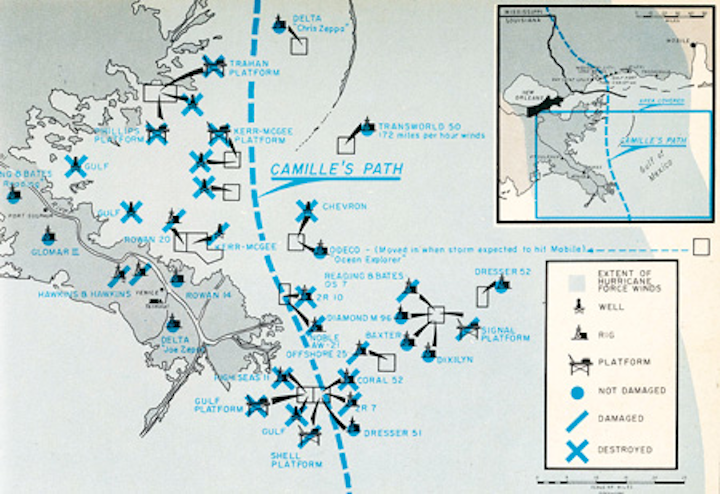 Operators began to work cooperatively following the storms of the 1960s
Joseph A. Pratt
University of Houston
In September 1969, a sobering headline greetedOffshore readers: "Camille knocks out 300,000 b/d and costs industry $100 million." The article mapped the path of this mammoth Category 5 hurricane, whose "tremendous wave forces" and 200 mph winds caused extensive damage to offshore facilities before the storm made landfall near Biloxi, Mississippi. Camille and two smaller hurricanes that came before it – Hilda in 1964 and Betsy in 1965 – destroyed more than property; they also destroyed complacency about hurricanes that had grown during the early years of offshore operations.
Defining hurricane risks
When the oil industry moved offshore into theGulf of Mexico, it plunged into an ocean of ignorance. Griff Lee, a design engineer for Humble Oil and then for offshore construction giant McDermott, aptly summarized the situation facing the industry in 1945: "There had been no construction of open frame structures in open water before." Existing data on the wave and wind forces exerted on seawalls or on ships at sea could not predict the forces exerted by hurricanes on production platforms fixed to the ocean's floor. How strong would the winds blow? How high could hurricane-driven waves be expected to crest? How solid was the foundation provided by the soft, sandy bottom of the Gulf of Mexico? How much would companies spend to improve platform safety?
While research by companies, consultants, and academics gradually generated data to answer these questions, those eager to explore for oil offshore took on great risks from hurricanes amid considerable uncertainty. When problems arose, engineers and construction specialists within the individual oil companies joined forces with their counterparts in offshore construction and service companies to solve them "on the run."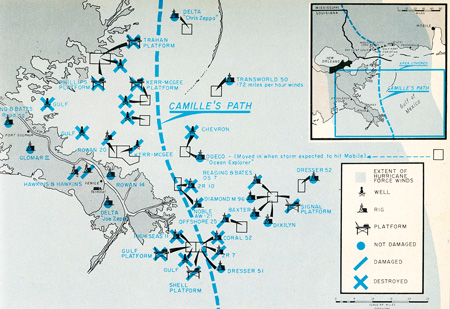 The devastating path and impact of Hurricane Camille on offshore facilities, as described in the September 1969 issue of Offshore.
One important source of information was the US Army's oceanography and weather service, which had created a corps of well-trained specialists who forecast weather for use in planning amphibious landings in World War II. Former "weather officers" such as A.H. Glenn and W.H. Munk created consulting firms to advise offshore companies on conditions offshore. Other weather officers joined the oceanography department at Texas A&M in cooperative efforts with industry specialists to measure wave heights. These men also worked to improve forecasts of hurricanes and also to "hindcast," using data from past hurricanes to project the path and intensity of future hurricanes.
Nature was kind to the pioneers of the offshore industry. They arrived at the right shore at the right time. The Gulf sloped gently out, allowing companies to move gradually into deeper waters as they developed new technologies. During a lull in major hurricanes in the Gulf of Mexico in the 1940s and 1950s, offshore expansion went forward without severe damage from major storms.
Unfortunately, this unusual lull encouraged the development of unrealistic design standards for managing risks from hurricanes. In the mid-1950s, one prominent consulting firm advised clients that "in 100 ft of water waves will probably seldom, if ever, exceed 20 ft in height." Decks thus should be placed "20 ft above the still water line." Another firm led by a respected former weather officer concluded that maximum wave heights would be about 25 ft and recommended deck heights of 32 ft above the water. There was even less agreement on how often major storms might occur in the Gulf. "Guesstimates" of maximum wave heights hovered between 20-30 ft for 25-year storms in the Gulf, with such storms predicted to occur perhaps once every 40 to 50 years for a particular offshore region.
After a series of small, weak hurricanes offshore Texas and Louisiana from 1947-1956 called these estimates into question, several of the largest offshore companies chose to buy an extra measure of safety by building higher platforms. Humble's Arthur Guy explained this new attitude with a simple sentence: "Error (on the side of greater safety) is cheap." The definition of "cheap" differed for smaller companies, however, and many of them proved willing to take "calculated risks" that their platforms would survive with lower decks. Expanded helicopter service made possible rapid evacuation of platforms, greatly reducing the likelihood of fatalities in their calculations.
Effective evacuations also required more accurate and up-to-date weather forecasting. Before the age of weather satellites, the US Weather Service simply could not deliver the quality of forecast information needed by offshore companies, who turned to meteorologists from private consulting firms when in doubt about storms.
Displaying 1/3 Page