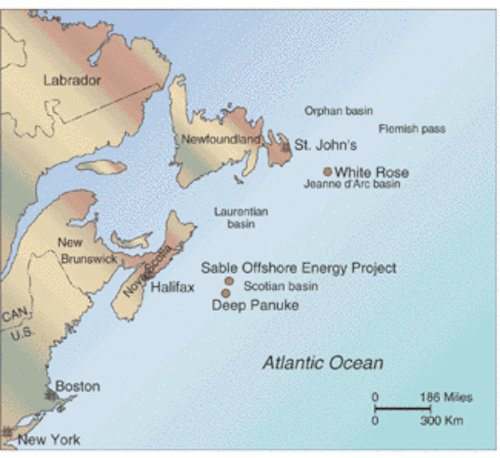 Judy Maksoud
International Editor
Newfoundland's Orphan basin could be the next big play
Activity is picking up off Eastern Canada after a slump that had many wondering where the downward slide would end. EnCana has resumed work on Deep Panuke off Nova Scotia, and Canadian Superior has joined El Paso to drill a new area of the shelf. Record-setting bids on Newfoundland and Labrador's Orphan basin blocks in December ushered in a new era of optimism for the province, and a new seismic survey could open another exploration area off the coast of Labrador.
Until the end of last year, the picture was much less rosy. Exploration drilling had tapered off, and there were few fields moving into development. It appeared that the region was in the doldrums.
True, development was progressing off Newfoundland and Labrador with Husky's White Rose project in the Jeanne d'Arc basin. Three glory holes were excavated, development drilling moved forward, and the first of the topsides modules for the FPSO were completed in Bull Arm. But no additional fields are planned to come onstream in the area after White Rose begins production in 2005/2006.
Worse yet, exploration failed to turn up incentives. Petro-Canada abandoned the Mizzen and Tuckamore B-27 exploration wells offshore Newfoundland, and Imperial Oil abandoned the deep-water Balvenie B-79 well off the coast of Nova Scotia.
Exploration was disappointing, but the outlook was even more bleak with EnCana putting the Deep Panuke gas development project 250 km southeast of Halifax on hold in February of last year, setting no date for resuming activity.
null
Things began looking up in Atlantic Canada late last year. EnCana resumed exploration on Deep Panuke with two wells, Margaree and MarCoh, which increased the company's confidence in the commercial potential of the Deep Panuke discovery.
"When we called a time-out on the Deep Panuke regulatory process and initiated a comprehensive project review in February 2003, our goal was to strengthen the risk-adjusted project economics," Randy Eresman, EnCana's COO, said. In his view, the company has made progress, but substantial work remains to be done. Still, resumed activities are a positive sign.
In fact, Deep Panuke could get a boost from Shell's recent downgrade of reserves from the Sable Offshore Energy Project. Based on new data, Shell lowered its recovery estimate for the Alma, South Venture, and Tier 1 fields. New estimates show that Glenelg, part of Tier 2, cannot be sustained as a stand-alone development. With SOEP less productive, Deep Panuke could be a much more appealing investment for EnCana.
Last October, EnCana and Shell spudded the Weymouth A-45 deepwater exploration well in 1,690 m of water. Drilling was ongoing as of early February. Exxon Mobil Corp. also generated positive news, beginning gas production in November 2003 from the Alma field, the first Tier 2 production from the Sable project, 125 mi offshore. South Venture, the second Tier 2 field, is under development with production expected in late 2004.
Greg Noval, president and CEO of independent Canadian Superior, has never lost hope in the acreage his company holds off Nova Scotia. Noval told participants at the Canadian Offshore Resources Exhibition and conference in Halifax last October that his company sees tremendous potential off Nova Scotia. "We're very upbeat about Nova Scotia or we wouldn't be here," Noval said, calling the region, "the last great mega-play in North America."
Putting his money where his mouth is, Noval acquired two major exploration licenses in the November 2003 land sale, landing EL 2415 and EL 2416. The Marauder and Marconi blocks brought the company's holdings to 1,293,946 acres, making Canadian Superior one of the largest offshore landholders.
Canadian Superior teamed up with El Paso and set Rowan Companies Inc.'s Gorilla V jackup to work Nov 20, 2003, drilling the Mariner I-85 well on block EL 2409, 290 km offshore in 56 m of water. Mariner I-85 is being drilled on the first of Canadian Superior's three large prospects identified for drilling on the block. Using high-resolution seismic data, the company has estimated potential reserves on the Mariner block at 2.5 tcf.
As of early February, drilling was ahead of schedule and was expected to reach TD of 5,600 m by the end of the month.
Canadian Superior is planning high-resolution 3D seismic programs for the Marquis and Mayflower blocks early this year, to be followed shortly thereafter by exploration drilling.
Canada's Hunt Oil is looking for partner interest in its offshore licenses 2364 and 2365, a combined 1.4 million acres offshore Cape Breton. A seismic program is planned for 2004, and other technical work is ongoing.
Marathon Oil drilled the first deepwater well, Annapolis, in 2002 and gathered 3D seismic over the Cortland and Empire licenses in 2003. The company plans to drill another exploration well on the Annapolis license this year.
Meanwhile, Newfoundland's offshore got an enormous boost in the bidding round that closed Dec. 17, 2003. Bidding for new acreage in the Orphan basin hit an unprecedented C$672,680,000.
The Canada-Newfoundland Offshore Petroleum Board announced the surprising results of the 2003 land sale Dec. 18, noting that eight of the 14 parcels on offer received bids. Local reaction was astonishment.
Certainly, the seismic data gathered by Geophysical Service Inc. looks promising. GSI's President and CEO Davey Einarsson is optimistic about the region's prospectivity. "It is my opinion that the Orphan basin will prove to have over three times the oil reserves of the Jeanne d'Arc basin, which is estimated at over 2 Bbbl," Einarsson said. The Orphan basin will produce 6 to 8 Bbbl in Einarsson's estimation.