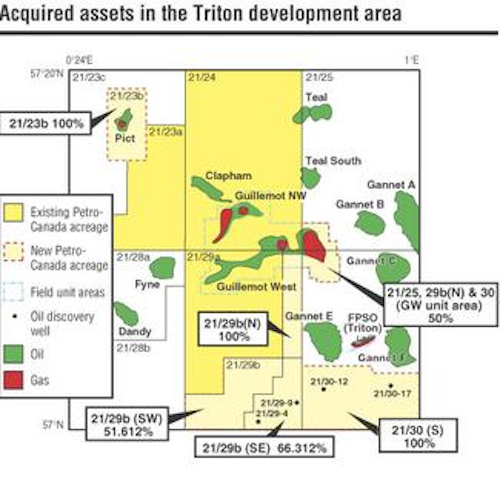 Jeremy Beckman • London
Caution reigns in northern exclusion zone
Exploration should soon resume in the Norwegian Barents Sea, following the lifting of a three-year ban by the Energy Ministry. However, potentially more prospective waters to the south will remain off limits, due to lingering environmental concerns.
The government has re-opened parts of the southern Barents Sea, which were last explored during 2000-01. That short window brought two discoveries for Agip (Goliat) and for Statoil in the NordKapp basin further east. Year-round petroleum activities in the area were then suspended, with the exception of the Snøhvit LNG development, as the government mounted an impact assessment study, known as ULB, for both the Barents Sea and the Nordland VI blocks off the Lofoten Islands.
ULB's findings have cleared the way for at least three new Barents Sea wells between 3Q 2004 and 2Q 2005. The wells are for structures in Lopparygen (north of Snøhvit, Nordkapp, and Goliat). The government is eager to see more gas finds in the area in particular, to mitigate the cost of Snøhvit's infrastructure. Statoil has already approached other operators in this region over a collaborative drilling campaign.
Like most of the majors, Statoil was also hoping for part access to Nordland VI in the Norwegian Sea, following the industry's run of deepwater drilling flops farther south. The Norwegian Petroleum Directorate believes this area contains undiscovered reserves of 7.6 Bboe; however, pressure groups have successfully barred exploration in the region – one of Norway's main spawning grounds for cod, haddock, and herring – since November 2000.
The government has also invited bids for 95 blocks or part-blocks in the Norwegian and North Seas under the 18th Norwegian licensing round, more than triple last year's offering. This is in recognition of the industry's need to find and develop new resources more quickly. Some of the Norwegian Sea blocks are close to existing or emerging hubs, such as Kristin and Skar, while others are in more remote locations farther west. Applications are due by mid-March, with awards anticipated before summer.
Stay of execution for Varg
Production through the Varg field FPSO in the North Sea could double, following a new well drilled on license PL038 by operator Petra. The well, drilled by the Mærsk Giant in 87 m of water, proved 79 m of oil-bearing sands in the late Jurassic, confirming a new model of the reservoir drawn up by Petra's owner PGS.
Pressure sensors have since been installed in the well to obtain data on further potential reserves in the area. The well was due to be converted to a producer last month, pushing daily output from Varg to 1,800 MMcm/d. Under previous operator Norsk Hydro, the field was heading for closure in 2003, but PGS's efforts should prolong production by two years or more.
Also in the North Sea, Statoil plans to drill a 10,000-m well – its longest offset yet – to produce its Gulltop discovery (ex-Dolly) from the Gullfaks A platform. It will be drilled this October as a sidetrack from an existing producer, for a cost of NKr300 million, one-fourth of the outlay for an alternative proposal based on a subsea template and multiphase flowline.
Gulltop contains 25 MMbbl of oil and 500 MMcm of gas recoverable. Statoil has also invited tenders for a standalone production solution for Volve, a 60-MMbbl, 1-bcm discovery 8 km north of Sleipner A. Six wells would likely be drilled, with gas piped to Sleipner East for processing. Production might be feasible late in 2005.
Payback for southern sector wells
Mature field specialist Venture Production has tested another structure on its A fields acreage in the UK southern gas basin. Well 49/11a-9, drilled by the jackup Noble Ronald Hoope, intersected 150 ft of net gas pay while testing the Amanda discovery, formerly known as Annie. Venture now believes that reserves exceed its pre-drill estimates, but is looking at ways of lifting deliverability, possibly via a horizontal sidetrack. This approach has worked with similar finds nearby.
Amanda could be in production by winter 2005, as a tieback to the Alison field. Venture recently became 100% owner, as well as operator, of Alison, Ann, and Audrey, having bought the outstanding equity held by First Oil Expro. The A fields were originally brought onstream by Conoco, which is now focusing on less developed acreage further east.
Further up the league table of producers, ExxonMobil has recorded a discovery with an exploratory well in block 53/2, 5 mi southeast of its producing Camelot field. Gas was encountered in the Rotliegend reservoir, and tested 65 MMcf/d on an 80/64-in. choke. ExxonMobil is also a partner in the £150-million Shell-Expro-operated Carrack project, which recently delivered first gas. The 10-month development has created a new hub 120 km northeast of the north Norfolk coast, an area previously far removed from production infrastructure. The 85-km pipeline taking Carrack's gas to Shell's Sole Pit complex can also be used for future tie-ins of marginal fields en route.
Another proposed Shell development in this area, Brigantine E, appears to have fallen through, following water breakthrough in exploration well Inde H. There had been plans to convert this well to a producer, as a tieback to the Brigantine BR platform. There is better news for Shell's sister company in the Dutch sector, NAM, which appears to have a substantial new find following a deviated well drilled from its K/15-FG production platform.
null