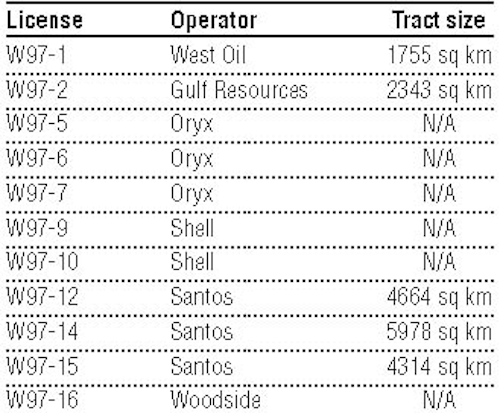 Peter Tang
Singapore
Australia: 12 new contracts awarded
A total of 12 new contracts have been awarded in the offshore northwest Australia Browse and Bonaparte basins. These are summarized as follows: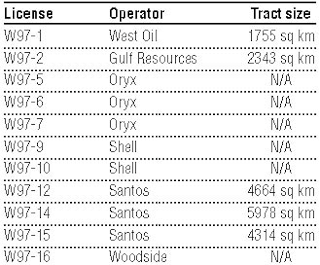 Agip signs Bohai contract Agip has signed a contract with CNOOC for Bohai Gulf PSCA 09/11. This is the first new contract to be signed in the Bohai Gulf this year. The block is located to the south of Kerr McGee's PSCA 05/35 in the western Bohai Gulf, and covers an area of 850 sq km. Agip currently holds 100% interest in the block. Commitments are understood to include 3D seismic acquisition and drilling.
Indonesia: Two exploration successes
Two offshore exploration wells have been successfully completed in Indonesian contract areas.
Merah Besar-10, drilled by Unocal in its Kutei Basin East Kalimantan PSC has been completed as an oil and gas discovery. As with other wells drilled by Unocal in this ongoing slimhole deepwater drilling project, the well was probably completed on the basis of electrical logs and without being tested. No test results were released by the operator. The well was spudded some 6.5 km south-southeast of the Hitam Besar-4 location, close to the eastern boundary of the contract area, in 406 meters of water. The well reached TD at 3,764 meters MD (2,870 meters TVD).
In the offshore Mahakam PSC in the Kutei Basin, Total's Stupa-3 has been suspended as a gas discovery. The wildcat was spudded using PT Medco's Raniworo jackup and is located in Area II in the southern part of the offshore Mahakam PSC, 18 km southeast of the eastern margin of Unocal's Sepinggan oil and gas field. Stupa-1(ST), drilled by Total as a gas/condensate discovery and is located 2.5 km southeast of the latest well location, while Stupa-2, completed as gas/condensate well in January this year, is located some 2 km to the north northeast. Stupa-3 was designed to drill to a depth of 3,826 meters. The well reached TD at 3,847 meters and suspended as a gas discovery. Reports indicate a 30-meter gas column had been intersected in the Miocene Sepinggan Formation sandstones.
Shell making gains in Malaysia
In a large scale asset swap between Occidental and Shell involving interests in Colombia, Malaysia, the Philippines, and Yemen, it was announced that Shell will obtain all of Occidental's interest in Occidental Oil and Gas (Malaysia) (its 37.5% and operatorship of both offshore Sarawak SK-3 and SK-8 PSCs) and all of Occidental's shares in Occidental LNG (Malaysia), 10% stakeholder in the MLNG Tiga joint-venture in which Shell also holds a 10% share. SK-8 is scheduled to supply part of the gas to feed the planned Tiga LNG plant expansion.
Shell has also reinforced its position in Sarawak by signing a PSC for SK-308 in the Central Luconia Province of the Sarawak Basin. This covers acreage relinquished by Occidental from its SK-8 PSC which was acquired by Shell. At the same time as Shell's signing, Santa Fe was awarded PM-308, located in the Penyu Basin. This represents Santa Fe's first venture into Malaysia. The acreage covers a similar area to the Texaco's former PM-14, which was relinquished in March 1996 and on which an oil discovery was made in 1992. This was Rhu #1A, which flowed 6,000 b/d of oil.
Malaysia's Raya A now onstream
Esso Production Malaysia Inc (EPMI) has commenced production from the Raya A platform located on the Malay Basin Raya oil field in the PM-8 PSC. Initial development drilling from Raya A will consist of seven dual producers, the first of which came onstream in early June. Production is anticipated to peak at 24,000 b/d of oil in 1999. Oil is transported via a 16-in. diameter pipeline to the Seligi A platform and then to the Tapis gathering system. This marks the first production from PM-8.
Triton sells stake in JDA A-18
Ending extensive industry speculation, it was announced that following its failure to attract a high enough bid for the entire company, Triton had made an agreement to sell 50% of its stake in A-18 to Arco (leaving both Arco and Triton with 25% and Carigali with the remaining 50%). The deal requires Arco to pay $150 million up front and also to contribute up to $377 million towards project development costs until first commercial production which is scheduled for 2001. These costs will be recoverable under the PSC terms. Additional incentive payments of $65 million will be made in 2002 and 2005 if certain development objectives are met. A-18 is estimated to contain gas reserves of up to 10.6 TCF in eight accumulations. This bold acquisition represents Arco's first exploration or development involvement in either Malaysia or Thailand.
Shell takes 50% of Malampaya/Camago
As part of a large scale asset swap between Occidental and Shell involving interests in Colombia, Malaysia, the Philippines, and Yemen, it was announced that Shell will obtain all of Occidental's 50% interest in SC 38 and the Malampaya/Camago gas field development project, leaving Shell as sole participant.
Kerr McGee takes action off Pearl River
SCS Resources IV has farmed-in to Kerr McGee's Pearl River Mouth Basin PSCA 26/06, acquiring 50% interest. Following the farm-in, Kerr McGee has firmed up plans to drill a well, EP 20-3-1. It is understood a drilling contract for the Nanhai-2 semisubmersible has been negotiated.
On another note, Kerr McGee has withdrawn from Pearl River Mouth Basin PSCA 15/35. Its 37.5% interest and operatorship is expected to revert to Cairn, the previous operator. Cairn signed the contract for the block in December 1996. Kerr McGee farmed-in to the block in July 1997, and drilled one well, XJ 36-2-1, which was P & A dry on 26 March 1998 without testing.
Brunei: Shell's Yu-1 well dry
Brunei Shell's first well in a three or four well exploration program, Yu-1, located in its OAG 2 in the Baram Delta Basin, has been plugged and abandoned as dry after reaching a TD of 1,500 meters. The well is located about 8 km southeast of Shell's 1984 Z-2-1 gas discovery, and 6 km northwest of the undeveloped Juragan oil and gas field. The well was targeting Pleistocene topset deltaic sediments.
Myanmar: Premier abandons Yetagun
Premier's Yetagun Field appraisal well YE-4, spudded using SBMGS's Kan Tan 3 semisubmersible, was abandoned without testing at a depth of 2,294 meters. YE #4 had a prognosed TD of 9,080 ft and is located in Premier's Moattama Basin M-14, 5 km south of Yetagun-2A, and 8km south-southwest of Yetagun East-1. The well was appraising the southeastern extension of the Yetagun Field.
Copyright 1998 Oil & Gas Journal. All Rights Reserved.