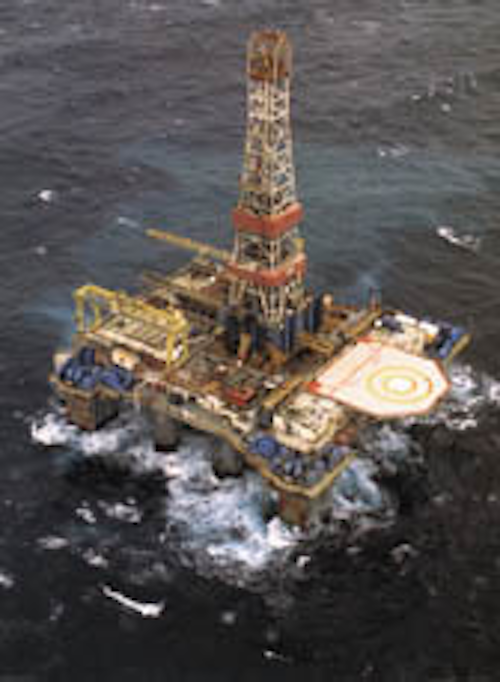 Geologic similarities across Atlantic
Jeremy Beckman
Editor, Europe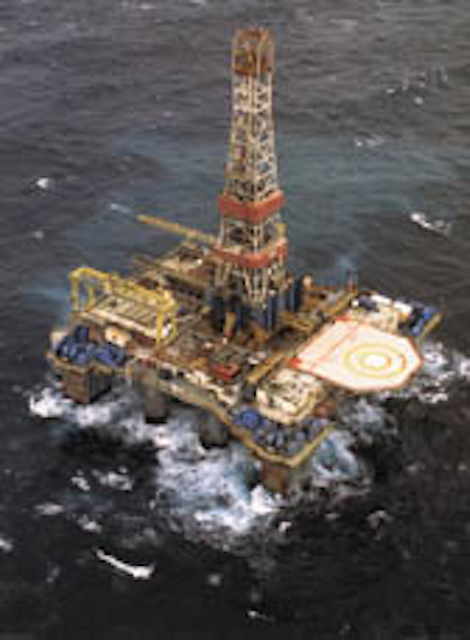 Conceivably, the Attwood Hunter semisubmersible, currently on charter to British-Borneo in the Gulf of Mexico, could be a candidate to drill the company's first well offshore Mauritania early in 2000.
Exploration spectaculars offshore Angola and the Gulf of Guinea have refueled interest in the deepwater plays off northwest Africa. A steady stream of companies have been signing up for reconnaissance licences off Morocco, while off Mauritania, the first concerted drilling campaign is underway.
This year, Morocco's national oil and gas exploration and production organization - ONAREP - has issued reconnaissance permits to Enterprise Oil, Lasmo, ROC Oil, Shell, Taurus Petroleum and, most recently, to Vanco Energy. The one-year licences have brought an upsurge this year in 2-D seismic acquisition off Morocco, as the companies evaluate prospectivity prior to committing to full-scale exploration.
Vanco's program on its Safi Haute Mer block should already be underway, via the Geco Prakla vessel MV Polshkov. It is reportedly investigating deepwater Cretaceous/Tertiary sands structured by Triassic salt, in addition to Jurassic Reef/Carbonate banks and some nearshore Paleozoic structures.
Enterprise's Cap Draa Haute Mer permit contains several non-commercial oil discoveries on the shallow eastern edge of the licence, as does ROC Oil's. Enterprise's acreage is also close to Morocco's large onshore oil shales discovered years ago by Shell.
But by far the largest permit holder, and the only one with acreage off and onshore Morocco, is Lasmo. Having secured the onshore Essaouira reconnaissance licence last November, it was officially granted the adjacent Ras Tafalney offshore licence this June, an area covering 11,430 sq km off the coastal town of Essaouira. Water depth ranges from 150 meters to 2,900 meters. But, the most prospective structures lie in the 800-2,000 -meter water depth range.
Morocco evaluation
Evaluation of these waters by Lasmo actually started this March, in co-operation with Onarep geophsyicists. By early September, 1,086 km of new marine seismic/gravity and magnetics data had already been acquired, using Russian contractor SMNG's vessel Akademik Lazarev.
This total was 386 km above the contractual obligation for the licence. Lasmo was also well advanced with reprocessing 700 km of existing seismic (much of Morocco's waters were initially surveyed by Phillips in the 1980s).
According to Business Development Dir ector Chris Freeman, Lasmo chose to enter Morocco because North Africa is one of its core exploration and production areas. It is possibly the only company seriously active in Algeria, Tunisia, Libya, and Egypt, with a prolific recent exploration track record in the Algerian Sahara.
Prior to the reconnaissance permit awards, Lasmo had also built good working relations over several years with Onarep, having reviewed the country's potential on numerous occasions. That relationship helped to speed up the current program, says Dr. John Warburton, Lasmo's Project Manager for Exploration. "If Onarep is aware that you're enthusiastic, they will make their databases available to you. They also provided people who knew about our permit areas to help us reach decisions quickly," he said.
"We also had some luck," Freeman adds, "in that we felt we needed to shoot our seismic early, and a seismic survey boat happened to be available at short notice. That vessel had also shot seismic for us recently offshore the Falklands, so we were familiar with its capabilities." Early impressions were that the seismic data quality was excellent. It is currently being processed by Robertson's Research.
Geological analogues
From its review of the existing old 2-D seismic, Lasmo has identified deepwater cretaceous and tertiary structures that resemble large hydrocarbons systems in basins off Angola, Congo and Nigeria, and also the deepwater Gulf of Mexico plays. There may also be analogies with Eastern Canada, as the Sable Basin once rested adjacent to Morocco before the Atlantic Ocean formed in Liassic times.
Identified traps are associated with salt diapir piercement structures with intervening areas where deepwater sandstone reservoirs were deposited. Effective source rocks are expected to be present in the Lower Jurassic and Lower Cretaceous.
"We've done a large source rock study throughout North Africa," says Freeman, "and we believe there is a good chance that, if successful, there will be oil in our permit area. We believe that oil has been generated from Jurassic carbonate." Imaging pods of sediment between salt layers may prove demanding, but Warburton has confidence in the available technology.
Once Lasmo's offshore licence expires next June, it can either apply for a further year's extension, or go on to negotiate exploration terms. There is no regime in place currently for deepwater Moroccan offshore production sharing contracts, but the licensed operators are currently helping Onarep to draw up a framework. These will likely be an amendment of Moroccan onshore PSCs, which are in place. Onarep was also expected to stage presentations this month in Houston and London in an attempt to attract further foreign oil companies.
Lasmo's recent experience of deepwater drilling was offshore Namibia. If numerous block operators do decide to drill, they may consider a rig time share on the lines of the current program in The Falklands. Weather conditions are similar to those found in the Gulf of Mexico, although Lasmo's seismic vessel operations were shut down for 25 days by gales this summer.
Assuming that exploration does go forward, the current assumption is that oil will be found. However, should quantities of gas also turn up, there would be a strong local market, unlike some of the regions further south in western Africa. North of Lasmo's acreage is a large industrial zone around Casablanca. Gas could also be fed into the Maghreb line exporting supplies to Spain and Portugal, or to fuel new gas-fired power stations under construction in Morocco.
Mauritania negotiations
This August, Woodside Petroleum, British-Borneo International, and Hardman Resources agreed to jointly farm in to existing production sharing contracts in Mauritania offshore blocks 3, 4 and 5 (subsequently renamed blocks A and B). Woodside was designated operator. The same group is also negotiating agreements for offshore blocks 2 and 6 which are expected to be signed this month.
Acreage in the A and B blocks covers an area of nearly 24,000 sq km, with water depths down to 2,000 meters. The sloping topography is similar to that of the Campos Basin. Shell shot seismic over these waters in the past and recently reprocessed the data, before passing it on to Woodside, its affiliate company. This is the first time that Woodside has operated a PSC outside Australia's North West Shelf.
Although Mauritania has a 700 km long coastline, only 11 offshore wells have been drilled, most targeting carbonate prospects on the continental shelf. These wells proved unsuccessful, but they did prove up a Cretaceous source rock and contained numerous oil shows which indicate the presence of a Jurassic source rock too.
According to British-Borneo, the presence of two good source rocks and strong evidence of reservoir and trap development in the deepwater area, as seen on the reprocessed seismic, suggests an exciting play. Traps identified on the seismic are associated with both gravity-generated compressional toe thrusts and salt diapirs. The key reservoir targets are Oligocene and Miocene age deepwater turbidite sandstones.
The partners plan to acquire further 2-D seismic, and will nominate a location for their first well by the end of 1999. Drilling will probably start early in 2000. British Borneo currently has two deepwater semisubmersibles on charter in the Gulf of Mexico, but one of these may be available in time for the Mauritania campaign. Alternatively, British-Borneo's Steve Holliday is confident that a newbuild can be secured, with further contracts likely to be cancelled as the drilling sector declines.
Mauritania has a small, essentially French-speaking population with a stable government that is good to work with, according to Holliday. No infrastructure exists locally to support drilling activities currently.
British-Borneo has made its name of late in developing 50-60 million bbl deepwater fields in the Gulf of Mexico considered marginal by the major operators. It has an agreement with Atlantia to deploy the latter's SeaStar mini-TLP design, the first version of which is about to come onstream in the Morpeth Field.
The company sees potential for applying this development solution to other benign deepwater environments, along with smart completions, and Mauritania may be a candidate, depending on the size and layout of any reservoirs discovered. It could be used with an FSO alongside. But British-Borneo is also open to the use of spars, FPSOs, or subsea/ buoy solutions.
Copyright 1998 Oil & Gas Journal. All Rights Reserved.