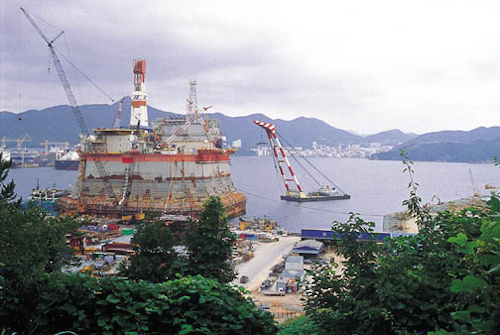 First, some oil has to be discovered
Jeremy Beckman
Editor - Europe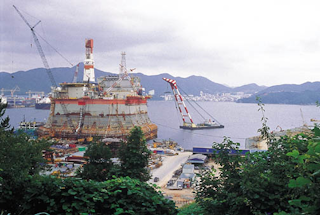 Other structures such as the giant Molikpaq concrete production platform could be deployed in the future. The Molikpaq was mated with the Spacer in May 1998 and is shown ready for tow-out at Daewoo Heavy Industries at Okpo, South Korea.
PART II: This is Part II of a two-part series on Russia's entire Sakhalin Island development programs. Part I appeared in the November issue.
Partners in the Sakhalin III Kirinskiy block are lining up what could be the world's largest crude production platform, handling 500,000 b/d. First, however, some oil has to be discovered.
Kirinskiy is the sole work program off Sakhalin Island currently that does not involve appraisal of an existing discovery. The geological portents, though, are thought to be more promising than in the other blocks - the 50 km by 30 km South Kirinskaya prospect alone is estimated to hold oil reserves of 3.4 billion bbl, plus 25.4 Tcf of gas, or up to 34.3 Tcf if the reservoir is mainly gas prone.
Anton Prodanovic of PegaStar Neftegaz, the operating company for Kirinskiy block, outlined plans for the exploration and possible development at the recent second Sakhalin Oil and Gas Conference organized by IBC UK Conferences in London. He likened the challenges to Newfoundland, where Mobil and partners brought onstream the world's first iceberg-resistant platform last year in an area hitherto devoid of offshore infrastructure.
This August, Mobil and Texaco, which had bid successfully for Sakhalin III Kirinskiy block in 1993, brought in Russian oil companies Rosneft and Rosneft-Sakhalinmorneftegaz as partners in the production sharing agreement (PSA). Pegastar Neftegaz was formed in October to coordinate the technological, financial, and managerial capabilities of the four participants as operator of the PSA.
In preparation for the planned drilling start next year, Mobil and Texaco repaired and upgraded the Russian semisubmersible Shelf-6 at a cost of $4 million. A $17 million 3D seismic survey was also acquired in 1997-98, using the Russian-Norwegian joint contracting venture Dalmorneftegeofizika-PGS. Under the currently negotiated PSA, still awaiting ratification by the Russian Duma, Mobil and Texaco have committed to a minimum $151 million for the exploration program.
The seismic was processed onboard the 3D vessel, then analyzed at the joint venture's offices in Yuzhno-Sakhalinsk. The aim was partly to optimize well locations, said Prodanovic, but also to improve understanding of shallow gas hazards and the reservoir model generated from Texaco's geoscience center in Texas.
Environmental conditions
Sakhalin III Kirinskiy block covers an area greater than 7,000 sq km and contains one other notable prospect, Mynginskaya. The Sea of Okhotsk, in which the block is located, is characterized by rubble and sheet ice which tends to pile up, eventually evolving into icebergs, although not in the immediate vicinity of Kirinskiy, said Prodanovic. Harsh storms prevail between December and June, and the area is also prone to severe earthquakes.
This environment will limit the length of the offshore operating season and also necessitate use of unconventional exploration and production technologies and construction techniques. The water depths, varying from 150-200 meters, are also much deeper than in the Sakhalin I and II PSAs, which average 30-50 meters.
Should exploration drill ing results meet expect ations, the partners en vis age a single steel production and processing platform producing as much hydrocarbons as possible as quickly as possible - perhaps up to 500,000 b/d, compared with 330,000 b/d for Hibernia (offshore Eastern Canada). Choosing steel would allow the platform to be built in Russian Far East yards such as Nikolaevsk-na-Amure or Nakhodka. A concrete gravity base has also been considered, Prodanovic said, although that would entail setting up a new concrete casting facility locally.
Production options
A concrete GBS similar to Hibernia's would provide 10 days' oil storage. Also under investigation are a steel monotower with two days' storage capability, or a steel jacket without oil storage, but which could be towed to the field vertically (Bechtel in Houston undertook steel studies last year). Whichever design is selected would have to be ice-resistant to guarantee year-round production. That rules out spar platforms, Prodanovic said. Development drilling would use a combination of remote subsea templates plus extended reach wells from the platform.
However, an alternative, lower-cost option to speed up production might be to construct four to five ship-shaped monohull platforms, he added, featuring a downward or upward-breaking bow suitable in ice conditions. Vancouver-based Sandwell has engineered an floating production, storage, and offloading (FPSO) vessel with this capability, also featuring a turret mooring for weathervaning.
Should Kirinskiy turn out to be an oil-dominant development, scenarios being studied are:
A trans-Sakhalin oil pipeline and conventional tankers with oil loading in an ice-free port
Ice-breaking tankers and direct oil loading via offshore loading systems in ice.
If mostly natural gas, the likely options for the production are:
An LNG plant located on the south or west of the island with conventional LNG tanker loading
A northerly LNG plant with ice-breaking LNG tankers
A gas pipeline to mainland Russia or Japan.
In all cases, development costs would need to be shared by all the Sakhalin consortia, rather than duplicating infrastructure unnecessarily. It is important in that regard for the I and II consortia to consider Sakhalin III in their plans right now, said Prodanovic. "It may be more profitable for us to route our gas through the Lunskoye Field facilities." Sakhalin region governor Farkhutdinov also stated plans at the conference to build a 4 million ton capacity refinery in the south of the island.
Revenue allocation
Following a commercial discovery, investors will contribute $100 million to the Sakhalin Development Fund, aimed at improving social and economic conditions on the island, perhaps expanding educational, health, and medical services. If the development goes to plan, it would create 4,000 long-term jobs locally over the field's 25-year productive life, Prodanovic added.
Pegastar has agreed to pay the Russian Federation various bonuses totaling up to $100 million, should production go forward. Potentially, the federation stands to pick up $20 billion from production revenue, although that figure arises from an $18/bbl oil price. Russian participants in the project and Russian contractors stand to pick up revenues of over $25 billion.
---
Pipeline option being considered:
J. P. Kenny Sdn. Bhd., a subsidiary of the Wood Group, is studying a 1,900-km pipeline route connecting Korsakovon on Sakhalin Island to Tsuruga, Japan. Japan Petroleum Exploration Co. Ltd. (JAPEX) let the contract for the work. Pipeline diameter will be between 30 and 48 inches.
The proposed route will be located offshore except for two lengths. One portion will cross the northern Japanese island of Hokkaido while the second segment will cross the northern tip of Japan's main island, Honshu.
The pipeline will carry gas from either Sakhalin Island fields off the northeastern shore or gas from undeveloped fields in eastern Siberia. Financing is expected to come from the private sector.
Copyright 1998 Oil & Gas Journal. All Rights Reserved.