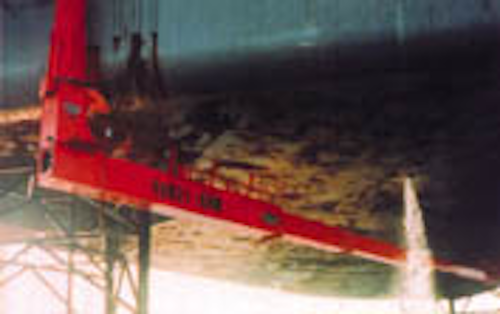 Marshall DeLuca
Houston
Hull maintenance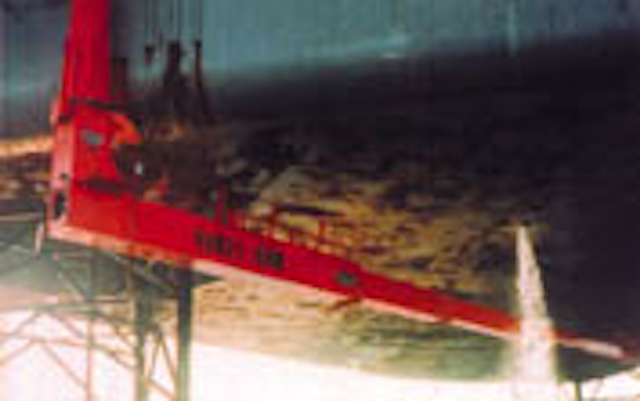 VMW's HandiArm now makes it possible to safely perform maintenance work on the underside of a jackup rig's hull while drilling on location. The HandiArm provides greater flexibility to schedule hull main tenance work without impacting drilling schedules, improving yearly income, and profitability with more working days on location. Use of the HandiArm for preventive maintenance can increase hull life and provides far safer, more versatile access than scaffolding, cable systems or crane manipulated work platforms.
Circle 50 on Reader Service Card.
Fabrication yards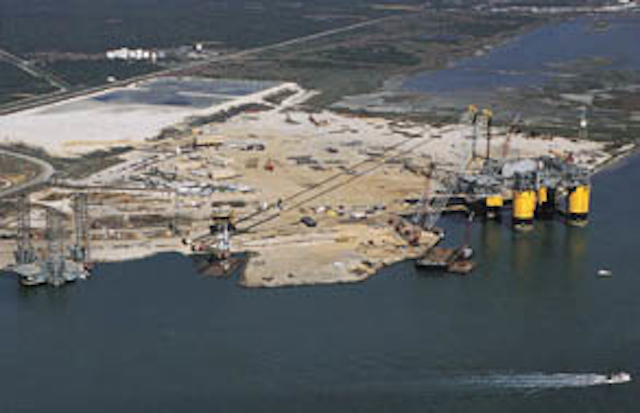 Aker Gulf Marine has issued a publication highlighting the company's fabrication yards and recent projects. Aker Gulf Marine has yards in both Ingleside and Aransas Pass, Texas, and offers complete services in construction and fabrication for the offshore oil and gas industry. The yards feature deepwater access, a specialized lifting device, and an offloading site. Some projects highlighted include the Genesis spar hull mating, the Spirit platform, and the Ram/Powell TLP integration.
Circle 51 on Reader Service Card.
Risers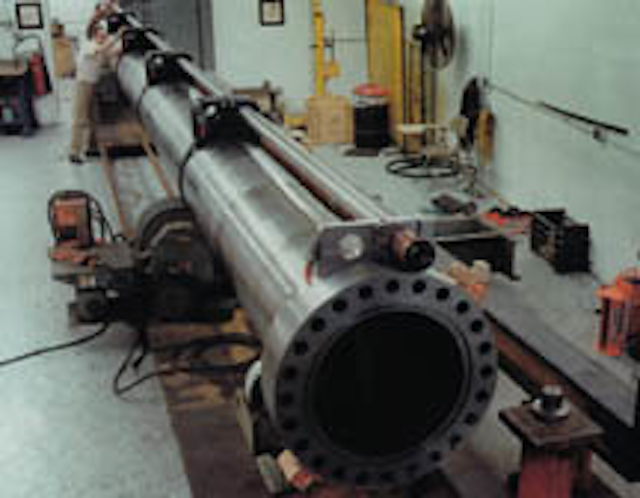 RMI Titanium has introduced titanium alloy drilling and intervention risers for offshore production/drilling systems. The risers feature no practical design limitations with respect to water depth, temperature, pressure, or service environment. The risers are less than 50% of the weight of steel and offer high flexibility (50% modulus of steel). They also feature a high yield strength, are highly resistant to fatigue and crack growth in seawater, and fully resistant to seawater and sour produced fluids. The risers' target applications include marine drilling risers for deepwater, high pressure drilling risers, and deepwater completion and intervention risers.
Circle 52 on Reader Service Card.
Trencher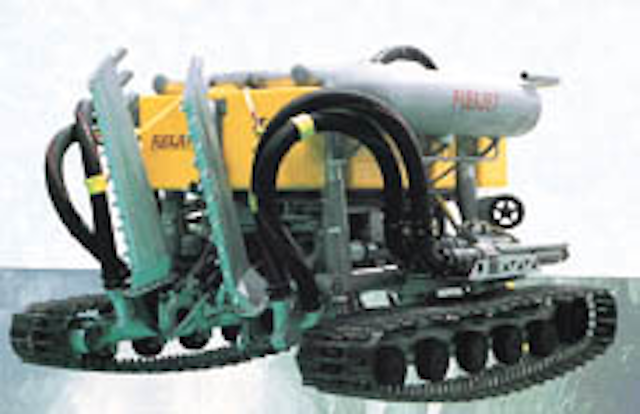 Perry Tritech has developed the Flexjet Trencher, a modular lightweight subsea crawler system that offers the capabilities of a high performance trencher while capturing the benefits of a neutrally buoyant, flying ROV system. At the heart of the system is the field-proven, highly reliable 100-hp Triton ROV system which provides system control, interface, and hydraulic power for all trencher functions. The Triton resides within the main structural framework of the trencher.
Circle 53 on Reader Service Card.
Helicopter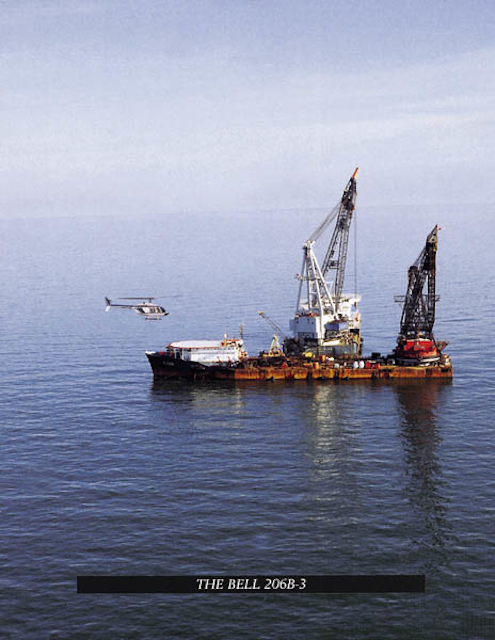 Bell Helicopter Textron has released a new brochure on the Bell 206B-3 single-engine helicopter. The helicopter called the JetRanger has a history of the best safety record among all single-engine aircraft. The five-place JetRanger has a range of 374 nm at speeds up to 115 kts and can lift external loads up to 1,500 lb. The cabin can accommodate up to 1,400 lb of cargo with aft seat cushions removed. The engine is rated at 420 SHP power for speeds to 122 kts. More than 7,000 JetRangers have been in service in civilian and military missions worldwide logging over 33 million flight hours.
Circle 54 on Reader Service Card.
Mooring system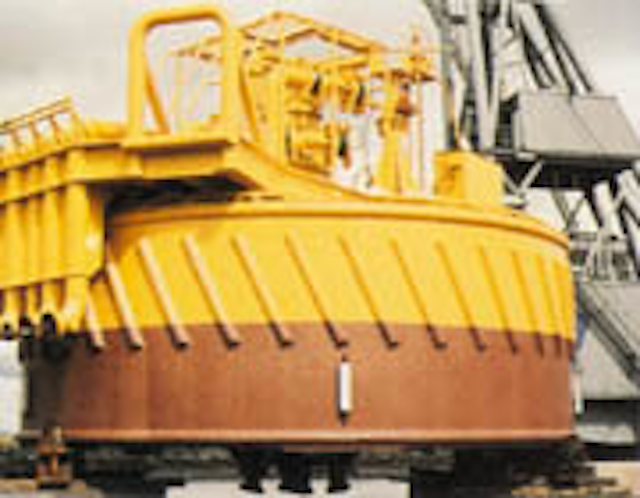 Imodco has released a new brochure on the company's CALM systems. The CALM (catenary anchor leg mooring) system is essentially an instant port for handling petroleum products. It eliminates the high cost of dredging and building of piers, jetties and breakwaters. Over 160 systems have been engineered and built worldwide since 1958. Installations include water depths to well in excess of 1,000 ft and water conditions that are notoriously rough. The brochure covers all aspects of the CALM concept.
Circle 55 on Reader Service Card.
Gas detection sensor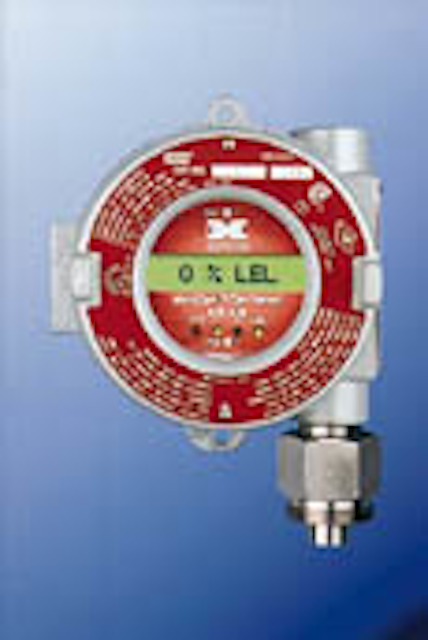 Detcon is now offering the 600 Series line of single-point "smart" gas detection sensors. The 600 Series is a smart gas detection sensor incorporating an automatic calibration feature with an LCD display which guides the maintenance person through the calibration procedure. The calibration procedure including adjusting setpoints requires a magnet and the calibration gas. The 600 Series provides different outputs including relay, 4-20 ma, and RS-485.
Circle 56 on Reader Service Card.
Engines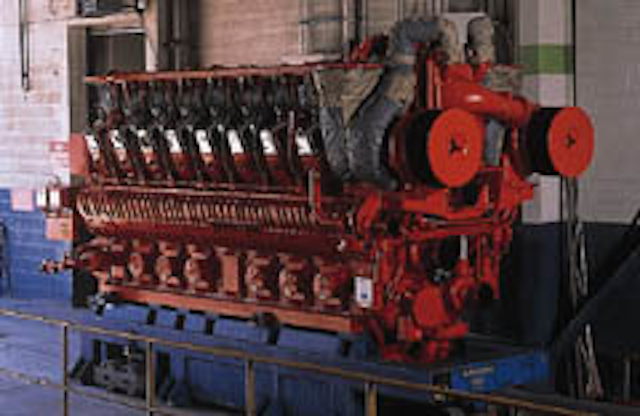 Waukesha Engine has introduced several new products. The 16V-AT27GL large capacity engine boasts a power range beyond 4,800 hp at 1,000 rpm, and thermal efficiencies exceeding 40%. Also introduced are the first of the company's new VHP Series Four engine models, the 7044GSI and 3524GSI. These new stoichio metric engines are rated at 1,680 hp and 840 hp, respectively, at 1,200 rpm. Also released are the VGF F18 and H24GL, 6- and 8-cylinder lean-burn gas engines with low-compression ratio pistons, specifically 8.7:1 CR pistons.
Circle 57 on Reader Service Card.
Corrosion resistance
A field and lab tested, corrosion resistant product designed to protect engines and tools is now available from Global Corrosion Technologies. MP2000, developed for spray-on application, has been proven to be very effective in saltwater environments and is useful for seasonal protection of all marine engines and tools. MP2000 is also effective in preventing corrosion on all metal structures in any environment.
Circle 58 on Reader Service Card.
BOPs and valves
Piper Oilfield Products has released a 6-page full color brochure on how the company's products are built. The brochure details the features of three of the firm's offerings for the oil and gas industry. They are the Torus Annular Blowout Preventer, the Torus Type "K" Stripper BOP, the Torus ABC Valve, and a full range of Gas Diverter Valves. Each listing has a detailed description of the product including technical specifications.
Circle 59 on Reader Service Card.
Corrosion detection
CorrOcean has introduced the FSM - the electric fingerprint. The FSM is a unique monitoring system that detects corrosion, pitting, cracking, and erosion, and reveals minute damage before it can cause danger. FSM can be installed on steel and other metal structures, piping systems, and vessels of virtually any geometry. FSM also accurately monitors the internal condition of pipes and vessels from the outside and removes the need for access fittings, for replacement of probes, and for retrieval operations.
Circle 60 on Reader Service Card.
Seawater valves
A new brochure from PBM Valves describes how the company's valves are designed to withstand seawater environments. PBM Seawater valves can withstand environments including bilge, ballast, sea-chest, injection water, utility seawater, and pump skids. Two-way, 3-piece ball valves are offered in widely diversified diversified materials of construction, such as bronze, aluminum bronze, and nickel aluminum bronze. End fittings include NPT, MNPT, 150# flange, or any combination such as NPT by MNPT.
Circle 61 on Reader Service Card.
Control panel
Murphy has released new literature on the Single Well Control Panel. The panel was designed to pneumatically control a master surface safety valve and a wing surface safety valve, to hydraulically control a surface controlled subsurface safety valve and to generate an emergency shutdown signal. The standard ready-to-install package is fabricated to exceed MMS requirements. The panel is designed to use either air or natural gas and is suitable for offshore marine environments.
Circle 62 on Reader Service Card.
Engineering services
ECL has recently published a new brochure detailing the company's offshore engineering and project management capabilities. Highlighted areas include facilities, structural and pipeline design, and inspection services. Specific projects photo graphically displayed include complete drill rig conversion with 80,000 b/d capabilities, large 4-pile platforms with full production facilities, and generator and marine building packages. The brochure details ECL's over 16 years covering the ranges of engineering disciplines for the offshore oil and gas industry.
Circle 63 on Reader Service Card.
Nitrogen generating
MG Generon is now offering a completely portable stand-alone, high pressure nitrogen generating system for use in drilling, completion, and workover operations of oil and gas wells. The new Generon High Pressure Portable Nitrogen Generators, HP PNG Series, are totally self-contained, completely portable systems that can be used at any well site, anywhere, to generate gaseous, inert nitrogen. The HP PNG systems are powered by a diesel engine that drives a feed air compressor and a nitrogen booster compressor. The HP PNG units can also be used in any climate.
Circle 64 on Reader Service Card.
Deepwater
Institut Francais de Petrole (IFP) has developed new products for deepwater applications. The Deeplines software simulates the static and dynamic performance of the many bottomhole-surface connections placed from an offshore support. The software can model all types of connections used. The Clip Riser is used to make the materials of the deepwater structures lighter and proposing innovative drilling operation concepts. Tacite software is used for the calculation of transient multiphase flows. Emulfip 102b is a new dispersant additive used to prevent the plugging of pipe by hydrates.
Circle 65 on Reader Service Card.
Services
Danos & Curole have released three new brochures on their services: fabrication/construction, labor, and marine/international. The fabrication/construction services brochure highlights the company's capabilities, shop specs, commitment to safety, and experience. The labor services brochure highlights the company's mission to provide and manage services and equipment to energy-related businesses worldwide. The marine/international services brochure highlights the company's state-of-the-art vessels and equipment, fleet specifications - including vessels under construction - and international operations.
Circle 66 on Reader Service Card.
Well tractor
Weltec Well Technologies has developed the electric driven Well Tractor for wireline operations. The electric Well Tractor has made it possible to perform wireline operations in live horizontal and deviated wells. The Well Tractor runs on all types of standard mono, coax, or hepta wireline, and has through the many jobs already done proven to be compatible with wireline tools and equipment available on the market today. The Well Tractor is also compatible with a wide range of well protection circuit systems for perforating approved by third parties.
Circle 67 on Reader Service Card.
Engineering partnership
Hydronamic and Paragon International have published a new brochure on the two company's new partnership. The synergy of these two specialized engineering companies will provide the oil industry an unequaled service. The partnership will combine Hydronamic's civil engineering experience in the field of precision rock dumping, pre-and postlay seabed rectification, and pipeline shore approaches with Paragon's engineering expertise in such areas as pipeline burial systems, subsea vehicles, and mining.
Circle 68 on Reader Service Card.
Jars and subs
Bowen Tools has introduced a new brochure highlighting the company's hydromechanical drilling jars, cushion sub, and jar placement program. The hydromechanical drilling jar is specifically engineered to withstand the abuse and demanding applications a drilling jar must endure. The cushion sub makes possible the highest drilling rate by virtually eliminating the variable dynamic loading conditions on the bit. The jar placement program was developed to blend all of the factors affecting jar performance downhole into meaningful values.
Circle 69 on Reader Service Card.
Compression packing
UTEX Industries has published a six-page, full color catalog focusing on the twelve most popular compression packing materials used in the industry today. Included are PTFE products, graphite, aramids, synthetics, carbons, flax, and high-temperature jacketed products. Complete specifications and performance criteria for each product are provided in concise charts.
Circle 70 on Reader Service Card.
Pipe mill
British Steel has published a new brochure on the Hartlepool 42-in. Pipe Mill. The mill was commissioned ahead of schedule at the end of 1993 and enables British Steel's tubes and pipes business to manufacture and supply large diameter, submerged arc welded pipe to an extensive cross-section of industry. The mill provides the most demanding of products including heavy wall high strength linepipe and associated mother pipe for bends; conductor pipe and carrier pipe for the energy industry; and process pipe for refinery work.
Circle 71 on Reader Service Card.
Copyright 1998 Oil & Gas Journal. All Rights Reserved.