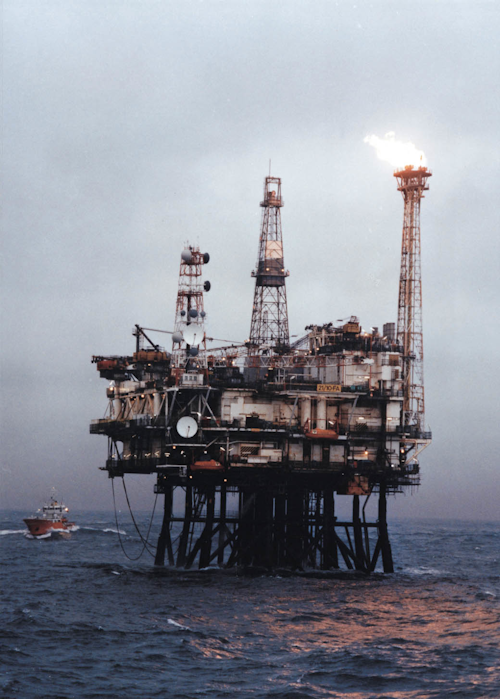 Drill cuttings, artifical reef options still undecided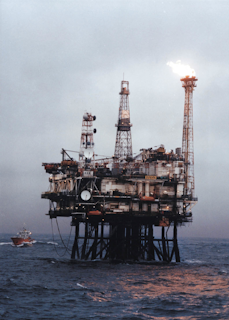 BP's Forties FA platform is one of 41 installations in the Ospar maritime area which may qualify for partial removal.
The rules for offshore abandonment in northwest Europe have now been set, and dumping at sea is not part of them. Instead, steel installations are to be brought to shore with very few exceptions - and even these are by no means certain. Concrete platforms will be allowed to remain at sea.
The forum for this definitive ruling was the Oslo-Paris (Ospar) Commission, an international grouping charged with protecting the marine environment of the northeast Atlantic Ocean, which met in Portugal in late July. Signatories to the legally binding Ospar Convention include the UK, Norway, Netherlands, Denmark, Germany, Spain, and Ireland, and the European Commission's Directorate-General for the Environment (DG XI).
A substantial market for the removal and onshore disposal of offshore installations has now come into existence. According to Ospar, there are at present some 720 installations in member countries' waters.
Requirements
Ospar has decided the following:
Apart from a couple of dozen fixed concrete platforms, which will be allowed to stay, and 41 large steel platforms, for which the option of partial removal may be considered, all these installations will have to be totally removed.
All steel platforms installed as from next February will have to be totally removed.
Concrete platforms may only be installed in the future if technical and safety considerations require their use rather than steel.
The UK and Norwegian governments had both originally favored a case-by-case approach to deciding the fate of large steel platforms, allied to a range of options including dumping, toppling, and emplacement on the seabed - in other words, the policy supported by the oil companies. However, changes of government in both countries last year also opened the way to changes of policy which brought them into line with the other Ospar members.
Political expediency?
The Ospar ruling was hailed as a victory by the environmental pressure group, Greenpeace, which brought offshore abandonment to public prominence when it thwarted Shell's Brent Spar dumping operation in 1995.
But it was lamented by oil companies in the UK and Norway. The E&P Forum complained that the Ospar decision "appears to have been based on political expediency rather than on any hard facts and practical realities." Executive director Lyn Arscott said, "ellipsewe fear that the assessment of individual cases in the consultation process which would precede any platform decommissionings in the future will again be carried out in a climate of political compromise rather than through objective scientific reasoning."
Costs will also be higher than would have been the case under a policy allowing options such as dumping and toppling. According to the E&P Forum, the bill for removing all structures in the North Sea will be an estimated $20 billion. The estimated cost for removing a large steel structure is $100-200 million, it said, while pointing out that the cost of full removal is 1.5 to 3.0 times that of partial removal.
The oil companies had been happy with the International Maritime Organization (IMO) abandonment guidelines, which allowed the option of disposal at sea to be considered for platforms standing in 75 meters or more water depth, or having a jacket weighing 4,000 tons or more in air.
Even under the IMO guidelines, however, the great majority of platforms would still have been removed.
The Ospar ruling is that options other than removal to land can only be considered for steel jackets weighing 10,000 tons or more in air - water depth is no longer a relevant criterion. Whereas the application of the IMO guidelines would have required the removal of well over 100 large steel platforms in the North Sea, the Ospar ruling means that only 41 qualify to be considered for options other than removal to shore - 34 in the UK, five in Norway, one in the Netherlands, and one off Spain. Dutch platforms will have to be removed totally, the government there has now said.
The options for these jackets, each of which will be considered on its merits, are also limited to leaving in place all or part of the footing - the foundation or bay of the jacket. In rough terms, the footing accounts for the bottom 15-30 meters of the jacket and 25-30% of its' weight.
But Ospar's ban on dumping does not mean that the use of redundant jackets to form artificial reefs is ruled out. An artificial reef is considered a form of re-use, and as such will be considered by an Ospar working group due to meet next February. Another issue still under consideration by Ospar is what, if anything, is to be done with drill cuttings on the sea bed.
Copyright 1998 Oil & Gas Journal. All Rights Reserved.