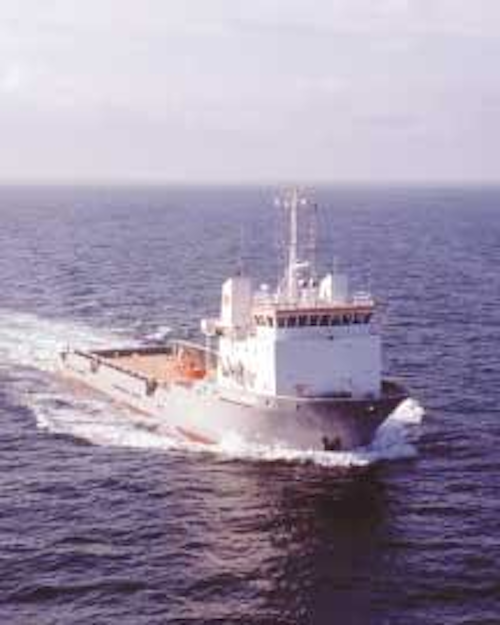 Jennifer Pallanich Hull • Houston
Holstein spar hull to be mated in GoM
The spar for the Holstein project is nearing readiness for its mid-September departure from Finland and a month-long trip to the Gulf of Mexico.
BP interface manager for the Holstein and Mardi Gras projects David Noble told the Marine Technology Society recently that the two pieces of the Holstein spar are slated to mate in mid-October.
"Because our spar is so large, it's going to be in two pieces," he said. "A very challenging part of this project is to mate the two pieces of the spar."
The spar, destined for deepwater Green Canyon block 645, is so large, he noted, that the Horn Mountain spar almost fits inside. Holstein's Spar is 744-ft long, 150-ft wide, and weighs in at 37,000 tons. The truss alone is 430 ft long. The hull of the spar is now being outfitted in Pori, Finland, and the truss is being built by Gulf Marine Fabricators in Ingleside, Texas. Dockwise's Black Marlin will transport the spar, due to arrive for mating in mid-October.
"They will be floating when we mate the truss with the hull tank," Noble explained.
The BP-operated spar will feature 16 mooring lines weighing nearly 2,900 tons to accommodate its position, which is susceptible to the Gulf's loop current. There are 4,300 tons of chain for the project in 4,300 ft of water. Suction pile installation is scheduled for August.
The topsides unit is also designed to accommodate large components.
"We have some fairly large modules," Noble said.
Those include the 8,200-ton process and rig support modules, the 5,000-ton quarters and power module, and the 4,200-ton utility and water flood modules.
The unit is designed to handle 110,000 b/d and 150 MMcf/d, which will be exported through the Caesar Oil Pipeline component of the Mardi Gras Transportation System. Fifteen wells are planned, of which a dozen will be producers and three will be injectors. All will feature dry trees.
Holstein, a 50/50 venture of BP and Shell, was discovered in 1999 and sanctioned in 2001. First oil is expected next year, about the same time as first oil is expected from neighboring spar project Mad Dog.
Finds at Chinook, Atlas
BHP Billiton's second exploratory well at Chinook in Walker Ridge block 469 encountered a 620-ft gross column of hydrocarbons with 260 ft of net oil pay. The C.R. Luigs drilled the well in 8,830 ft of water beyond 27,650 ft TD. The well was spudded in January.
Steve Bell, president of Exploration and Business Development for BHP Billiton Petro-leum, called the find encouraging, saying, "While this is the deepest penetration to date on Chinook, we must have more appraisal data before we can be definitive about the scale of resource."
The well was temporarily abandoned for future use, field partner Petrobras said. Operator BHP has 40% interest in the field, Petrobras has 30%, and Total and Amerada Hess each hold 15%.
In the Eastern GoM, Anadarko reported a gas find at the Atlas prospect on Lloyd Ridge block 50.
The Transocean Deepwater Millennium drillship spudded the well in May in nearly 9,000 ft of water. Drilled to the target depth of 19,800 ft, the well encountered 180 ft of gross pay, portions of which are thin-bedded reservoirs. Anadarko said it suspended operations because of strong seasonal water currents but that the company intends to resume drilling at Atlas this fall with a sidetrack wellbore to obtain conventional core samples, which will help determine reservoir quality.
Atlas is the second discovery in the independent's Eastern GoM wildcat drilling program. The first – Jubilee – was recently reported as a find, and two more exploration prospects are planned in the Eastern Gulf this year. Anadarko said both discoveries will need to be part of a larger development project to be commercially developed.
Anadarko holds 100% interest in the Atlas discovery.
Properties change hands
Amerada Hess Corp. has sold 26 fields holding an estimated 23 MMboe in reserves to Anadarko Petroleum Corp. for $225 million. About 60% of the reserves are natural gas. Of the purchase price, $190 million was allocated to the proved reserves, and the remainder was attributed to unproven potential that will be evaluated over the next several years, Anadarko said. Net production is 4,000 b/d of oil and 57 MMcf/d of natural gas. Hess said the fields averaged production of 16,000 boe/d during 1Q 2003.
"There's considerable opportunity for reserve additions and production growth on these properties," said Chairman, President, and CEO Robert J. Allison Jr.
More than 60% of the reserves are concentrated within three fields: South Timbalier block 172, South Timbalier blocks 190/205/206, and South Pass block 89.
"The key producing fields lie within our active fairway, which means we expect to benefit from operational efficiencies," Allison said.
The Seacor Madison can carry 6,223 bbl of liquid mud and has 6,000 cu ft of storage for dry bulk mud. Seacor Madison is 207-ft long, 53-ft wide, and 19-ft deep.
Anadarko plans to sell 40 to 50 properties in the Gulf of Mexico this year.
"Our aim is to focus on our key assets and reduce costs," Allison said. "At the end of the year, we expect to have fewer Gulf of Mexico fields but higher margins."
Amerada Hess is also exchanging interests with EnCana in the Scott and Telford fields in the UK sector of the North Sea for additional interest in the Llano field under development in the Gulf of Mexico, and $17 million. This transaction is expected to close in 3Q 2003. The Llano field is on Garden Banks block 385. Production is expected to begin during 2Q 2004, and output is expected to average a gross rate of 40,000 boe/d at peak.
Unocal is also on the prowl to sell smaller fields and reduce costs. Because 65-70% of Unocal's shelf production comes from about 25 properties, the company is divesting the smaller fields.
"We anticipate selling our working interest in approximately 75 fields in the Gulf of Mexico area," Chairman and CEO Charles R. Williamson said.
The company plans to remain active in the GoM deepwater. The company said it expects to drill between three and five wildcat exploration wells per year in the deepwater GoM over the next few years.
Unocal has neared completion on an app-raisal well on the Champlain discovery in Atwater Valley block 63. Unocal will also drill its St. Malo prospect in Walker Ridge and the Myrtle Beach prospect in Green Canyon.