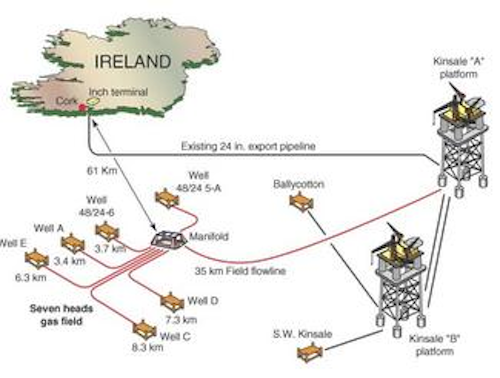 Seven Heads sets scene for further developments
Jeremy Beckman
Editor, Europe
Gas should shortly start flowing from the Seven Heads field in the Celtic Sea. The project is notable as only the third Irish sector development in three decades (another, Shell's Corrib, was suspended this spring after encountering landfall planning hurdles). It also brings a second operator – Ramco – to Irish waters, Kinsale Head and Ballycotton being Marathon operated fields.
Ramco Energy Plc. is the driving force behind the new project, with an 86.5% operating interest. The Aberdeen-based company is one of Europe's longest-established small independents, best known for drawing major oil companies into Azerbaijan in the 1990s. But this is its first venture as an offshore field developer.
The company has a reputation for going against the grain. It ignored the current itch of independents its size to buy production through North Sea acreage deals.
Instead, it latched onto two old gas discoveries Esso and BP made off southern Ireland but discarded as "uncommercial."
"For a lot of bigger companies, Ireland wasn't on their radar screen," Bertram explains. "There was a general perception that 'if Esso didn't do anything with it, it couldn't be worth having.' Also, recent deepwater exploration off Ireland had proved disappointing, and that put a lot of people off, especially if you had been party to those wells."
But times change, and there are suddenly very good reasons for exploiting Ireland's reserves. One is the country's rapidly growing demand for gas-fired power; another is the equally rapid decline in the UK's gas base, which currently supplies over 80% of Ireland's needs. If more Irish gas fields come onstream, the country itself may move into surplus, leading potentially to reverse flow through the Irish Sea inter-connector pipelines to UK households. This set Ramco thinking.
Drilling history
Seven Heads is an east to northeast tending anticline, 35 km long and 8 km wide, in just over 100 m of water. The gas is contained in Upper Wealden sediments at a total depth of around 915 m. The structure extends across four blocks in the North Celtic Sea basin, roughly 45 km south of Cork.
Esso discovered the accumulation in 1973 with well 48/24-1, completing and produc-tion-testing it the following year. The well, which also tested oil, flowed 11 MMcf/d from Lower Creta-ceous sandstones. Between 1974 and 1978, Esso drilled three more appraisal wells, all of which flowed gas, but Esso's main target had been deeper-lying oil reservoirs.
Limited understanding of the distribution and quality of the oil caused Esso to declare the field non-commercial. Marathon, the new acreage holder, came to the same conclusion after drilling a fourth positive appraisal well in 1990. By that point, its nearby Kinsale Head gas platforms were in full swing, with no reason to delve farther out into the Celtic Sea for fresh supplies.
When Ramco acquired another small independent, Medusa Oil & Gas, in 1997, it came into contact with interested parties in Ireland. According to Bertram, "They saw an opportunity with Seven Heads but were not in a position to exploit it themselves, so instead they brought their concept to us. They knew that following the sale of our interests in Azerbaijan, we were looking for gaps in the market. And this one appeared to fit our new strategy of proving up substantial reserves of high value, high quality gas in geographically strategic locations."
In June 1999, Ramco was awarded a licensing option for Seven Heads by the Irish Petroleum Ministry, as operator for a consortium also comprising Duke Energy, Island Petroleum, and Sunningdale Oils. This covered the southern half of blocks 48/23 and 24, and the northern halves of blocks 48/28 and 29.
The technical program that followed involved acquiring 103 km of new 2D seismic data over Seven Heads and combining this with reprocessing of the existing data using a proprietary Veritas technique. The technique was developed originally for the Danish North Sea, where imaging is similarly hampered by thick chalk layers. Veritas employs complex algorithms to reduce the effects of multiple signals generated by the chalk sea floor.
"This technology quickly gave us insight into Seven Heads' potential and the optimum locations for future wells," Bertram says.
In August 2001, the partners applied for a gas lease undertaking, which would authorize appraisal drilling. In the interim, they were also awarded a 12-month licensing option for Galley Head in blocks 48/18, 19, and 24. Here the discovery well had been drilled in 1985 by BP, testing 13.7 MMcf/d from a Cretaceous sandstone reservoir before being plugged and abandoned. The partners' work program included reprocessing existing seismic, acquiring 150 line km of new data, and re-evaluating another well between Galley Head and Kinsale Head, suspended as a dry hole in 1990.
null
Higher output
Late in summer 2001, the partners' first appraisal well on Seven Heads was drilled. The location, 3.5 km from the nearest existing wells, was selected to determine the extent and communication of gas within the structure, to improve understanding of the reservoir, and to verify the field's dual porosity system. Well 48/24-5A tested at a maximum of 13.7 MMcf/d from Upper Wealden sandstones, exceeding rates from previous tests on the structure.
"This exercise also proved that there are lower quality sands feeding the gas into better quality sands," says Bertram, "so they are effectively acting as a natural pipeline."
At this point, development beckoned. The volumes were in place (reassessed conservatively at 300 bcf recoverable), and Ireland needed the gas, with Kinsale by now in decline. There appeared to be two realistic options: subsea facilities with the gas exported directly to shore through a new pipeline, or a tieback to Kinsale Head, which had all necessary infrastructure in place and available capacity.
The latter was clearly more attractive, being quicker to implement and cheaper in terms of capital expenditure. Also, building a new line to the shore would have required onshore planning permission for the terminal. Experience would show this would not have been a good move. Shell's recent bid to land gas from Corrib on Ireland's west coast was vetoed, due to peat removal/storage safety concerns.
Commercial agreement was reached with Marathon in March 2002 for a tieback to the Kinsale A platform, 35 km northeast of Seven Heads. All Kinsale area gas is exported through a 24-in. pipeline to the Inch terminal, near Cork.
Under the accord with Marathon, the partners will also share operating costs of the Kinsale facilities, according to the volume of gas produced from the respective fields. "It's a win-win situation. Marathon can now postpone abandonment for 10-15 years, and they've also since drilled a new well on their field which they probably wouldn't otherwise have done."
Over the next few months, Ramco applied for a petroleum lease (production license), which Ireland's government granted last November. Ramco also raised its interest in the field and surrounding acreage to 86.5% through various share transactions. More significantly, it secured a sales agreement for its share of production with distributor Innogy Ireland. This in turn allowed Ramco to secure relatively quickly a £60 million finance facility for the project from the Bank of Scotland.
Seven Heads' development plan was formally approved by the government this March, but preparations were already under way. The plan called for six wells to be drilled and completed in 2003, including a re-development of the 2001 appraisal well.
Due to the reservoir's large aerial extent and shallow depth, the wells would be spaced up to 8 km apart and drilled vertically to a depth of 1,200 to 1,300 m, with 26 km of 8-in. infield flowlines connecting the wells to a central gathering manifold. From here, combined flow would be exported through a new 35 km, 18-in. pipeline to a riser on the north side of Kinsale A.
Installations complete
Most of the subsea installations, including control umbilicals from Kinsale A, have since been completed ahead of schedule by Technip Offshore UK, using the reel ship CSO Apache, trenching support vessel Normand Pioneer, and diving support vessel CSO Wellservicer.
Weather in the area has been unusually benign. Saipem vessel Castoro Sei has laid the main 18-in. pipeline. The 135-ton, seven-well-slot manifold, designed and built by ABB in Norway, was installed in early July. Local contractors such as BMD, O'Shea's, and Proscon are handling topsides modifications on Kinsale A. Overall construction management is the responsibility of the platform operator, Marathon. Seven Heads gas will be dried on the platform and exported with the Kinsale gas.
The development wells are being drilled by two semisubmersibles, the Sedco 704 and Sedco 711. Those drilled to date have flowed at rates comfortably exceeding the 10 MMcf/d base case for 300 bcf recoverable. However, Ramco will wait until the program is finished before issuing a potential upgrade of in-place reserves. A team of subsurface engineers from Schlumberger IPM and Helix-RDS in Aberdeen are supporting Ramco on the well designs.
Development work, managed by the ABB/ Schlumberger joint venture Syntheseas, has started well, and first gas is due in the fourth quarter.
"Over the first six months, we should hit our target of 60 MMcf/d," says Bertram, "but hopefully we can do better. Our upside case is 90 MMcf/d, although we actually have capacity rights from Marathon for 100 MMcf/d."
null
Once the gas starts flowing, Marathon will be responsible for production operations, while Ramco will retain long-term responsibility for Seven Heads reservoir management, well intervention, and subsea equipment repairs.
"Our budget for putting this field into production was £123.5 million. This figure would have been higher, but for the unexpected tax hike by the UK chancellor on E&P operations last year. This meant we were able to pick up rigs and other equipment at a substantially lower price than we had originally budgeted for."
Innogy, a subsidiary of German group RWE, has committed to take up to 80 MMcf/d from Ramco for an initial period of seven years, possibly extending later to cover the field's entire life. Much of this amount has already been allocated to the new Huntstown gas-fired 250-mw power station, close to Dublin. Ramco's partners must find buyers for their shares of the gas. According to Bertram, "We'll be providing 10-15% of Ireland's gas as a base case over the next 15 years, although the government's projection of future demand keeps rising. Aside from Huntstown, I have heard of discussions concerning gas-fired power in other locations."
Declining reserves
UK gas is exported to Ireland via two offshore pipelines from southwest Scotland. All forecasts suggest that the UK's own offshore reserves will tail off steeply in the coming years, hence the negotiations to bring Norwegian gas to eastern England via new North Sea trunklines. Harnessing the untapped supplies in the Shetlands area could arrest the rate of decline.
If not, Ireland stands ready to reverse the flow of gas into Scotland, particularly if the 1 tcf-plus Corrib project is approved.
"Ireland has the potential over the next five years to increase its domestic gas production fivefold," Bertram says, "provided Corrib is sanctioned quickly." Ramco believes the Galley Head area may contain substantial volumes of gas. This follows recent seismic re-interpretation, again using the Veritas technique. This April, it was also granted 100% of another licensing option over parts of blocks 49/11 and 12, 60 km northeast of Seven Heads. The main geological target in this acreage, named Midleton, is the same Greensand A sand that has produced much of Kinsale's gas.
"Potentially there could be 1 tcf recoverable across the Galley Head and Midleton regions," says Bertram.
Seven Heads may also contain 1 Bbbl of oil, although this is regarded as high risk due to the high wax content of the oil, the aerial extent of the thin sands, and the poor imaging of the reservoir using currently available seismic data.
In April 2000, Ramco, Island, and Sunningdale were also granted a licensing option for one full and two part-blocks in the Donegal basin, 73 km offshore northwest Ireland. This is the northernmost of a series of basins off the northwest coast; average water depth is 430 ft. One well was drilled here previously by Texaco in the late 1970s.
"This is pure exploration acreage, quite far from infrastructure," says Bertram. "Given the hiccup over Corrib, we're not planning to put a lot of money here in the near future. But if Shell's deepwater Dooish well (80 km to the west) is confirmed as a discovery worth developing, they may choose to route an export pipeline close to our acreage."