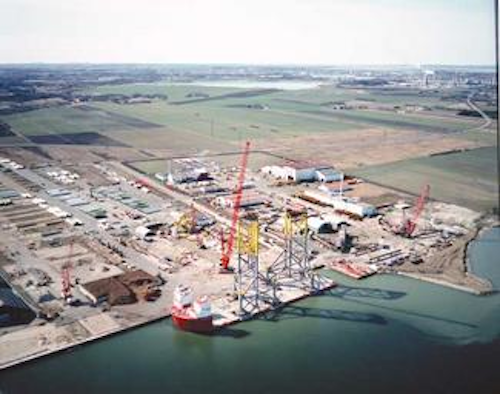 Jeremy Beckman • Editor, Europe
Despite Denmark's long history in off-shore production, only recently have its contractors banded together in offshore associations. The fastest growing body is the Danish Marine Offshore Group, which comprises suppliers and service com-panies active throughout the offshore spectrum.
By the end of this year, it hopes to have 50 members, almost double last year's figure of 27. The long-term ambition is 200, according to Mogens Tofte Koch of Aalborg-based export consultants Tofko Business Development.
Koch is the driving force behind the Denmark stands at the major offshore shows, under the banner Danish Offshore Solutions. He will be taking 17 companies to Offshore Europe in Aberdeen in September, the third consecutive Danish contingent at this event. This is roughly the same number that exhibited at OTC in May. ONS Stavanger, being closer to home, attracts a larger representation.
As at OTC, financial support for the stand at Aberdeen (234 sq m in total) is being provided by the Danish Trade Council in Copenhagen. This subsidy is available to all Danish offshore sector companies. Booth space is not restricted to members of the Danish Marine & Offshore Group.
According to Koch, this year's leap in membership is not down to subsidies alone. "Last year, we were able to organize extremely good meetings," Koch says. "We brought representatives from Aker Kvaerner and Norsk Hydro over to Denmark to talk about the Ormen Lange project. That gave our members direct access to the purchasing managers. We have also drawn speakers from Statoil and the Danish oil company Dong to our meetings. Another of our plus points is that we're always picking up information on new offshore activity and disseminating this to our companies."
To draw 200 members out of a potential pool in Denmark of 1,000 suppliers, the group may eventually be split into specialist subdivisions focusing on training, rescue and safety, offshore oil and gas construction, and offshore wind farms.
"In October, Denmark will stage its first offshore wind farm conference, in Jutland," Koch says. "We're looking at setting up meetings there between our members and the utilities. Other-wise, we will maintain a continuous process of close contacts with the major oil and gas players."
Recently, the association staged three days of interviews and discussions with leading American expert (Certified Landman) Jonas Albeck for Danish contractors interested in doing business directly in the Gulf of Mexico. One of the next projects involves setting up a facility in Houston, to be called House of Suppliers, which will be operational before OTC 2004. At that event, the group intends to organize presentations of Danish technologies to local companies. In the more distant future, the next targeted sectors will probably be the Former Soviet Union and Canada – either in St John's or Calgary – to arrange further introductions for sub-suppliers.
"The main strengths of the Danish companies are that we are small and flexible, but we are also overlooked. It's only in the last few years that our sub-suppliers have been saying who and where they are. Previously, they weren't positioning themselves in a global setting. We're also trying to give our smaller companies greater exposure through placing them on our stand next to our better known contractors. Denmark is not a big offshore country, but it is expanding, and is gradually learning how to behave in the offshore sector."
Tight construction schedule
Denmark's dominant offshore fabricator is Aalborg-based Bladt Industrier. This past year has been one of the busiest in the company's 38-year history. Simultaneously, it was working on two jackets; a flare tower and a 100 m-long bridge for Maersk's Halfdan III development; two wellhead platforms for Dong's Cecilie/Nini project, also in the Danish North Sea, and a 600-ton transformer platform for a new wind farm offshore Nysted, Denmark. The total weight of these packages was close to 10,000 tons.
The 165,000-sq-m yard in Aalborg fronts its own quay, 9 m deep, with direct access to the North Sea. More space could be rented from the harbor authorities, if required. According to Bladt's Sales and Project Director Carsten Nielsen, "We could in theory handle four or five different jobs at the same time, depending on the size and the level of engineering complexity."
Bladt currently has the capability to build jackets up to 7,000 tons and process modules and decks of around 3,000-3,500 tons. New facilities were also added in 2001 for the assembly of wind power turbines and offshore wind farm foundations.
First of the recent consignments to leave the yard were the Halfdan jackets. Over $500 million is being invested in the third phase of Halfdan. Bladt also built the 5,000-ton platform for phase one in 2000.
The new facilities include a bridge-linked wellhead platform and accommodation and flare platforms, the latter two incorporating Bladt's jackets. These were both built in two sections. During a two-day program in February, both the 450-ton top sections were lifted into position and subsequently welded to the lower sections using the yard's two 84-m and 50-m cranes. Sailaway followed in April, with the crane barge Thialf performing offshore installations.
Next to leave was the wind farm substation. Here, Bladt was responsible through a joint venture with Semco Maritime for delivery and installation, using a Belgian crane vessel. Last out in early July were the Cecilie and Nini wellhead platforms. These are virtually identical, normally unmanned facilities (with temporary accommodation for 12 on an overnight stop), which will be controlled from the central processing platform on the Siri field. Around 500 tons of steel structures were employed for each of the topsides. They were built in eight sections assembled in May in an operation involving six lifts.
"It was a challenge to coordinate all these projects at the same time," Nielsen says. "Halfdan was the most straightforward, although there were some late design changes that affected the weight. To save offshore hook-up time on Cecilie and Nini, we tried to commission as much of the topsides kit as possible in our yard."
Bladt can undertake engineering, procurement, and construction contracts, but leaves detailed design to specialist consultants such as Ramboll for Danish sector work. Outside the Danish North Sea, it has supplied steel sections and structures in recent years to Norwegian projects such as Grane, Valhall, and Veslefrikk.
"We have also produced some very complex water treatment and water injection modules," says Nielsen, "including a 1,000-ton module for Maersk's Dan FF project. This type of work involves a lot of duplex steel and intricate pipe work."
Late last year, Bladt took a 70% share of a small Polish engineering company, since renamed Bladt Industries Polska. This company supplied some steel sections for the Cecilie/Nini platforms, and may in time provide Bladt with an entrée into offshore fabrication for Baltic Sea projects. Development activity has since slowed down in the Danish sector, although Dong may have projects pending.
"With this in mind," Nielsen says, "we now have to look at the whole of the North Sea as one market, including the UK and Holland. Beyond that, we might try to break into the Caspian Sea and West Africa through associations with local partners. In West Africa, our focus would be shallow water, or maybe onshore test plants, as an alternative to subsea wells."
Caspian rig shipment
One company already active in the Caspian is Esbjerg-based Blue Water Shipping. This company has provided transportation services to the oil and gas industry since 1972, ranging from sea freight, stevedoring, and air freight to road and rail transport.
null
Last year, it was responsible for shipping TransoceanSedcoForex's newbuild jackup Qurtulush from Keppel Fels in Singapore to Baku. The route across took in the Indian Ocean, Red Sea, Suez Canal, Mediterranean Sea, and the Black Sea. The rig had purposely been split into sections to pass through the Russian canal system to Astrakhan, and then south to Baku. The main consideration was delivering the shipment on time before the canal system froze over for the winter months.
Blue Water has its own office in Baku offering its full range of freight forwarding, transportation, and warehousing activities. Other main branches serving the oil and gas sector are located in Aberdeen, Amsterdam, and Brest in Europe; Dubai in The Middle East; Singapore; Akthau in Kazakhstan, and Houston. A new branch office will open shortly in São Paolo, while the company is represented by agents in Norway, the Far East, and South America. Assignments vary from big project cargoes and complex logistics solutions to sending small parts or documents by courier.
Decommissioning risk assessment
COWI is a consultancy and engineering group headquartered in Lyngby that has worked offshore mainly in the Danish and Norwegian sectors since the early 1980s. It can provide specialists for nearly every offshore engineering discipline, from subsurface resources through to production and processing.
null
It is also now offering specialist services associated with platform decommissioning offshore. These cover all stages of decommissioning, from alternative engineering methods, to risk management, health, safety and environment, to advising on legislative and regulatory frameworks.
"Over the last three years, we have been supporting Total with its cessation plan for the Frigg field platforms in the Norwegian North Sea," says Chief Project Manager Johnny Mikkelsen. "Decommissioning is a very open process. There are a lot of different authorities and environmental groups such as Greenpeace that have to be consulted. Our work involved the use of very sophisticated risk assessment tools and methodologies, to help the client focus on the right issues."
There were various scenarios that had to be analyzed, Mikkelsen said. For instance, there is a lot of speculation concerning the technical issues and the things that might go wrong. "We helped the client with decision-making, although for this project we were not involved in assessing the actual removal concepts." Because the Frigg platforms sit across both sides of the North Sea median line, a cessation plan will have to be submitted to both the Norwegian and the UK authorities.
COWI has a long-track record in building and removal of large structures such as bridges and nuclear power facilities. "But we are still on a learning curve as regards platform decommissioning," he says. "I'm interested in opening a dialogue with the authorities in Norway and the UK's Department of Trade and Industry about attaining a common understanding over what's involved and the lessons learned from the projects undertaken so far."
3D walk-through
Danyard Engineering, based in Fredrik-shaven, was created in 1999. The 15-strong team of engineers works with 3D design tools such as AutoCAD, AutoPLANT, and Rebus. Services relevant to the offshore sector include:
System specification and detailed functional descriptions – for instance for topsides process modules, engine rooms machinery, and process pipe work
Basic design, i.e. machine room layout, with drawings and diagrams
Functional engineering – for example, isometric drawings of pre-fabricated pipe work, to assist with identification of individual pipes for inspection purposes
Collision/crash test modeling in 3D
Project management and maintenance scheduling.
To date, Danyard has performed five offshore assignments, four of these related to supply vessels. Typically, the company will be asked to assist with layout with machinery for mud rooms, converting existing 2D drawings into 3D versions. According to Managing Director Thoke Flamgaard, the client is thereby better able to visualize and `walk around' the planned installation. Danyard has also worked offshore Qatar, calculating the number of pumps required and the space available for a water injection module upgrade.
"We are a small company looking to form alliances with others of a similar size," says Flamgaard. "For instance, in Denmark we have collaborated with marine engineering companies Shiptech and Semco Maritime, and with electrical and automation specialist Logimatic Engineering."