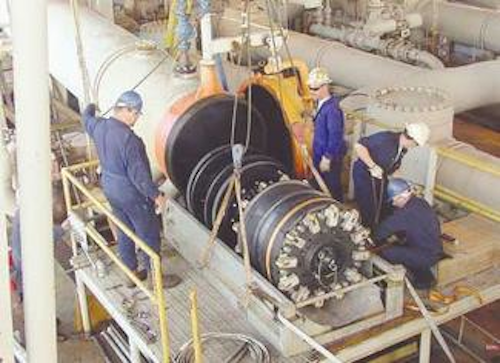 In February, Plugging Specialists International mobilized to provide pipeline isolation services to Woodside in Australia and Shell in Bangladesh. Since this specialized niche company launched itself in 1998, it has served customers around the world and currently derives more than half its income from outside its North Sea home market.
The company has its headquarters in Stavanger and sales offices in Houston and Singapore. It works closely with BJ Pipelines Services of the US. Last year it made its breakthrough into the Gulf of Mexico, when it provided isolation services for a 42-in. valve replacement on El Paso's West Cameron block 167 platform.
PSI's service consists in deploying remote-controlled, high-pressure isolation plugs – Smart-Plugs – to enable intervention to be made on a pipeline without having to shut it in. That can mean high levels of savings, especially if the pipeline serves other production sources further downstream. The company has a stock of SmartPlugs ranging from 10-in. to 42-in. diameter.
PSI's technological breakthrough was in the development of the control system, says Managing Director Christian Bull Eriksson. The control function is exercised from a PC located on a surface vessel, which communicates with an internal computer in the SmartPlug through the pipe wall using extremely low frequency electromagnetic signals. The signals are sent and received via an antenna lowered from the vessel to within a few meters of the SmartPlug location.
.
The SmartPlug tool typically consists of four modules – two pigging modules at either end and two isolation plugs (double-block-and-bleed) in the middle. Once the tool has been pumped into position, the isolation plugs engage with the pipe wall using slips and packers operated by a pressure head and piston system. Up to 200-bar delta pressure can be exerted by the plugs which, in effect, locks them to the pipe wall. The pipeline can then be depressured upstream of the plugs and work can begin. On completion, the plugs are disengaged and the tool is pumped down and out of the pipeline.
An early project was for Adma-Opco's Zakum field in the Arabian Gulf. A stretch of severely corroded pipeline that had to be replaced was isolated. The operation took about 450 days, but production of 300,000 b/d was maintained from another platform feeding into the same pipeline.
The technology has been further developed, resulting in the SmartLay system. This is aimed at securing safe operations by preventing a pipeline being flooded during installation. Two SmartPlugs are deployed at the upper and lower ends of the hanging section of pipe. If water is detected in the pipeline, the plugs are activated to set themselves within three seconds.