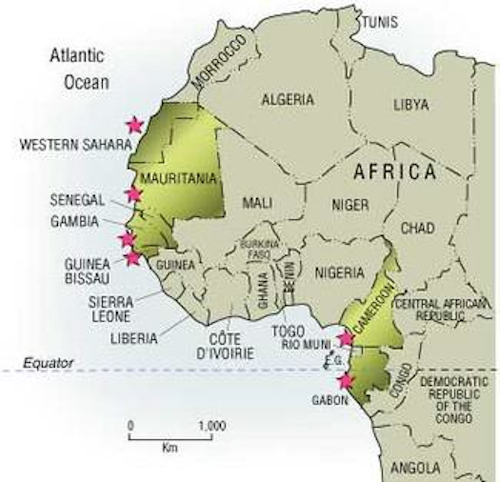 Mauritania focus of emerging province
Jeremy Beckman
Editor, Europe
Australia is leading the chase for north-west Africa's untapped deepwater resources. Woodside Energy is eyeing fast-track development of its recent Chinguetti discoveries off Mauritania. Farther south, Perth-based Fusion Oil & Gas has designs on untested offshore plays from Gambia to Guinea-Bissau.
null
Fellow Perth company Hardman Resources coaxed Woodside into Mauritania. During the 1970s and '80s, western companies carried out intermittent exploration, but this ceased when Mauritania aligned with Iraq over the 1991 Gulf War. A period of rehabilitation into the global community followed. Later on, when Mauritania decided to open its offshore acreage, Hardman was the first to respond, signing up for several licenses. Due to its limited resources, partners had to be brought in, the main one being Woodside, which today operates blocks 2-6.
Coincidentally, Woodside had been looking to diversify overseas. According to International Exploration Manager Peter Grant, it had become too reliant on production from Australia's North West Shelf LNG project and the Wanaea/Cossack oil fields – the latter in any case were in decline. However, the company's options were limited, as Grant explained at a recent conference in London.
"We couldn't go into countries where we would have to sign exploration bonuses. Also, we had to measure what was on offer against Australia's own fiscal system, which was pretty competitive," Grant explained.
Northwest Africa was the chosen launch-pad. Woodside secured production via a stake in BHP's Ohanet LPG project in eastern Algeria and a higher-risk exploration portfolio via the farm-in to Hardman's blocks. Here, it operates production sharing contracts (PSCs) A and B (blocks 3, 4, and 5) off the central-southern coastline, with partners Agip, Fusion Oil & Gas, Hardman, and ROC.
This acreage covers an area of 18,570 sq km, extending from the nearshore out to 2,000 m water depth. The early focus of exploration was in 790 m of water, where Chinguetti was discovered. Woodside also operates block 2 to the south and block 6 to the north, in association with Hardman and ROC. Energy Africa is an additional partner in block 2, while Petronas recently farmed into block 6. Nearby, Woodside has acquired interests off Senegal and the Canary Islands.
Chinguetti drilling history
During 1998-2002, the partners acquired 10,400 km of 2D, and 6,200 sq km of 3D, seismic across PSCs A and B. This proved costly, but necessary, Grant said.
"It's the only way to reduce the risk of dry holes in this region."
The datasets revealed a wide range of potential drilling targets, some of which were quickly pursued.
Chinguetti-1, the first well the Scarabeo 7 semisubmersible drilled in 2001, targeted a faulted anticlinal feature overlying a salt dome in PSC B. The well intersected a 115-m gross oil column in Tertiary sandstones. Later that year, a second well testing a Cretaceous prospect, Courbine, found sub-commercial gas.
Following analysis of both wells, further 3D seismic was acquired, and field development planning began. In July 2002, the drillship Deepwater Discovery was engaged for a step-out appraisal well, Chinguetti 4-2, in an up-thrown block on Chinguetti's northern flank. This confirmed the first well's promise, encountering a 90-m gross hydrocarbon column from several oil-bearing sandstones. A subsequent test produced 1,560 b/d of oil on a choke setting restrained by sand inflow.
"The quality of the oil was tremendous," Grant said.
The partners then decided to test another prospect, Banda, in shallower water (300 m) to the east in PSC A, close to the boundary with PSC B. This structure lay within the same Tertiary reservoir fairway, but further up-slope. The well, designated Chinguetti 4-3 in accordance with the authorities' wishes, provided a second discovery, with a 110-m gross gas column overlying a 23-m gross oil column.
Subsequently, the drillship returned west for a second appraisal well, Chinguetti 4-4, in the southern downthrown sector of the Chinguetti accumulation, and 1.5 km northwest of the original discovery. This too was successful, and the oil/water contact turned out to be 69 m deeper than anticipated.
"We don't know if there is a gas cap," Grant said, "but at least we know now where the oil/water contact is on both sides of the field, with a 280-m gross oil column in the downthrown block. Channel sands in all the wells tested to date have exhibited 25-40% porosities, which is also very good."
Later, the run of successes was broken when the drillship moved 63 mi north for a largely dry well on the Thon structure in Area C of block 6, in 660 m of water. This tested a new play type in Maastrichtian channel sands.
This year's drilling campaign has still to be firmed up, but the consortium is thought to be contemplating up to five wells on PSCs A and B. A suspected oil column up-dip of Chinguetti-1 requires testing. According to Peter Dolan, chairman of partner Fusion, Banda too will have to be appraised, and there may also be further exploratory drilling – possibly of targets in underlying Cretaceous intervals.
"There are a lot of different play types," Dolan says, "and one needs to understand them to make better judgments about the area's ultimate potential. Also, there are regular acreage relinquishment obligations in Mauritania. We want to know as much about our acreage before being obliged to relinquish it.
"We have two different sets of fiscal terms, shallow and deepwater. The latter is more benign. Banda's location probably overlaps these two sets of terms, so there may be complex negotiations prior to any development. There may have to be some sort of accommodation between the government and the joint venture partners."
Nick Cameron, director of global exploration services, estimated potential reserves discovered to date at 400 MMbbl. Woodside Managing Director John Akehurst has been quoted as predicting a floating production-based scheme on Chinguetti producing 50,000-70,000 b/d from five wells. This could tie in Banda, or the latter could be developed with its own facilities.
How any joint scheme would manage Banda's or future gas discoveries has yet to be resolved.
"Gas is not our preferred outcome, as there is no immediate way of monetizing it," Dolan says. "However, a certain amount of gas in the petroleum system is good, as that produces energy. The gas-oil ratios we have found in the reservoirs to date have been very satisfactory. On the plus side, the gas within Banda is exactly where you'd want it, that is, 'at the top of the champagne bottle,' while everything downdip is probably oil."
According to Grant, last year's campaign cost $60 million for four wells, with the drillship contracted at day rates of $350,000 to $400,000. Its power generation requirements outstripped those of the capital Nouakchott. In time, drilling costs will come down "through sheer experience," Dolan said. "It's a case of making sure you're more efficient when conducting engineering work – running casing, testing BOPs, installing wellheads, and so on."
The consortium's biggest challenge is bringing in support infrastructure, Grant concluded. "Mauritania has no history in petroleum, no petroleum engineers, no regulations, so we're working closely with the government to speed up the process. On the good side, as they're starting from a clean sheet, they can also put in good regulations relating to offshore structures and pollution."
Some exploration is also planned in the Dana Petroleum-operated block 7 to the north, where Hardman is a partner. Mauritania hopes to maintain the momentum through an ultra-deepwater licensing round. Ted Ellyard, Hardman's managing director, said, "There are so many channels, with an abundance of exploration prospects, as off Angola. But who would find these? We need discoveries by other groups, so that more companies can share the infrastructure investments."
New exploration focus
Hardman also drew Fusion to Mauritania, the initial attraction being the area's geophysical characteristics. Today it employs 12 staff, half of which are geologists and geophysicists, and according to Dolan, this expertise is primarily focused on exploration.
Dolan formed the company with Managing Director Alan Stein while both were colleagues at a geoscience consultancy, Ikoda.
"We became aware in the mid-1990s that West Africa was an area of increasing interest," Dolan said. "We both decided we wanted to get involved in an equity sense, although that's difficult to accomplish when you're a consultancy, so we formed Fusion as a new company."
In fact, an opportunity arose out of Fusion's first assignment, performing interpretation work for Hardman. This led to a 20% stake in newly licensed acreage off Mauritania, subsequently scaled back to 3 and 6% respectively of PSCs A and B when the acreage was farmed out.
"We have less interest in development and production," Dolan says. "If we can demonstrate significant prospectivity, we then look for broader-based companies to farm-in. You could say we are contrary to the typical new intake of small independents – we're more like the cavalier wildcatter of 100 years ago."
In the early stages, he added, "we were short of funds, but we found other parties were willing to exchange equity for our service – namely the governments of The Gambia, Senegal, and Guinea-Bissau."
null
The latter two countries had been involved in a long-running border dispute, which had been under arbitration for years, until the International Court of Justice in The Hague agreed terms for a joint offshore development zone in 1997. This is being administered by a joint commission known as AGC, or Agence de Gestion et de Cooperation entre le Senegal et la Guinea-Bissau.
"Neither the AGC nor Gambia was a focus for exploration at that time, and neither had money. But both wanted to promote their offshore acreage. We said, 'we'll review all the acreage in your territorial waters and do state-of-the-art technical evaluation, and you can use the results for any purpose.' Under a quid-pro-quo arrangement, we could then select any of their prospective acreage on a first-come, first-serve basis," he said.
Within the AGC, two permits were issued in 2000 – Croix du Sud and Cheval Marin, in water depths ranging from just under 50 to above 3,500 m. Cheval Marin, covering 6,500 sq km, was awarded to Agip (90% operator), with Fusion holding the balance. Fusion was given 88% of Croix du Sud, with the state oil entity holding the remainder, but last September it ceded 68%, and operatorship, to Amerada Hess, in return for Amerada bearing certain costs associated with the forward work program.
Under a similar arrangement, Fusion agreed to farm out an 80% interest to Amerada in The Gambia deepwater petroleum production license. This had been awarded to Fusion in October 1999, the 5,250 sq km acreage extending from the 50-m bathymetric contour to beyond 2,000-m water depth. Simultaneously, Amerada also took on 80% operatorship of the deepwater Ntem concession contract off Cameroon, which Fusion won in March 2001 following a competitive bidding round.
Fusion remains operator of two PSCs in shallow water off Gabon, which it secured in 1999. It is also undertaking technical studies relating to the entire offshore territory of the Saharawi Arab Democratic Republic, better known as Western Sahara.
Tactical decisions
In September 2000, Fusion became a public company and was floated on the Alternative Investment Market of the London Stock Exchange as a pure exploration company, raising £15 million before expenses, giving the company a market capitalization of almost £50 million. Today the company has around 950 shareholders, the largest being Westmount Energy with 20%. Twenty more are large to mid-size institutions with a combined 43% interest in Fusion.
"Despite the perceived political risks associated with West Africa, there's been very little disruption to production in the region over the past 30 years," Dolan said, "although there has been unrest. Some countries, such as Liberia, have been ignored by the industry for that reason, but that's also indicative of a lack of perceived prospectivity.
"Our company's strength is high quality technical work based on the extensive geological know-how of our staff, produced in a nimble fashion. The plausibility of that claim became more robust after the Amerada farm-in. You must perform at the highest level technically to attract the interest of companies that size.
"Amerada became aware of our wish to farm out that acreage at a conference in Cape Town in 2001. Rather than mount a formal campaign, we preferred to spread the word in a selective way, and this led to a lot of companies visiting our headquarters in Perth to view our data. For Amerada, the initial interest was our Cameroon acreage, but when they looked at our other assets, they could see technical similarities."
West Africa had soared up Amerada's corporate agenda, following its acquisition of Triton Resources, one of the two lead operators off Equatorial Guinea. Triton's strong exploration record in the region has been sustained by the new owner.
"We see very similar play types off Equatorial Guinea, Cameroon, the AGC, and The Gambia," Dolan said. "Over geological time, the reservoirs have swept out into deep water, creating stratigraphic traps and structural targets, especially where faulting and subsurface salt doming is prevalent."
The AGC area's petroleum system appears to be comparable with that of deepwater Mauritania, with similar potential source rocks and a predominance of Upper Cretaceous reservoirs. Fusion identified numerous deepwater play systems during early its technical studies. Large quantities of biodegraded oil are present in the Dome Flore and Dome Gea accumulations adjacent to the two offshore permits, indicating a prolific petroleum generating system in this area.
During 2001, 1,300 km of 2D seismic was acquired in Cheval Marin followed by 1,000 km of 2D seismic in Croix du Sud. These revealed equally well-developed salt-related structural trends in both permits. Last year, 2,500 sq km of 3D seismic was acquired in Cheval Marin.
"This program was technically very successful, and came in under budget," Dolan said. "Hopefully it will lead to a portfolio of prospects being identified, with a decision on drilling probably in 2004. But the timing of any wells might depend on a rig-sharing arrangement with other concession holders in this region."
Under the agreement with Fusion, Amerada acquired 1,500 sq km of 3D seismic in Croix du Sud. If drilling leads are identified, Amerada will then bear the cost of up to two exploratory wells, at a maximum of $22.5 million per well.
Between 1999-2001, Fusion itself acquired a 1,000-km regional 2D seismic survey and a 720-km infill survey over previously unsurveyed deeper waters in its Gambia license. Interpreta-tion revealed several prospective structural and stratigraphic features with analogies to recent discoveries elsewhere off West Africa.
The Ntem concession covers 2,300 sq km offshore Cameroon, in water depths ranging from just under 1,000 m to beyond 2,000 m. The permit is located in the Douala/Rio Muni basin, which Amerada is more familiar with through its work off Equatorial Guinea to the south. Fusion identified numerous prospective features following a 2,100 sq km 2D seismic survey two years back. Amerada recent-ly began a 1,500-sq km 3D survey over the most pros-pective features. Should drill-ing ensue, it will cover the costs of two wells capped at $15 million each.
Amerada also retains the option to withdraw from any license without drilling any wells, or upon completion of the first well. The net cost to Fusion will be $4.5 million for any well drilled off Gambia and AGC and $3 million off Cameroon. If Amerada dec-ides to withdraw from any of the permits at any stage, Fusion would revert to its pre-farm-out equity position.
Saharan initiative
Last April, Fusion signed a technical cooperation agreement with the SADR covering the entire offshore territory of this country, situated between Mauritania and Morocco. The 215,000-sq km-plus area extends from the coast to beyond the 3,000-m bathymetric contour. Fusion is performing an exclusive technical review of the acreage. In return for handing the results to the SADR government free of charge, it will nominate up to three zones for exploration licensing.
null
As to why larger international operators sat tight in some of Fusion's current strongholds, "there's no easy answer to that," Dolan said. "We're taking a risk where others see the risk-reward ratio as being too high. We're prepared to invest our time in areas not currently on the radar screen for bigger companies. Our acreage off Gabon, in contrast, is not deepwater. But what appealed to us there is the potential for applying new technologies."