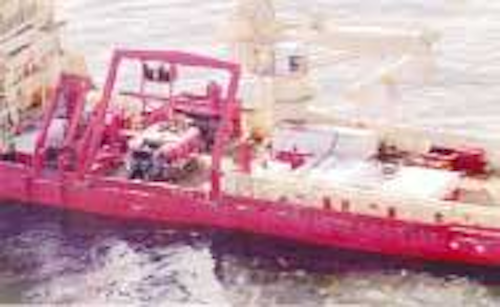 Hägglunds Drives has supplied the hyd-raulic drive system for the winch and A-frame for a new ROV trencher from Perry Slingsby Systems. The vehicle, which PSS considers the flagship in its fleet due to its power and advanced tooling sys-tems, recently completed its first assignment for Canyon Offshore on the Fram Vest devel-opment in the North Sea.
The 750HP T750-1 trencher, built in PSS's facilities at Kirkbymoorside, UK, is designed to operate on tracks, or in free-fly mode, with a maximum forward speed of over 3 knots and a lateral speed of 2.5 knots. It weighs 23 metric tons when tracked, and measures 5.4 m wide, 7.2 m long, and 3 m high. It has been designed to bury flowlines or cables in soils up to 100 kPa and to trench to a depth of up to 3 m. Newly introduced onboard tools include a series of vertically deployed water jet cutting arms, rear mounted inductor (dredge) and a pair of pipe runners.
For the winch and A-frame, both designed and manufactured by PSS, Hägglunds devised the drive package using its standard drive system components. The package includes:
A 2 x 150 KW PEC cabinet-style vertical power unit
Four radial piston-type Com-pact CA70 hydraulic motors (70 Nm/bar and 4.4 liters/revolution)
A Spider control system, providing two-speed control using Hägglunds freewheeling valves on the motors and constant ten- sion of the winch
MDA 7 brakes that have DNV type-approval.
null
According to Lee Hinchcliffe, technical engineer for the Hägg-lunds Marine and Off-shore industry, one of PSS' main reasons for selecting Hägglunds for this project was that it could act as a single-source supplier for all the drive components. Its sister company in Finland, GS Hydro, provided the pipe work installations from its UK office.
"This is a very simple, closed loop system, with pipes between the motors, but no line-mounted valves," Hinchcliffe said. "We also performed some of the engineering for the winch itself, matching it to the appropriate drives."
The vertically mounted power unit solution with small footprint allowed the client to make good use of the deck space available on the launch and recovery vessel, the Northern Canyon. A longer-term advantage to PSS is that all the equipment is proven, off-the-shelf technology from the company's standard ranges. So whether the vessel ends up working in the Gulf of Mexico or offshore Australia, Hägglunds will have local representative divisions to respond quickly with support, services and spare parts.
Hägglunds undertook tests of the drive system, both at its headquarters in Mellansel Sweden and under DNV's supervision at the Tees Offshore base in northeast England end-May, where all the components were assembled following delivery of the winch. Once this process had been completed, the vehicle was shipped directly to the Norwegian sector to work for Norsk Hydro's Fram Vest subsea development, starting early in July.
null
Heavy sea state launch
The T750 is designed for heavy sea state launch and recovery operations. Interfaces with the A-frame made this better using the constant tension mode of wave riding. In fact, the vehicle was called on for a time to work in sea state 6. The norm for a trencher is sea state 4, according to Perry Slingsby Spokesman Stuart Parkes. The job was completed on schedule. A mixture of production lines and infield umbilicals were buried to a depth of 2 m.
"Reliability was paramount," Parkes adds. "In the event, Canyon Offshore managed to operate the vehicle continuously over six and a half days with one trenching run only stopping when the end of the pipeline was reached. That represents excellent uptime, almost unheard of, given the conditions."
null
The next project for the T750 will be a deepwater program in the Gulf of Mexico. The vehicle can operate in depths to 1,500 m.
For more information, contact Lee Hinchcliffe, Hägglunds Drives. Tel: +44 1924 220 100, fax: +44 1924 890 111, lee.hinchcliffe@uk.hagglunds.com, www.hagglunds.com.