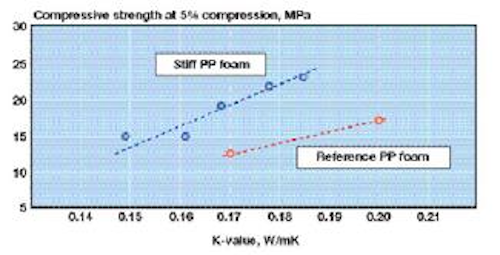 Borealis Business Unit Pipe has responded to the growing need in deepwater for foam structure and stiffness in pipe coatings with its multilayer polypropylene system, developed in cooperation with Bredero Shaw.
The company looked at both higher foam density, which yields better mechanical properties, and reduced density, which offers better insulation. A multilayer insulation system appeared to be the best solution. To achieve this, Borealis developed a new generation of polypropylene materials that balance stiffness, toughness, and thermal performance.
null
Basing the foam on high melt strength polypropylene polymers and polypropylene materials leads to smaller, more evenly spaced bubbles in the foam layer.
"We keep pushing for tougher materials to meet tough demands," said Cecilia Rydin, product and market development in the pipe business unit.
A business unit of the Borealis Group, Borealis Pipe supplies specially developed granules to offshore pipe coating yards. Rydin said the company recently developed its system to fulfill an order for the Boomvang-Nansen development in the Gulf of Mexico in more than 1,000 m of water. The 6 km of pipes were coated at the Bredero Shaw yard in Mobile, Alabama.
In the five-layer system, the steel pipe is coated with epoxy, adhesive, polypropylene, foam, and mechanical/outer protection. The multi-layer system has already been proven in water depths to 1,000 m, Rydin said.
null
Going deeper, however, required a new approach to handle higher pressures and the temperature differential between the pipe's flow contents and the water. Just increasing the foam layer in the multi-layer system would not solve the problem as the pipes would be too thick, and the integrity of the foam structure would not last, the company said. So Borealis looked to using two types of foam, creating an optimized multi-layer structure.
In that design, the steel pipe is coated with epoxy, adhesive, solid polypropylene, less aerated foam that can withstand higher temperatures, more solid polypropylene, foam with more air for lower temperatures, and outer protection. The new design creates a coated pipe suitable for use in water depths to 2,000 m, she said.
null
Combining the two types of foam layers lowers the required foam thickness. And using the foam instead of solid polypropylene means lighter coatings with up to 40% lower outside diameters.
Now the company will be able to tailor coatings to each project's requirements, Rydin said.
Borealis is qualifying a new grade for another Gulf of Mexico project for connections that will accommodate bending of the pipelines, especially during reeling and unreeling. Further development work is focused on perfecting the weighting agents with the plastic.
For more information, contact Cecilia Rydin, Borealis: Tel: +46 303 860 00, fax: +46 303 812 27, cecilia.rydin@borealisgroup.com, www.borealisgroup.com.