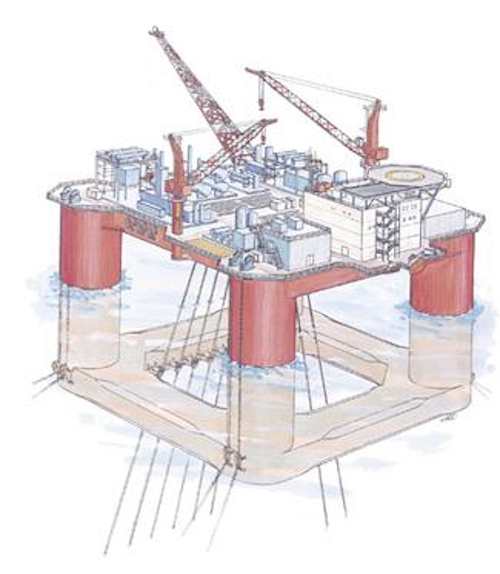 Jennifer Pallanich Hull
Special Reports Editor
GVA Consultants has designed a new production semisubmersible geared for deepwater fields in the Gulf of Mexico. The GVA 3000, good for water depths of 1,000-3,000 m, is aimed at fields in the 60-100 MMbbl range. It is targeted in particular at independents as an alternative to mini-TLPs and cell Spars.
"We evaluated the Gulf of Mexico market and realized there was a strong interest in small production units," said Pontus Clason, senior project manager.
GVA C, a design subsidiary of KBR, designed the hull for the new semi, while KBR developed the topsides. The duo has been working on the concept since last fall. The unit was developed with conventional mooring, he said, but it can also use a fiber mooring.
"The unique thing is it's small, very small, especially compared with others we've been working on," Clason said.
null
Compared with other semis being built for the Gulf of Mexico, the GVA 3000 will have a small displacement. Thunder Horse, for example, will have a 130,000-metric-ton displacement and deck load capacity of 40,000 metric tons. The GVA 3000's displacement is around 21,000 metric tons with a deck load capacity of 3,200 metric tons. No drilling system is planned, and the unit will accommodate around 30 people.
"With a smaller rig, you expect to get larger motions," Clason said. "They would be more sensitive to day-to-day conditions."
Those motions represented a challenge in terms of accommodating the steel catenary risers, he said. GVA C focused on motion characteristics to adjust hull dimensions and optimize the riser and floater system. The company has worked on tuning the motions in the wave region where the most damaging riser loads occur, which is not necessarily where the largest motions occur, Clason said.
The unit is sized to accommodate risers up to 12 in. and fields with typical 30,000-60,000 b/d output.
null
The basic design is a low heave semi with four columns and frame pontoon arrangement. It has an integrated deck structure for flexible topside arrangement. There is a flexible riser and SCR subsea interface. The hull is 75 m long and 65 m wide with 60-m-long pontoons and a draft of 25 m. There will be 2,500 sq m of deck area for production equipment.
The next generation of the GVA 3000 will feature an asymmetrical hull design for which a patent is pending, Clason said.
For more information, contact Pontus Clason, GVA Consultants. Tel: +46 31 10 67 05; fax: +46 31 10 67 10; pontus.clason@gvaconsultants.com; www.gvaconsultants.com.
---
Semis in progress
The last few years have seen a flurry of design work in the GVA Consultants house. The Swedish company is working on the Kristin, Khazar, Thunder Horse, and Atlantis projects.
Khazar is a GVA 4000 design drilling semi being built exclusively for use in the Caspian. Khazar, which means Caspian Sea in Farsi, is being built in cooperation with Sadra, an Iranian shipyard, for National Iranian Oil Company. The Khazar is scheduled for delivery in 2004.
Kristin is a GVA 50 design semi under construction at the Samsung yard for Statoil's Kristin field in Norway. This production semi is aimed at handling 18 MMcm/d of gas and 126,000 b/d of condensate.
The Thunder Horse semisubmersible is in fabrication at Daewoo. The hull is slated to be complete by the end of the year with commissioning set for 2004 and installation in early 2005. BP operates the Thunder Horse field development in the Gulf of Mexico. The Thunder Horse PDQ is of the GVA 40,000 design. It will handle up to 250,000 b/d of oil and 200 MMcf/d of gas.
Daewoo is also working on the detail design for the Atlantis semisubmersible for the Gulf of Mexico. This BP-operated semi is on a schedule a year later than Thunder Horse with first steel to be cut in September. The Atlantis PQ is the GVA 27000 design and will have the capacity for 150,000 b/d and 180 MMcf/d of gas.