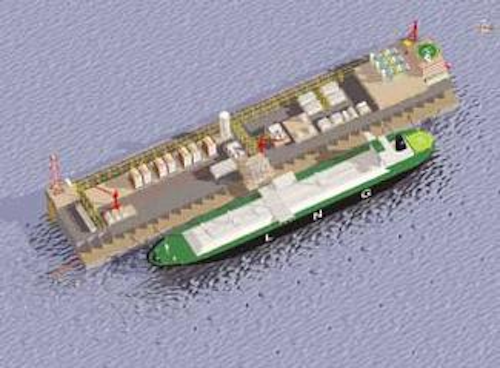 Jennifer Pallanich Hull • Houston
Shell and ChevronTexaco have both made steps forward in their quest for LNG receiving terminals in the Gulf of Mexico. Shell has proposed a new import terminal, expected to be operational in 2008 or 2009, in the Gulf of Mexico operated by its wholly owned subsidiary Gulf Landing LLC. The proposed terminal will have the capacity to deliver 1 bcf/d of natural gas into the US interstate pipeline network.
Shell is filing its first application for a Shell-operated LNG terminal under the Deepwater Port Act for a license authorizing the construction and operation of the proposed LNG storage and regasification facility 38 mi offshore Louisiana in West Cameron block 213. Gulf Landing will be a concrete gravity-based structure (GBS) that will be floated to the site and lowered to rest on the seafloor in about 55 ft of water. The facility will include a berth for mooring LNG carriers, LNG storage and regasification facilities, and pipelines to connect with existing natural gas pipeline systems in the GoM.
null
ChevronTexaco is also working its way through the permitting process. The supermajor, which has filed applications for LNG receiving terminals off Louisiana and Baja California, picked Flour Corp. to provide front-end engineering and design services for its proposed offshore LNG regasification programs in the Gulf of Mexico and off Baja California for an undisclosed sum. Aker Kværner will handle the engineering, procurement, and construction management services for concrete structures placed on the seabed for the Port Pelican and Baja California terminals. Construction contracts are expected to be awarded in the first half of 2004, ChevronTexaco said.
The proposed Port Pelican and Baja California terminals will be placed on concrete sub-structures on the seabed miles off the coast. Port Pelican, to be located off Louisiana, will include an LNG ship receiving terminal, LNG storage and regasification facilities, and pipeline interconnection into the US interstate gas pipeline network. Port Pelican will process 1.6 bcf/d. The Maritime Administration of the US Department of Transportation approved the port license for the Port Pelican terminal in mid-November. The facility should be operational by 2007.
Shuttle tanker role may expand
Shuttle tanker designs have evolved to allow offloading from vessels other than FPSOs.
"That service can be done with any type of platform," said Peter Lovie of American Shuttle Tankers following the Society of Petroleum Engineers' "Emerging Challenges for Deepwater Oil Transportation in the Gulf of Mexico" workshop in Houston.
Unocal's David Saylor, project manager for deepwater facilities engineering and operations, said there are times when one solution or the other will have a clear advantage.
"There's a very large area of deepwater where there's going to be intense head-to-head competition" between pipelines and shuttle tankers, he said.
In some instances, the best solution may be a hybrid, combining use of shuttle tanker efforts in deeper, more remote waters and pipelines in shallower water.
Steve Smetana, Shell's marketing representative for crude oil, said attendees learned the MMS will study how shuttle tankers are used in the Gulf before deciding if it can apply the current royalty-in-kind system.
There are several issues associated with whether a field will use a shuttle tanker, he said, including schedule, commingling, partner agreement on the transportation concept, weather effects on availability, cost of the tanker and the tariff, quantified risk, and the permitting process.
Allen Verret, executive director for the Off-shore Operators Committee, said most operators in the Gulf use the solutions they've successfully used in the past, even if technology has been proven in other areas of the world.
"Basically, what we're waiting for in this industry is the right field with the right opportunity," he said.
Lovie said this opportunity might come from fields in the Alaminos Canyon or Walker Ridge areas of the Gulf.
Trio of discoveries wraps up year
ChevronTexaco was in on back-to-back-to-back finds at its Sturgis, Saint Malo, and Tubular Bells prospects in the deepwater Gulf of Mexico. The ChevronTexaco-operated Sturgis No. 1 well on Atwater Valley block 183 in 3,700 ft of water found more than 100 ft of net pay sands, and additional appraisal drilling is planned. ChevronTexaco holds 50% working interest and Devon and EnCana each hold 25% working interest in Sturgis.
The Unocal-operated Saint Malo find on Walker Ridge block 678 is located in 6,900 ft of water. The exploratory well encountered more than 450 net ft of oil pay over a gross interval of 1,400 ft. Unocal holds 28.75%, Petrobras holds 25%, Devon holds 22.5%, ChevronTexaco holds 12.5%, EnCana holds 6.25%, ExxonMobil holds 3.75%, and Eni Petroleum holds 1.25%.
null
BP drilled to success at its deepwater Tubular Bells prospect on Mississippi Canyon block 725 in 4,300 ft of water. The exploratory well encountered 190 ft of net oil pay, and further appraisal drilling is planned.
Operator BP holds 50%, ChevronTexaco holds 30%, and Amerada Hess holds 20%.