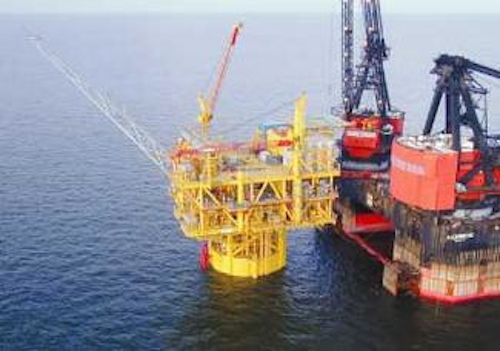 Jennifer Pallanich Hull • Houston
Deepwater plays show pay
BHP Billiton's Neptune-5 appraisal well in 6,215 ft of water in the Gulf of Mexico encountered 500 ft of net oil pay. The net column for this well on Atwater Valley block 574 is significantly larger than those recorded in the similar Miocene reservoir sandstone intervals of previous Neptune wells, the company said, and preliminary evaluation indicates oil similar to the medium sour crude found at the Atlantis and Mad Dog fields, which are also on the Atwater fold belt trend.
Core and fluid samples have been taken, and the partners are sidetracking Neptune-5 while assessing options for other associated operations at the well. GlobalSantaFe's C.R. Luigs drilled the well to 19,142 ft TD. The initial Neptune discovery was made in 1995.
BHP Billiton Petroleum President and CEO Philip Aiken said the data enhances the company's ability to evaluate the commercial viability and development options for the field.
Operator BHP holds 35%, Marathon Oil Co. has 30%, Woodside Petroleum Ltd. has 20%, and Repsol YPF subsidiary Maxus (US) Exploration Co. has 15%.
Also in the Atwater Valley section of the GoM, the No. 4 Champlain well encountered more than 200 net ft of hydrocarbon pay. Unocal said Transoc-ean's Discoverer Spirit drillship drilled the Atwater Valley block 63 well in 4,418 ft of water to 27,869 ft TVD. Partners are working on potential development concepts.
Operator ChevronTexaco holds 20%, Eni Petroleum has 37.5%, Unocal has 30%, and BHP has 12.5% in the Champlain well.
Moving east in the GoM, ConocoPhillips' Lorien exploration well in the Gulf of Mexico on Green Canyon block 199, drilled in 2,177 ft of water to 17,432 ft TVD, encountered more than 120 ft of hydrocarbons in a high-quality reservoir interval. The well was temporarily suspended, pending further appraisal of the hydrocarbon zone. Operator ConocoPhillips holds 65%, Noble Energy Inc. has 20%, Norsk Hydro E&P Americas AS Inc. has 10%, and Davis Offshore L.P. has 5%.
null
Apache buys Shell properties
Shell Exploration & Production Co. has sold 26 shallow-water properties in the Gulf of Mexico. Apache Corp. bought the properties for $200 million, subject to preferential right elections. Apache's acquisition includes 26 fields covering 50 blocks and interests in two onshore gas plants. Apache will operate 15 of the fields with 91% of the production.
"These assets lay down well with our existing Gulf of Mexico properties. We will not have to add additional staff, and we expect to create efficiencies in our field operations," Apache CEO and President G. Steven Farris said. "These assets have been capital-constrained for several years. Just as with the Gulf of Mexico property package we purchased from Shell in May 1999, we plan to invest money to maximize production and add new reserves."
In the 1999 transaction, Apache paid Shell $716 million and has invested another $550 million in exploitation activities.
Prior to the Apache purchase, Morgan Stanley paid Shell $300 million to acquire an overriding royalty interest in a portion of the lower-risk reserves to be produced over the next four years.
Included in the divestment are 15 operated and 11 non-operated properties, with 107 active wells, 17 major production platforms, and existing production handling agreements.
null
Active EM headed for Gulf
OHM Ltd. said it received a multi-year contract from a major international oil company for services based on OHM's active electromagnetic (EM) sounding technique. Some of the work will occur in the deepwater GoM. OHM has mobilized one of its crews for the work.
"We will be providing these services worldwide to support our client's exploration and development activities," said OHM CEO Dave Pratt.
OHM.will use the DASI III deep-towed transmitter, with output more powerful than previous generation systems for this project.
"This provides a dramatic increase in signal penetration depths into subsea geological structures," Pratt said.
The active EM sounding technique bridges the gap between 3D seismic data and exploration drilling. The technique detects and delineates the resistive subsea layers often associated with hydrocarbon deposits. Whereas 3D seismic data identifies structures that may contain hydrocarbons, in many circumstances it does not provide a reliable hydrocarbon presence indicator. Active EM sounding can confirm the presence of hydrocarbons, reducing the possibility of drilling dry exploration wells and the need for extensive appraisal drilling.
Active source EM sounding uses a dipole source towed about 30 m above the seafloor. The dipole emits a low-frequency EM signal that diffuses outward through the water column and into the underlying sediments. An array of receivers on the seafloor measures the resulting electric fields. Studying the variation in the amplitude and phase of this received signal allows the resistivity structure of the underlying sediments to be determined at a scale of a few tens of meters at depths to several kilometers, the company said.
Wood gauges for Princess, Llano
Shell Exploration and Production Co. (Sepco) has purchased from Wood Group Production Technology a dozen permanent downhole gauges for wells in the Princess field in Mississippi Canyon block 765 and Llano field in Garden Banks block 386 in the deepwater Gulf of Mexico. Wood Group's new devices are the 25,000-psi-rated version of its rugged ROC family of permanent downhole gauges. The high-pressure quartz-based downhole gauge was designed to withstand the extreme pressures and temperatures of deeper wells. The Sepco installations will be in water depths to 3,637 ft, and the deepest gauge will be set at 25,150 ft. Wood Group said it tested the gauge seals and housings at temperatures from 32° F to 320° F and at pressures of up to 30,000 psi.