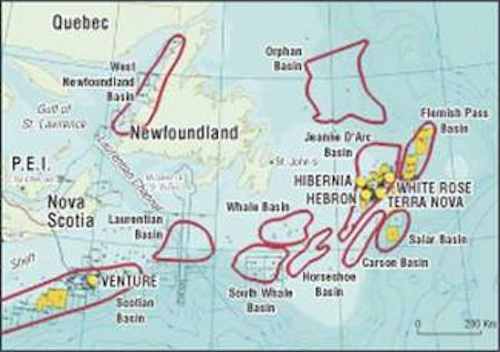 Judy Maksoud • Houston
Newfoundland Mines and Energy Minister Walter Noel has released two geological reports relating to 14 offshore parcels being offered in this year's call for bids that closes on Dec. 17.
G&G Exploration Consulting of Calgary, Alberta, an independent consultant, prepared the larger of the two reports, which relates to the 12 parcels in the Orphan basin, off Eastern Newfoundland. The Department of Mines and Energy prepared the smaller report on the two parcels in the Flemish Pass basin.
G&G based its report on new proprietary data used with the permission of Geophysical Services Inc. of Calgary.
"The report concludes that the Orphan basin contains similar rocks to those found in the Jeanne d'Arc basin, an area that is home to Hibernia, Terra Nova, and White Rose," Noel said. "In addition to discussing the geology of the Orphan basin and of the individual parcels, the consultant has carried out a preliminary resource assessment on 15 structures that have been identified in the call for bids parcels. The consultant has concluded that several of these structures have the potential to contain in excess of one billion barrels of recoverable oil."
The Department of Mines and Energy report results show the presence of large prospects, which could contain commercial quantities of oil and gas.
null
Middle East
Qatar Petroleum and Qatar Petroleum Development Co. have signed an agreement for full field development of the offshore Al-Karkara and A-North structures.
Qatar Petroleum and QPD signed the original development and production sharing agreement in July 1997. QPD operates the consortium representing the contractor group, which is made up of Cosmo Oil Co. Ltd., Nissho Iwai Corp., and United Petroleum Development Co. Ltd.
"This full development agreement is part of the strategic plan of Qatar Petroleum to continue the development and utilization of Qatar's existing oil industry along with the ongoing development of the gas industry." Al-Attiyah said.
According to Okabe, "The project was unique in Qatar as it is the first venture to attempt non-flaring of gas by re-injecting back into the formation, a decision that was reached in consultation with QP's adoption of gas disposal as part of its environmentally friendly policy."
The initial development phase proved commercial viability of the project and resulted in preparation and approval of the full field development after extensive technical interaction with Qatar Petroleum.
Development will be in three stages. There will be seven wells in all: four in Al Karkara and three in A-North. Four new wells will be drilled, with two existing wells worked over, and one existing well sidetracked.
Production is expected to begin in January 2005, with a peak production rate of around 10,000 b/d by 1Q 2006.
Mediterranean
Intec Engineering has been awarded the front-end engineering and design (FEED) contract for the Medgaz offshore pipeline project in the Mediterranean Sea.
Intec's scope of work for the contract includes the design/engineering of the offshore pipeline, shore approaches, and short onshore pipeline sections to the onshore terminals at both ends of the trunkline.
Andrew Brady, Intec's project manager for the FEED studies, said the company's experience designing large-diameter pipeline systems for ultra-deepwater will be a plus.
"We're building on lessons learned from Bluestream and Mardi Gras, capturing relevant experience of pipeline design, fabrication, and installation in ultra-deepwater to ensure an optimized and safe design for Medgaz," Brady said.
Intec is scheduled to complete the FEED activities in February 2004.
"We have an ambitious project before us with a limited time frame of six months to complete pipeline design and prepare EPIC (engineering, procurement, installation, and commissioning) bid packages for the project's completion," Brady said.
EPIC contract activities are to begin during 3Q 2004, following project approval by appropriate authorities in Spain and Algeria.
The Medgaz pipeline will transport high-pressure gas at a maximum water depth of 7,087 ft and will stretch 124 mi from Beni Saf, Algeria, to Playa del Charco, Spain, where it will make landfall. Medgaz pipelines will move 16 bcm/yr of gas through two pipelines, with an estimated start-up rate of 7 bcm/yr targeted for 3Q 2006.
Survey vessels are working along the proposed pipeline route gathering geo-technical information, with particular emphasis on near-shore areas. Data from these surveys will help to characterize the soils, facilitate route selection, and ensure appropriate protection of environmentally sensitive areas.
Medgaz partners include Algeria national oil company Sonatrach, Cepsa, BP, Total, Endesa, Gaz de France, and Spanish energy company Iberdrola.
Europe
The first production well on the Grane platform in the Norwegian North Sea began producing oil on Sept. 23, three weeks ahead of schedule.
It is the first of 12 pre-drilled wells being linked to the platform. Oil production from the field will increase gradually until the planned level of just over 210,000 b/d is achieved. According to the development plan, peak production is expected during the first six months of 2005.
The Grane field has been developed with an integrated production and drilling platform at a water depth of 120 m. The field, discovered by Norsk Hydro in 1991, has been developed in close collaboration with Aker Kværner, which designed and built the platform.
Gas from the Heimdal Gas Centre is transported via a 50-km gas pipeline to be reinjected into the Grane reservoir to increase oil production. Produced oil from Grane is transported through a 212-km pipeline to Hydro's terminal at Stura in Øygarden.
The Grane field contains heavier oil than is found in the rest of the Norwegian sector (18.5° API) and is expected to be sold at a lower price than average Brent Blend.
Estimates place recoverable reserves from the Grane field at 700 MMbbl of oil. The field will become one of the top producers in the Norwegian offshore sector when it reaches peak production.
According to Torgeir Kydland, president of Norsk Hydro operations and production, "The Grane project shows what can be achieved when the operator, partners, and contractors all pull together. We have spent about one and a half billion kroner less than budgeted, and production started three weeks ahead of schedule."
Norsk Hydro operates the Grane license with 38% interest. Partners are Petoro with 30%, ExxonMobil with 25.6%, and ConocoPhillips 6.4%.
Britain and Norway have agreed on treaty principles that will enable gas to be transported from the Ormen Lange field offshore Norway to the British market. The agreement is based on delivery of third-party gas through the southern leg from the Sleipner riser platform to Easington in the UK by October 2006.
Deliveries of gas from Ormen Lange will start through the northern leg from Nyhamna to the Sleipner riser platform in October 2007.
"We are very pleased that we have had this clarification about the treaty principles. This enables us to continue the work on the Ormen Lange project according to the planned schedule," said director Bengt Lie Hansen, chairman of the Ormen Lange unit management committee.
The Ormen Lange plan for development and operation and the pipeline plan for installation and operation will be submitted to the Norwegian authorities in 4Q 2003, and the pipeline work authorization will be submitted to the UK authorities early 2004.
The Ormen Lange field is the largest gas field under development on the Norwegian continental shelf. The planned volumes to be exported to the UK amount to nearly 20 bcm/yr over a 20-year period. The total length of the pipeline from Nyhamna in Norway to Easington in UK is 1,200 km. The Ormen Lange field is 100 km off the Norwegian northwest coast in a water depth of 1,000 m.
Norsk Hydro operates the Ormen Lange license with 18% interest. Partners are A/S Norske Shell with 17.2%, Petoro AS with 36%, BP Norge AS with 10.9%, Statoil ASA with 10.8%, and Esso Exploration and Production Norway AS with 7.2%.
Central Asia
Acona Caspian of Norway and Det Norske Veritas have established safety standards for Azerbaijan's oil industry.
According to Acona, the Azerbaijani government is evaluating the standards. On approval, all oil companies working in the country will follow the standards.
The standards project was funded by the Nor-wegian government, State Oil Co. of the Azerbai-jani Republic (SOCAR), BP, Statoil, ExxonMobil, and ChevronTexaco.
Africa
Repsol YPF was awarded offshore exploration rights along Morocco's northwestern coast. The award allows Repsol to explore three areas covering 6,000 sq km off the coast between Tangiers and Larache. The exploration rights will be valid for eight years.
Joint Development Authority of the Nigeria-DRSTP Joint Development Zone announced improvements to the fiscal terms applicable to the licensing round.
The JDA announced an introduction of an Investment Tax Allowance as an integral part of the fiscal terms. The ITA – 50% of qualifying capital costs – is an additional allowance for tax and will enhance the overall competitiveness of the JDZ fiscal regime.
The JDA also announced that a number of other issues have been reviewed and clarifications made, including treatment of exploration costs, treatment of royalty oil, treatment of abandonment costs, and OML extension. Full details of the changes can be found on the JDA Website at www.nigeriasaotomejda.com.
In the Gulf of Guinea, HyperDynamics Corp. subsidiary SCS Corp. has isolated four tiers of fault blocks 150 km offshore. The blocks are at the edge of a large delta and confirm the presence of many major oil and gas prospects.
Robert Bearnth, SCS vice president, explained the significance of the find. "Our extensive work program consists of acquiring, reviewing, processing, reprocessing, interpreting, and reinterpreting over 16,000 km of seismic data. This work program will enhance and verify the world class features we have seen to date."
In light of these recent developments, Kent Watts, chairman and CEO of HyperDynamics, said, "The prospect of world class natural gas deposits bodes strong for our company in the light of Alan Greenspan's recent testimony before the US Congress. We feel that Guinea is creating the best environment in the world for exploration and production of hydrocarbons, and West Africa is one of the hottest exploration frontiers anywhere."
Asia-Pacific
Vietnam is "improving the climate for investment," said Dr. Nguyen Bich Dat, vice minister of Vietnam's Ministry of Planning and Investment, on a visit to Houston in late 3Q 2003.
As Vietnam makes the transition from central economy to market economy, the time is ripe to act on the promise of investment in Vietnam, Dat said. The transition is characterized by what Dat called "doi moi," literally translated as "renovation."
The renovating of the Vietnamese economy began with the US/Vietnam Bilateral Trade Agreement in 2001, which gave rise in 2002 to a 60% growth in two-way trade between the countries totaling $3 billion.
The Vietnamese government has tasked state-owned PetroVietnam with increasing production, according to Dinh Huu Loc, the company's general manager of international cooperation. This first visit to Houston is one step toward that goal. "We would like to draw attention of American business to Vietnam," Loc said.
Another way Vietnam is going about reaching that goal is by providing incentives for investors, including deepwater incentives that are to take effect next year, Loc said. Corporate tax is to be decreased to 32%, and royalties are being scaled back from 8% to 6%, he said. The hope is that incentives will increase interest in the bidding round set for June 2004, which covers about 10 offshore blocks.
In a departure from standard procedure, production-sharing contracts will not be limited to the bidding round, Loc said. Vietnam will consider bids from any interested company on offshore blocks before and after the June event, he said.
Meanwhile, Vietnam is looking outside its borders for investment in neighboring areas, including China, Malaysia, and Indonesia. The primary targets will be small projects than can be capably managed by Vietnam, Loc said, not large-scale projects that could leave PetroVietnam out of its depth.