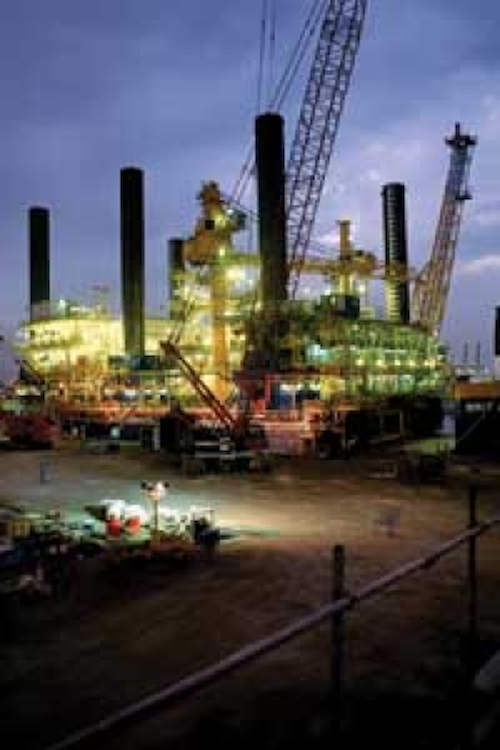 Bruce Beaubouef • Houston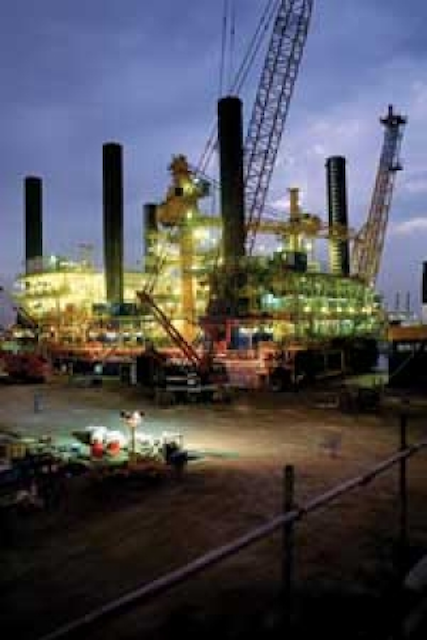 Jackup rig working for McMoRan Exploration Co. drills in the ultra-deep discovery in shallow water at Davy Jones, a subsalt structure that encompasses 20,000 acres on the Gulf of Mexico Shelf off the Louisiana coast. Photo courtesy McMoRan Exploration Co.
McMoRan Exploration Co. has updated its exploration and development activities and also provided an update on its cumulative findings to date from its shallow-water, ultra-deep exploration and development activities on the Gulf of Mexico (GoM) shelf.
McMoRan says it has been actively pursuing large ultra-deep targets located in the shallow waters of the GoM below the salt weld (i.e. listric fault) at depths generally below 25,000 ft (7,620 m) since 2008.
The company says that the data gained to date from four wells confirms its geologic model and the highly prospective nature of this emerging geologic trend. Prior to McMoRan's involvement in the ultra-deep, there had been only two wells drilled on the shelf targeting these objectives; one did not reach its targeted depth and the other was outside of the company's focus area.
Importantly, McMoRan says that its results to date indicate the potential for large accumulations of hydrocarbons at these deeper depths in the shallow waters of the GoM, which is expected to reduce the risk of future activities.
In addition, the data indicates the presence below salt of geologic formations including Middle/Lower Miocene, Wilcox, Frio, Tuscaloosa and Cretaceous carbonate. These formations have been prolific onshore, in the deepwater Gulf and in international locations. McMoRan says it is encouraged by the results, which indicate the potential for prospects with high-quality reservoirs on large structures with multi-tcfe of gross unrisked potential. The company says it intends to conduct further drilling and flow testing to determine with greater certainty the ultimate potential of this emerging geologic trend.
Some of the company's shallow-water, ultra-deep exploration activities have included the Davy Jones offset appraisal well (Davy Jones No. 2), located in South Marsh Island block 234; and the Blackbeard East ultra-deep exploration well, located in 80 ft (24 m) of water in South Timbalier block 144.
Shell commits to Cardamom development
Shell has decided to make a multi-billion dollar investment to develop the Cardamom oil and gas field in deepwater Gulf of Mexico. At its peak, Shell says the development will produce 50,000 boe/d with 140 MMboe over its life.
Cardamom is in Garden Banks block 427, approximately 362 km (225 mi) southwest of New Orleans in more than 800 m (2,720 ft) of water. The completed subsea system will include five expandable well manifolds, a dual 20-cm (8-in.) flowline, and eight well umbilicals.
The Cardamom discovery well was drilled from the Auger platform and features a MD of 9,642 m (31,634 ft), a reach of more than 4,570 m (15,000 ft), and a vertical depth greater than 7,620 m (25,000 ft).
Modifications to the Auger platform will include additional subsea receiving equipment, a new production train and weight mitigation, which is expected to significantly increase the Cardamom liquid handling, cooling, and production capacities.
The first Cardamom exploration well has been producing directly from the Auger platform since December 2010.
The Cardamom discovery is a result of advances in seismic imaging and extended-reach drilling. The potential of Cardamom was first recognized early in the Auger development, but could not be fully assessed due to a layer of salt nearby which affected the quality of traditional seismic images. Advances in seismic imaging helped achieve significant improvements.
Forecasts says 190,000 additional jobs possible
Almost 190,000 new jobs could be created in 2013 if permitting in the Gulf of Mexico for offshore development returned to levels before the Obama administration's moratorium, according to a study performed by Quest Offshore Resources, Inc.
The study, "United States Gulf of Mexico Oil and Natural Gas Industry Economic Impact Analysis" also projects a 71% increase in Gulf development spending to $41.4 billion and a 70% increase in economic activity related to Gulf development to $44.5 billion.
"The slow pace of Gulf development since the accident has cost jobs, revenue, and energy production," said API President and CEO Jack Gerard. "The study shows what could be accomplished on jobs if project approvals and permits could get back to a normal pace. We've done the necessary work raising the bar on safety. We cannot continue to delay developing energy and hiring people in the Gulf."
Quest Offshore conducted the study for API and the National Ocean Industries Association. It based its forecasts on actual project development data and historical benchmarks of spending for specific equipment and services.
"Total employment related to offshore Gulf of Mexico oil and natural gas industry operations could reach 430,000 jobs in 2013 if the permitting slowdown is reversed," Gerard said. "As large as the jobs numbers are, however, they are just a fraction of all the jobs our industry could create with more forward-looking development policies in all federal onshore and offshore areas. And along with the increased jobs and energy production could come hundreds of billions of dollars of desperately needed additional revenue to the government. Policymakers now debating tax increases on the industry should understand that producing at home more of the oil and natural gas our nation will need is a far better way to help fix our economy and pay down our debt," Gerard added.
More Offshore Issue Articles
Offshore Articles Archives
View Oil and Gas Articles on PennEnergy.com