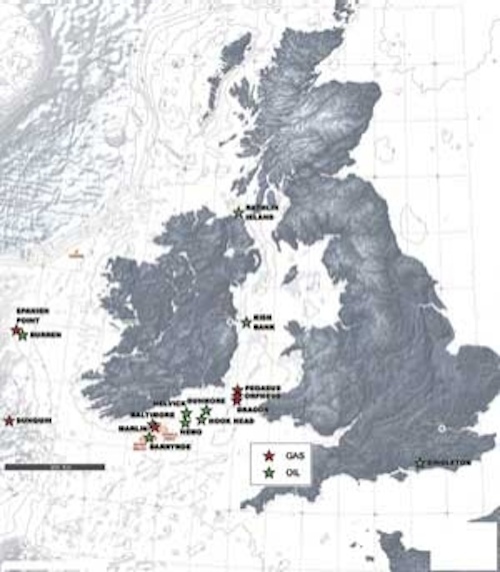 Jeremy Beckman
Editor, Europe
Ireland has witnessed a series of false dawns since exploration started in the late 1970s. All the discoveries were too small, too complex or too remote to warrant development, causing the major oil companies that had led these campaigns to beat a retreat. To this day, the country's sole offshore production comes from the Kinsale Head gas complex close to Cork, and even here, supplies are depleting.
However, Ireland's luck may be about to turn. The pivotal figure could be Providence Resources, which next month starts the most wide-ranging drilling campaign ever by a single operator in multiple Irish offshore basins. Targets range from proven but unconventional oil and gas plays in the south and west, to higher-risk wildcats in virtually untapped waters to the north and east.
The Dublin-based company – Ireland's longest-established independent, and the country's leading offshore acreage holder – is banking on advances in technology, including the acquisition of new seismic and improved seismic data processing, to deliver results, particularly from appraisal wells on the older finds. But despite its hard-won financial backing, Providence is under no pressure to hit the jackpot, at least not for the time being.
"We've been operating in various guises offshore Ireland for three decades," said CEO Tony O'Reilly. "However, the market recently turned towards us in terms of infrastructure, technology, oil prices, and Ireland's fiscal regime. All these elements combined, helping us to attract partners and support for our various programs in recent years. The thing to do now is to turn the drillbit."
Branching out
Providence has interests offshore Nigeria and some production onshore southern England, but a breakthrough in Ireland has always been its main goal. "For some time we had had a desire to widen our Irish portfolio," O'Reilly explained, "and that led us to consciously go after Atlantic margin acreage in 2004 [Spanish Point and Dunquin] to complement the interests we already held in the Celtic Sea and St. George's Channel off southern Ireland. We felt that changing market dynamics meant that these plays, most of which were identified in the 1970s and 1980s, could potentially be economic."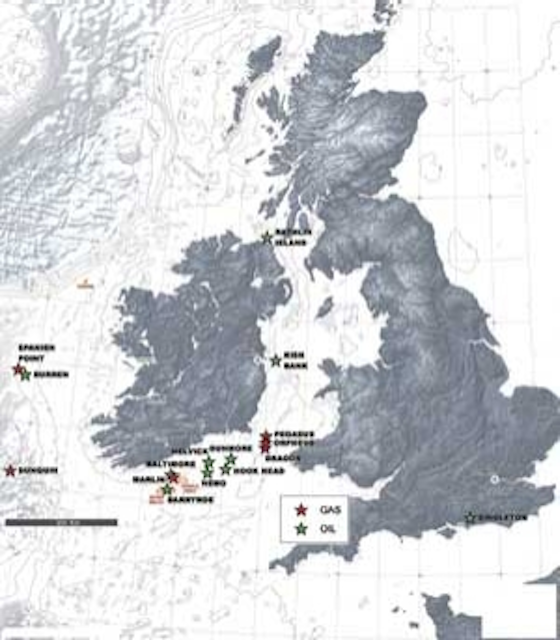 Providence Resources' E&P interests are spread around Ireland's shores.
The company was more opportunistic with its other newer areas such as Kish Bank (Dalkey) and Rathlin off eastern and northern Ireland, said O'Reilly. "The former because our evaluation of subsea gas storage potential in the region showed a large previously unmapped structure; the latter, because the hydrocarbon play concept for that region had recently been proved up. It was also an area known to be of geological interest, but which had been overlooked by the industry in the past due to the troubles in the north."
However, what Providence Resources did not want to do was "bet the ranch on any one asset," O'Reilly said. "We felt it was better to take a portfolio-wide approach for our forthcoming wells. We will be testing six different plays, ranging from shallow gas to deep-lying oil, in water depths ranging from 20 to 1,500 m [65 to 4,921 ft]. The prospects include light crude, waxy crude, and gas-condensate. Some of our wells will test old discoveries, but we're looking to do this through application of modern completion techniques – while also ensuring we have a concept in place for the potentially higher impact exploration. The main aim, our investors are telling us, is to flow black oil."
The program starts with an appraisal well on Barryroe, one of the more prospectively commercial oil accumulations in the Celtic Sea, and should continue into 2013. The line-up includes a high-cost, but also potentially ultra-high impact exploration well on the deepwater Dunquin structure on the Atlantic margin, in partnership with ExxonMobil and Eni.
Resource potential
According to O'Reilly, Providence's particular in-house strengths are subsurface engineering and geoscience. Well engineering is delegated to established, North Sea-based contractors. "We identify opportunities, execute them, then bring in partners," O'Reilly explains, "although clearly we haven't developed an offshore field yet. Our strategy is to continue building a portfolio around Ireland's shores, but also to trade assets out or sell down equity to partners. What we cannot afford to do is become a one-asset company."
The basis for Providence's geological models dates to the 1980s, via the efforts of its predecessor companies Atlantic Resources, Conroy, and ARCON. All of them participated in most of the early frontier wells drilled by the majors. "We have a serious database of information," O'Reilly says, "and in recent years in particular have increased this through seismic acquisition as well as purchasing more data from third parties. We are great believers in applying the best available new technology – a modern lens on old opportunities."
So why have the discoveries lain fallow for so many years? "It's basically down to economics," he explains. "Be it heavy oil, waxy crudes, size, or lack of infrastructure/support services – the reality is that it has always been historically more expensive to do business here, and that is why we are trying to capitalize on the new, more attractive oil price environment."
With success will come more investment, O'Reilly pointed out. "Presently, we have to bring in equipment from Aberdeen or Invergordon in northern Scotland, but there is the opportunity for a service company to take the lead, establishing a base in Ireland, possibly in Cork, to support emerging activity both in the south, on the Atlantic margin and even west of Shetland. That would only further help to drive down costs."
Ireland's fiscal regime is also proving to be a draw card. Years of virtually token exploration persuaded the government in 2008 to improve terms in order to attract new players, and these were drawn up following the results of a benchmarking study by consultant Indecon. The outcome was a 25% corporation tax on production, rising to 40% in exceptional cases involving a very large field. The terms were re-applied in the country's most recent licensing round off western Ireland, which drew a record 15 applications.
"It was not lost on policy makers just how successful the North Sea was for the UK's pulling itself out of the economic mire in the early 80s, and we need that in Ireland," O'Reilly noted.
Priorities
Following a successful fundraising program with institutional investors in March, Providence has drawn up a list of well targets for 2011-13, the first of which will be drilled by the semisubmersibleGSF Arctic III.

TheGSF Arctic III will start drilling shortly in the Celtic Sea basin off southern Ireland.
"One needs to be pragmatic," O'Reilly explained. "Our original construction of this program was to give our investors exposure to different play concepts in different basins, with some very high-confidence appraisal wells combined with a number of high impact exploration plays. They seemed to like that approach, which is why we were oversubscribed in our fundraising."
There could be a parallel in this program with the ongoing multi-operator wildcats off the Falkland Islands, a more outright frontier region. Mixed results there have caused wild oscillations in the operators' share prices, but O'Reilly is unconcerned. "In our program there are no 'company breakers' and loads of potential 'company makers.' We offer a different type of opportunity over a number of basins located in northwest Europe, adjacent to over 500 million consumers, all looking for a safe, reliable, and secure source of supply."
As for the fields the company plans to appraise, Providence Resources says that its objective is to progress them all, in consultation with its project partners. "However, the key wells will be on Barryroe, Hook Head and Spanish Point, as these are already commercial propositions which need the validation of modern wells being drilled – and that is what we are focused on doing," O'Reilly pointed out.
Barryroe priorities
The campaign is due to start in September with an appraisal of Barryroe in the southwest of the Celtic Sea. This field's early Cretaceous oil-bearing reservoirs were discovered by Esso Exploration in 1974, and appraised by Marathon 16 years later in 1990. Three of the wells tested light but waxy crude at rates between 1,300 and 1,619 b/d. In a development using a fixed platform, this would require treatment, probably via heated flowlines, combined with chemicals to lower viscosity as the temperature drops. In the western part of the license the shallower section above 4,000 ft (1,219 m) subsurface is thought to be gas-prone.
Last month, the seismic acquisition vesselPolarcus Samur completed a 3D pre-drill survey over the area, designed to improve imaging of the reservoir, with a focus on compartmentalization – faulting is a feature of early Cretaceous Wealden sand reservoirs in the region.
He further noted that "the objectives of the Barryroe well may include acquiring orientated conventional core through the oil-bearing sands; a modern log suite for seismic inversion; a fluid sampling/RFT program to establish the nature of the liquids; a well test with production-style choke setting, plus chemical injection; establishing flow rates of around 2,000 b/d; and sampling of overburden for mechanical studies to design high-angle production wells." The most recent reserves estimate for Barryroe is 59 to 144 MMbbl recoverable.
Hook Head is another Celtic Sea prospect. It is a large, mid-basinal anticline structure, 60 km (37 mi) off the south coast in 70 m (229 ft) water depth. Most of the oil appears to reside in the structure's main central panel, with further potential to the north and south.
A well will be drilled as part of the current campaign to confirm the orientation and habitat of Hook Head's sandstone reservoir depositional systems. The program will include downhole reservoir PVT fluid sampling to determine viscosity, oil gravity, the GOR/bubble point, and crude characteristics.
Frontier hub
Spanish Point, 200 km (124 mi) off Ireland's west coast in the central Porcupine basin, is potentially the most valuable prospect. Phillips Petroleum discovered gas and condensate here in 1981 from four intervals with variable permeability in an over-pressured Upper Jurassic sandstone formation. The remote location and absence of pipeline infrastructure at the time, deterred further investment. All has changed following the development of Ireland's domestic gas grid and its connections via the UK to Europe's gas pipeline network. Confirmation of a commercial gas province in the region could draw interest from Europe's leading utilities.
In 2008, London-based Chrysaor came onboard as a farm-in partner, agreeing in exchange to fund a 3D seismic survey over Spanish Point and the surrounding area. The results were positive, suggesting relatively low fault density, good reservoir continuity, and potential for further reservoir up-dip from the 35/8-2 discovery well. The survey also improved imaging of the adjacent 35/8-1 Lower Cretaceous oil find, Burren, and confirmed the Wilde prospect, underlying Spanish Point, as a large structural closure.
Earlier this year, the partners (which also include Sosina Exploration) elected to enter the second phase of the license containing Spanish Point, and to commit to a well which will likely be drilled in mid-2012. They also commissioned a 3D seismic survey this summer over an adjoining license. The most recent Competent Persons Report prepared by Senergy over the two permits indicates potential resources of up to 750 MMboe, including 200 MMboe from Spanish Point alone.
Also a target for drilling in 2012 is a presumed extension of Dragon, Marathon's 1994 gas discovery offshore Wales, into the Irish sector of the St. George's Channel basin. Marathon has since relinquished its acreage on the UK side, and this is currently the subject of a new license application.
Providence's analysis suggests that 25% of Dragon resides in its SEL 1/07 Irish license. Late last year, Petronas subsidiary Star Energy Group took an option to farm into 50% of the concession, committing in exchange to sub-surface studies of the structure, with an option to participate in an exploration well. If successful, an arrangement would have to be reached with the licensees on the UK side – one major attraction of a gas development in this remote area are the new LNG facilities at Milford Haven on the west Wales coast, 60 km to the east.
Another target for drilling off southern Ireland, although this has still to be confirmed, is the Nemo heavy oil accumulation, underlying the Ardmore gas field in the North Celtic Sea basin in 90 m (295 ft) water depth. Marathon discovered the lower Cretaceous gas cap and 16° API crude underneath in 1974. A 3D seismic survey in 2006 suggested that the oil leg could contain resources of up to 230 MMbbl.
Providence holds a license over Ardmore/Nemo and a licensing option over Baltimore, another heavy oil (11° API) discovery in the same basin, but closer to the shore. Reserves here could be around 300 MMbbl. In 2009 Providence brought in as a partner Nautical Petroleum, a London-based heavy oil specialist, working on solutions for several fields in this category in the UK northern North Sea. Nautical has funded feasibility reviews for Nemo and Baltimore, and has the option to increase its stake by committing by the end of this year to drill an appraisal well on Nemo.
Eastern play
In August 2008, Providence and Star Energy Group were awarded a three-year licensing option for eight blocks in the little-explored Kish Bank basin offshore Ireland's east coast. Much of the subsequent studies have focused on a subsea gas storage project, but analysis of 2D seismic also identified a large, tilted fault block structure in the Lower Triassic, 10 km (6.2 mi) offshore Dublin. The partners believes that the structure, named Dalkey Island, could hold oil resources of 870 MMbbl, with analogies to oil-producing Lower Triassic reservoirs in Liverpool Bay to the east, offshore northwest England.
Both partners are keen to drill next year, viewing the well as low-risk because of the near-shore, shallow-water location. Earlier this year, Providence secured an exploration license over Rathlin Island offshore northern Ireland, covering part of the Rathlin Trough. A recent well test on the shallower onshore section recovered oil to the surface – Providence has identified various leads from available 2D data, and expects to drill a well next year, either before or after the program on Dalkey Island.
By far the biggest exploration prospect on Providence's books is Dunquin in the Porcupine basin on the Atlantic margin. Providence was awarded the surrounding license, covering five blocks, in 2004, but later transferred operatorship to ExxonMobil, with Eni also coming on board in 2009. The Dunquin structure extends over 700 sq km (270 sq mi) in over 1,500 m (4,921 ft) water depth, and appears to comprise an isolated carbonate platform with analogies to giant producing fields in the Gulf of Mexico. Gas chimney effects have shown up on seismic, with indicates of thermogenic hydrocarbons on seabed cores close to the planned well location.
The structure could hold gas reserves of between 8.4 and 18.6 tcf, or alternatively oil in the range 300 to 660 MMbbl recoverable. Drilling in this remote and harsh area, however, would be high-cost because of the scale of the required program and subsequent test – probably $150 million or more. Under the license arrangements, the well must be drilled by end-2013, but could go forward as early as next May. The well site survey has been completed, and drilling preparations are under way.
If a commercial discovery results from any of the wells over the next two years, all could theoretically go forward for development, although not necessarily under Providence's stewardship. "We meet companies who identify an asset and insist that they have to be the operator," said O'Reilly. "We're open to that, and to trading our assets if some companies like particular fields. There are no sacred cows in our portfolio."
However, for the time being, the company's focus will be on executing this multi-faceted drilling program. "By any company's standards, this is a big endeavour," O'Reilly commented. "But if we can deliver even some modicum of success, that will extend across our entire portfolio and will put offshore Ireland firmly back on the world E&P stage, with a commensurate increase in investment by industry majors."
More Offshore Issue Articles
Offshore Articles Archives
View Oil and Gas Articles on PennEnergy.com