Chevron sanctions Big Foot project in the deepwater Gulf
Chevron Corp. says it has sanctioned development of its $4-billion Big Foot project in the deepwater U.S. Gulf of Mexico.
Jan 1st, 2011
Bruce Beaubouef • Houston
Chevron Corp. says it has sanctioned development of its $4-billion Big Foot project in the deepwater U.S. Gulf of Mexico.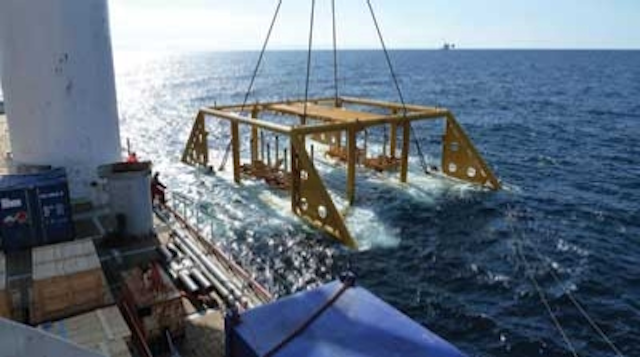 Discovered in 2006, the Big Foot field lies in the Walker Ridge area and is estimated to contain total recoverable resources in excess of 200 MMboe.
"Sanctioning Big Foot underscores our commitment to the Gulf of Mexico and will contribute to future U.S. energy supply," said George Kirkland, vice chairman, Chevron Corp. "This project is another example of Chevron's disciplined approach to advancing our enviable queue of major capital projects."
Big Foot will be Chevron's sixth operated facility in the deepwater Gulf of Mexico and is located approximately 225 mi (360 km) south of New Orleans, in water depths of 5,200 ft (1,600 m). The development will use a dry tree extended TLP with an on-board drilling rig and have production capacity of 75,000 bbl of oil and 25 MMcf of natural gas per day. First oil is anticipated in 2014.
"We have industry leading expertise in developing deepwater projects of this type and have repeatedly proven that we can do so safely," said Gary Luquette, president, Chevron North America Exploration and Production Co.
Discovered in 2006, the Big Foot field lies in the Walker Ridge area and is estimated to contain total recoverable resources in excess of 200 MMboe. Primary pay sands are Middle to Upper Miocene ranging from 19,000 to 24,000 ft (5,800 to 7,300 m) and lie below a salt canopy ranging from 8,000 to 15,000 ft (2,400 to 4,500 m) thick.
Three exploration and appraisal wells with multiple side tracks have been drilled safely and successfully in the field to define the Big Foot structure. Chevron, through its subsidiary Chevron U.S.A. Inc., has a 60% working interest in the Big Foot project.
BOEMRE issues guidance regarding permit standards
The US federal Bureau of Ocean Energy Management, Regulation, and Enforcement (BOEMRE) has released additional information about how to comply with the recently issued rules and previous guidance.
The new publication addresses the Drilling Safety Rule (or Interim Final Rule), NTL-6 (including Worst Case Discharge calculations), and NTL-10, as well as further information on BOEMRE's inspections of BOP testing, Oil Spill Response Plans (OSRP), and the manner in which environmental assessments will be conducted for deepwater drilling plans.
The actual publication is online at http://www.boemre.gov/ooc/press/2010/press 1213.htm.
"As we continue to strengthen oversight and safety and environmental protections, we must ensure that the oil and gas industry has clear direction on what is expected," said BOEMRE Director Michael R. Bromwich. "Following discussions with members of the oil and gas industry, it is clear that this information will assist in their implementation of the stronger safety and environmental standards we have put in place. We remain committed to working with industry to provide additional guidance on these and other issues."
Energy XXI buys shallow GoM interest from ExxonMobil
Energy XXI says it has bought certain shallow water Gulf of Mexico interests from ExxonMobil for $1.01 billion. The properties include nine fields generally located between Energy XXI's existing South Timbalier and Main Pass operations in water depths of 470 ft (143 m) or less. The properties produce approximately 20,000 net boe/d, about 53% of which is oil. Offshore leases included in the purchase total 130,853 net acres.
Reserve estimates for the acquired properties were prepared on Nov. 16, 2010, by Netherland, Sewell & Associates, Inc., independent oil and gas consultants employed by Energy XXI. The properties are estimated to contain net proved and probable reserves of 66 MMboe, 61% of which is oil. Proved reserves are estimated at 30.1 MMbbl of oil and 116.1 Bcf of natural gas, or a total of 49.5 MMboe, 68% of which are proved developed.
"With this acquisition, we are gaining access to production, infrastructure and extensive acreage complemented by seismic data and field studies," said John Schiller, chairman and CEO of Energy XXI. "As operator of 94% of the assets being acquired, we would have a portfolio of drilling and recompletion opportunities that we can pursue while analyzing the potential for higher-impact exploration prospects."
The deal is expected to enable Energy XXI to become the third-largest oil producer on the Gulf of Mexico shelf, with interests in seven of the top 11 oil fields on the shelf. Estimated proved plus probable reserves would increase 72% to 158.1 MMboe from 92.1 MMboe at the company's June 20, 2010 fiscal year end. Production would increase to approximately 46,000 boe/d, up more than 77% from the 25,900 boe/d average in the most recent fiscal quarter ended Sept. 30, 2010, with oil representing 63%.
Gulf's fixed-platform market will be strong, says report
The outlook for the fixed platform installation market looks strong across the five-year period to 2014, according to a new Infield Systems report. Infield sees capex over the time exceeding $80 billion with 1,651 platforms to be installed. Asia is expected to see the most capex, and the Gulf of Mexico to see the largest number of installations.
Projects such as gas storage in the United Kingdom and deep gas in the shallow waters off the Louisiana GoM coast are examples of new technology and adaptation of fixed platforms to new ways of extracting hydrocarbons. Along with the more conventional use of piled platforms, these regions are expected to be more active in the fixed platform market as concerns over energy security and production rates create development opportunities in long established fields.
Although only representing 2% of the market in platform installations, there is a large growth in capex for gravity-based platforms. These large fixed projects across the globe, designed to withstand environmentally harsh conditions, are attracting investment which provides further evidence of a promising outlook for the fixed platform market.