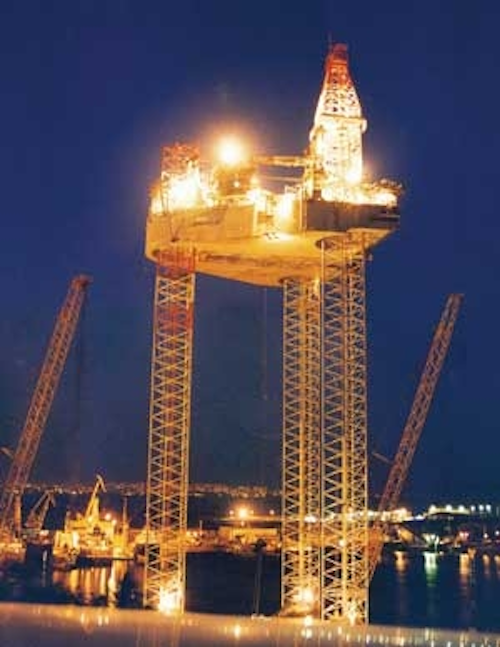 Jeremy Beckman
Editor, Europe
Third jackup under construction in UAE
Drilling dayrates have proven to be resilient in the Caspian Sea and rates could strengthen further if activity increases in the shallow-water eastern sector. But despite the rewards, well numbers remain insufficient for the leading contractors to maintain dedicated jackup fleets. This has left the field open to a relative newcomer, Eurasia Drilling Company (EDC).
The mainly Russian-owned contractor is led by a team including Russian oilfield engineering veterans Alexander Djaparidze (CEO), Murat Sampiev (COO), and Murray Vasilev (Senior VP Business Development). Recently, Transocean veteran, Edward Redd (Senior VP, Offshore Operations) joined the team.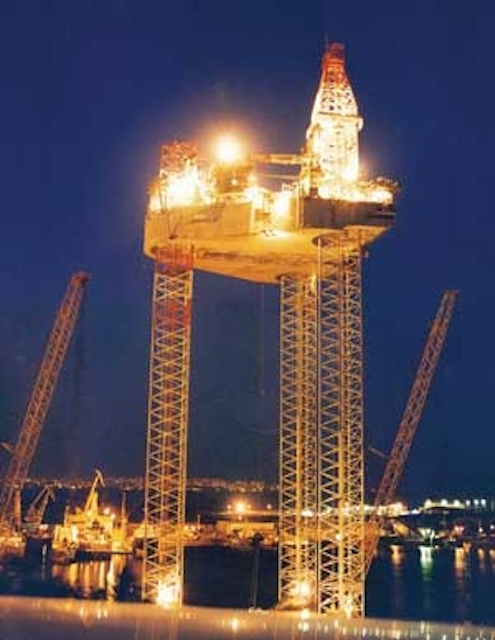 Night-time view of theTrident 20.
The company began operating in late-2004, when it acquired most of LUKoil's onshore drilling services.
Like other state-owned oil entities from the Soviet era, LUKoil had historically handled its own needs in-house, but these activities had over time become a cost center, and a drain on resources. In 2006, EDC made another successful pitch for LUKoil's offshore drilling business. This package included the jackupAstra.
Today, EDC claims to be the largest provider of onshore drilling services in Russia and the CIS region, offering a full range of well construction, sidetracking and workover services. This capability was recently strengthened following an alliance with Schlumberger, which extends to EDC's offshore drilling division. To date the offshore division has served operators in the Russian, Kazakh and Turkmen sectors where most of the active plays are in jackup water depths of 100 m (328 ft) or shallower, according to Kim Kruschwitz, EDC's VP Marketing.
"Although around 90% of our work is still onshore," he added, "it has always been our intention to develop a balance by increasing our presence offshore. Capital requirements are higher, but offshore drilling and well services deliver higher margins."
In addition to ongoingAstra operations and since late 2009, EDC has managed LUKoil's North Caspian Sea drilling operations on the Yuri Korchagin field from an ice-resistant drilling and production platform. Elsewhere EDC is currently drilling an extended reach well with its recently fabricated 2,000 hp Ermak 'Self Moving' land rig to a potential reservoir under the Baltic Sea, from Russia's Kaliningrad enclave.
Late last year EDC commissioned a $210-million newbuild Le Tourneau Super 116E jackup for the Caspian and early this year wrapped up a $260-million deal to purchase Transocean'sTrident 20, one of only two other jackups currently working in the Caspian.
Forward assignments
During 2010, theAstra drilled and completed five exploration and production wells in Turkmen, Russian and Kazakh waters. It also participated in an oil spill response exercise staged by LUKoil in the northern Caspian Sea, involving well control and discharge scenarios. This year the rig is fully booked on campaigns in the Russian and Kazakh sectors. The Astra can operate in up to 45 m (147 ft) of water and drill to over 4,500 m (14,764 ft). It is a BMC-150-H design originally built in Japan and then upgraded by Aker Rauma Offshore when it was brought to the Caspian in 1998.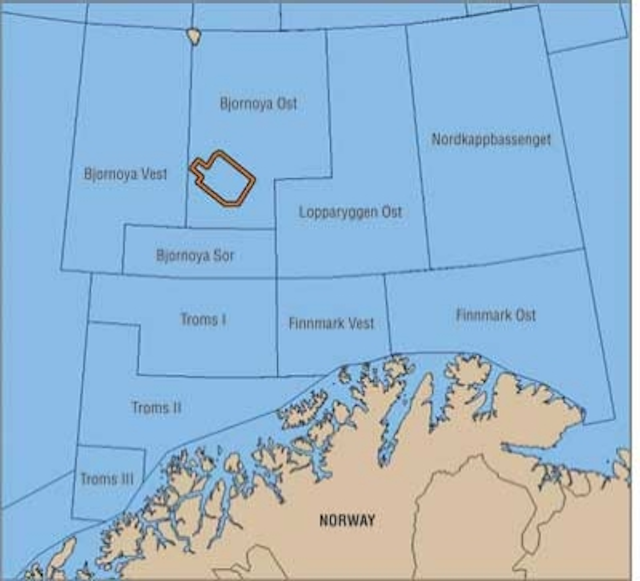 The new jackup under construction in Sharjah will be a Le Tourneau Super 116E design.
TheTrident 20 has spent much of its working life on a rolling contract with Petronas Carigali in the Turkmen sector. This is a Keppel FELS CS Mod V-design cantilever unit, capable of operating in up to 106 m of water and drilling to 8,000 m (26,246 ft), built in 2000 at the Caspian Shipyard in Azerbaijan. EDC has retained 85% of the drilling crew employed by Transocean, comprising a mix of Turkmen nationals and foreign expats, as well as bringing in various skilled technicians. The rig underwent a routine five-year inspection last year, and has undergone periodic retrofits for certain wells.
The yet to be named, newbuild Super 116E will be able to work in up to 106 m (348 ft) of water and can drill to over 9,000 m (29,527 ft). Under the supervision of long-serving rig builder, Donnie Rials (EDC Project Manager), Lamprell is currently pre-fabricating the hull and related components in modular form at its Hamriyah yard in Sharjah. Early next year, the hull modules will be transported via the Volga Don canal to a Russian shipyard on the Caspian, which will handle the remaining component fabrication, final assembly and commissioning. Construction of the ABS-certified rig should be completed by the end of 2012, with delivery scheduled for early 2013. "The new rig," Krushchwitz observed, "will be capable of drilling faster and deeper than either theTrident 20 or the Astra. We think it will command similar rates to Trident 20 or higher."
Schlumberger alliance
In April this year, EDC and Schlumberger formally agreed terms for their strategic alliance in the CIS, proposed last October. The transaction brought EDC 76 land rigs and associated crews working primarily in Western Siberia for Russian oil companies. In exchange, Schlumberger received EDC's assets and crews associated with directional drilling, cementing, drilling fluids engineering and materials supply. Under a five-year co-operation, Schlumberger is also supplying oil and gas services to EDC which will include its latest technologies for more complex offshore wells.

LUKoil's Yuri Korchagin platform in the Russian sector of the Caspian Sea.
The two parties are already working together offshore at the ice-prone Yuri Korchagin field development where EDC operates LUKoil's Amphion-controlled, 3,000 hp drilling package while Schlumberger provides most of the drilling services. Last year's campaign comprised one vertical and three directional wells. "The initial focus was on drilling routine gas injectors, which required a lesser reach," Kruschwitz explained. "However, we're now chasing the field's oil rim, which will involve drilling more complex, rotary steerable wells much farther out.
"Although most operators prefer to handle the supply side themselves, occasionally we drill turnkey wells offshore and then we usually bring in Schlumberger, which has the largest footprint of the major service companies in the Caspian region, particularly in Turkmenistan and Kazakhstan. Baker, Halliburton and Weatherford have worked closely with us on several projects in the Caspian too. EDC has significant offshore support facilities in Astrakhan, Russia and in Turkmenbashi and Ashgabat, Turkmenistan to manage its offshore operations."
A uniquely Caspian issue is the 'absolute' zero discharge regulations which are enforced throughout the Caspian Sea for rigs and platforms. "Dealing with it is onerous," Kruschwitz said, "as 100% of all captured fluids must be taken to land for disposal."
Ice is another big concern, with one-third of the sea icing over completely during the winter. Although it is possible to drill year-round south of the ice line bisecting the Russian/Kazakh sectors, most of the current Russian and Kazakh activity is north of the ice line, including the ultra-shallow water Kashagan field development.
In Russia's Kaliningrad enclave, EDC is using a Le Tourneau-design, 2,000 hp land rig, fabricated locally to drill a 3.5-km (2.2-mi) extended reach well for LUKoil under the Baltic Sea. The target, according to Kruschwitz, is an extension of a play already under development using a conventional platform.
As for the Russian Arctic, although EDC has no involvement right now, the company is positioning itself for what might happen in terms of activity four-five years from now – "the main question," Kruschwitz pointed out, "is, how do you contend with the ice?"
More Offshore Issue Articles
Offshore Articles Archives
View Oil and Gas Articles on PennEnergy.com