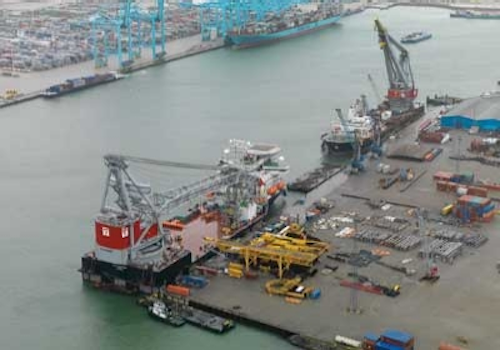 Jeremy Beckman
Editor, Europe
Total has delivered first oil from the Pazflor field cluster in Angolan block 17. This is the company's fourth development in the block, and its sixth operated deep offshore production center off West Africa.
According to a presentation by VP Nigeria Thierry Bourgeois at Offshore Europe in Aberdeen last month, the sequence started with Girassol in the same block in 2001 – the first deepwater project anywhere off West Africa – and continued with the nearby Dalia in 2006 and Rosa in 2007. Moho Bilondo off Republic of Congo followed in 2008, with Akpo coming on stream off Nigeria a year later. By 2017, he added, Total expects to have nine deepwater FPSOs, two floating production units and 450 associated subsea wells in operation off West Africa.
Next up will be the Usan field FPSO offshore Nigeria, built by Hyundai Heavy Industries, and expected to be in service in January or February 2012. CLOV, the second "pole" development in block 17, should come on stream two years later, again via an FPSO. Total currently has two further major deepwater projects under study, Bourgeois said. The final investment decision for the Egina field off Nigeria is anticipated by year-end, and Moho Nord off Republic of Congo is next in line. The plan for Kaombo in Angola's ultra-deepwater block 32 is still under discussion.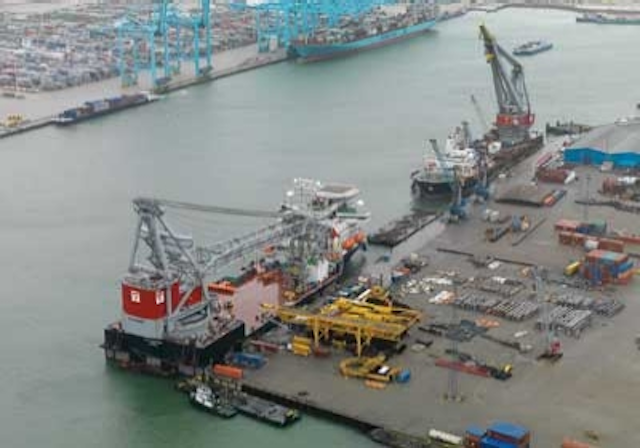 The Usan FPSO on its way to the field location offshore Nigeria.
Typically, he suggested, all the company's floaters to date have been around 300 m long, with oil processing capacity close to 200,000 b/d. But there had been a progression, particularly in block 17. Girassol is a single-field development covering a total area of 150 sq km (58 sq mi), while block 32 Phase 1 may involve a four field-cluster development covering 600 sq km-plus (231 sq mi). Girassol has 40 wells, Pazflor over 50 wells, and Block 31 phase 1 will have over 60. Pazflor's flowline network extends over 170 sq km (65 sq mi), but the facilities for block 32 will likely spread out over 250 sq km (96.5 sq mi).
"There are evolutions in all our deepwater designs," Bourgeois claimed, "driven by the necessity to connect smaller and more remote volumes, which involves more flowlines. We are also having to cope with more difficult fluids, which can be viscous and heavy, and low-energy reservoirs."
Additionally, Bourgeois noted that "there is an obligation to increase the reliability and operability of our facilities via hydrates prevention and sand handling, and a growing requirement to increase reservoir deliverability. One example is a polymer injection pilot that we have started on Dalia."
Miocene issues
Pazflor encompasses four fields in the eastern part of block 17. The production scheme has to take into account two different types of oil. The lighter Oligocene oil (37°API), providing a third of the total reserves, is in a deeper-lying reservoir (2,000 m, or 6,561 ft, subsurface), with a pressure of 350 bar (5,076 psi) and temperatures around 110°C (230°F). This has been developed with what Bourgeois termed a "classic configuration," involving a pipe-in-pipe production loop linking eight producer wells and seven injectors.
The Miocene reservoir is higher up, at 1,200 m (3,937 ft) subsurface, with heavier 17°API oil and a viscosity of 64 cp at 60°C (140°F), 200 bar (2,900 psi). "To produce the low energy fluids, this development has been designed with three lines with subsea processing involving subsea separation and multiphase pumping to take the oil to the surface," Bourgeois noted. The system is designed to process 110,000 b/d of oil and 1 MMcm/d of gas.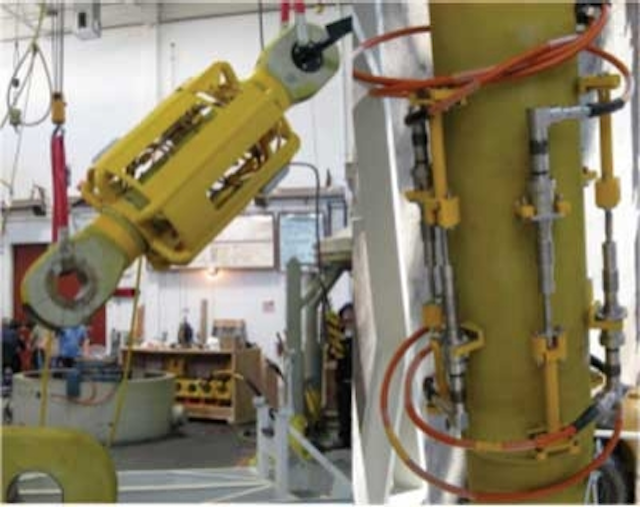 The Girassol FPSO on Angola's block 17 was Total's first deepwater floater in West Africa.
Total opted for vertical gas-liquid separators following a design and qualification program. This began in 2006 at Cranfield University in southern England, with tests using synthetic oil, and continued at IFP's test loops in Solaize, France, using real crude, in this case designed to ensure that the proposed gas separators were suitable for multiphase pumps. The final stage involved function and integration tests last year on the chosen equipment in Norway.
Framo produced hybrid multiphase pumps for Pazflor. "We now have a range of multiphase pumps that cover a wide range of parameters for our various projects," Bourgeois said. CLOV will involve use of a standalone subsea multiphase pumping system, and Framo is also qualifying high-booster seabed pumps for use on GiRi, a planned 150-bar (2,175-psi) development which will involve maximizing throughput in the Girassol infrastructure.
Bourgeois concluded that by 2017, Total expected 70% of its operated production off West Africa to come from deepwater projects. Some of the associated technological issues still need to be resolved, he admitted, "but we are confident that our technical evaluations will allow us to face future challenges."
More Offshore Issue Articles
Offshore Articles Archives
View Oil and Gas Articles on PennEnergy.com