Output lifted by overhauls, infill wells, subsea tiebacks
Jeremy Beckman
Editor, Europe
Oil from TAQA Bratani's Falcon discovery will start flowing through the Brent pipeline system later this year. Falcon is the company's first new field development in the UK northern North Sea since acquiring a group of mature production complexes in late 2008 from the Shell/Esso joint venture. But it is only one of a series of projects designed to revive production from these facilities and extend economic field life to 2020 and beyond.
The £420-million ($682-million) acquisition brought TAQA operating interests in six fields discovered in the 1970s and developed in the 1980s via four platforms. Combined production had slipped steadily from a peak of over 200,000 b/d of oil in the late 1980s to early 1990s, to below 25,000 boe/d when TAQA Bratani took charge. Breaking the decline and increasing production represented a potentially substantial return for a company new to offshore operations (TAQA Bratani is the UK division of TAQA, the Abu Dhabi national energy company).

Aerial view of the Tern platform.
Shortly after completing the transaction, the company assembled a team of contractors to help it manage and overhaul the UK offshore facilities. Wood Group Engineering North Sea was appointed initially as duty holder until TAQA Bratani was ready to take on that role itself a few months later in 2009. Today TAQA manages all the offshore production operations, including HSE regulatory compliance.
TAQA manages well operations and subsurface support for the operated fields North and South Cormorant, Tern, Eider, Kestrel, and Pelican. From mid-2011, the company will extend its sphere of operations to the Otter field after completing purchase from Total. TAQA also holds equity in the Hudson field, operated by Dana Petroleum, which is tied back to the Tern platform.
From early 2010, Wood Group subsidiary JP Kenny has provided subsea operations support, subsea engineering design (including Falcon), and pipeline integrity management, as well as pipelines/materials management.
Since August 2009, TAQA Bratani has also operated the Brent System pipeline, which transports around 100,000 b/d of oil from roughly 20 UK fields to the Cormorant Alpha platform. From there, the commingled oil heads southwest through a 150-km (93-mi) pipeline to the Sullom Voe terminal in the Shetland Islands.
Service history
The four platforms are located over the three largest fields (Tern, North and South Cormorant). Cormorant was the first to be discovered in 1972 in blocks 211/21 and 211/26, in water depths of 149-161 m (489-528 ft), with combined recoverable oil reserves of more than 600 MMbbl and over 180 bcf of gas. The southern area was developed initially via the concrete Cormorant Alpha platform, with start-up in late 1979.
North Cormorant followed just over two years later, producing through a steel jacket platform. In 1983, Shell UK Expro added a 2,200-m ton (2,425-ton) underwater manifold center on Central Cormorant, controlled remotely from Cormorant Alpha, with capacity for nine production/water injection wells, and capable of handling 50,000 b/d of oil and 25 MMcf/d of gas. The 65 MMbbl Pelican discovery was later also tied back to Cormorant Alpha.
Tern was discovered in 1975 in block 210/25a, in 167 m (548 ft) of water, but development only began in 1985, followed by start-up in June 1989. This field is on the eastern edge of the Viking Graben, an area characterized by widespread faulting, with the producing zone in mid-Jurassic Brent sands. Recoverable reserves were estimated at 170 MMbbl of oil and 40 bcf of associated gas. The steel jacket platform was at the time one of the largest installed in the North Sea.
Due to low aquifer drive, water injection has always been employed to maintain pressure and maximize recovery, supplemented by gas lift, imported via the FLAGS pipeline system. Tern's oil is exported to North Cormorant through an 8-mi (12.8-km), 16-in. (40.6-cm) pipeline.
Eider was discovered in 1976 in 158 m (518 ft) water depth in blocks 211/16a and 211/21a. Following approval for the development in 1985, oil production started in late 1988 through a minimally manned, minimum facility steel platform, peaking at 41,000 b/d in 1990. Recoverable reserves were downgraded to 85 MMbbl following disappointing results from an appraisal well in 1983. The platform only has facilities for first-stage separation – produced oil travels south through an 8-mi, 14-in. (35.6-cm) pipeline to North Cormorant for processing. Injection water is imported from Tern (again necessary from the outset due to the lack of natural reservoir drive).
Makeover strategy
Over the past decade, there have been numerous mature field handovers to newcomers in the North Sea, but few involving multiple fields and production facilities of this scale. The most recent analogy was BP's transfer of the Forties complex to Apache Energy, where the overhaul of the platforms – again dating back to the 1970s – took several years.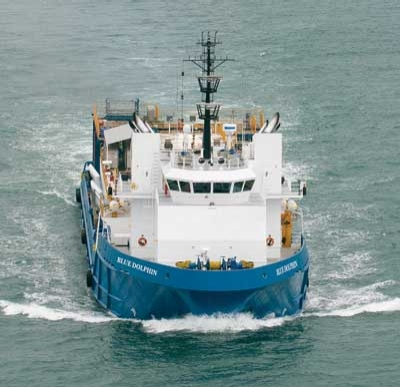 Extensive upgrades to the Cormorant Alpha platform include increased accommodation and office facilities.
In TAQA Bratani's case, rather than focusing on one field at a time, the company inventoried its required improvements on all facilities at the start, and has since worked through its "upgrade project" on all the platforms simultaneously.
"We had our team of main contractors in place when we took over," a spokesman explained, "which meant that we could directly address issues. Obviously, constraints on design/engineering capacity and offshore execution needed to be recognized when scheduling the work."
Within two years of taking over, oil production from the various fields had increased from below 25,000 b/d in 2008 to 40,000 b/d, following a $430-million investment. Some of this was allocated to reinstatement of the dormant drilling rigs on the North Cormorant and Tern platforms, which led to five infill wells being drilled last year on the North Cormorant field. TAQA Bratani also engaged the semisubmersibleStena Spey for workovers and infill drilling on Pelican, and for the wells which led to the discovery of Falcon.
According to the spokesman, the company's primary achievements to date can be categorized as:
Make it safe. This involves allowing the facilities to operate safely for an extended life of more than 10 years (i.e. upgrades to accommodation, fire and gas systems, control systems), and addressing corrosion and fabric decay issues.
Make it work. This involves ensuring high uptime of the water injection system (power, pumps), production system (wells, compression), and utilities (air compressors).
Make it grow. This involves increasing reserves via infill drilling and further developments.
"Our first major shutdown season was completed on time and with no injuries," the spokesman noted. "The work scope featured a full production shutdown on three platforms – Tern, Eider and Cormorant Alpha – as well as an outage on North Cormorant for water injection upgrades. In the process, we completed more than 60,000 man-hours of work offshore, which is equivalent to 35 man-years in onshore terms."
The main integrity and upgrade has focused on obsolescence, reliability, and welfare. Replacement air compressors, water-makers, electrical switchgear and accommodation upgrades, and a large fabric maintenance program have been common themes on all the installations, along with more specific items to meet individual needs. Highlights include:
Cormorant Alpha. Additional accommodation, replacement lifeboats, and a new office block to increase the maximum personnel onboard. Smartplug technology was used to change out pipeline isolation valves, and a crane replacement is under way.
North Cormorant. Integrated control system replacement (in 2011), and water injection upgrades.
Eider. Replacement emergency shutdown system.
As for throughput improvement measures, "TAQA Bratani continuously optimizes production on each of the existing wells," the spokesman added, "through integrity monitoring, workovers and process de-bottlenecking. The targets are reflected in production build-up volumes for the year."
Pelican potential
Cormorant Alpha processes production from the Pelican field, and delivers water injection, gas lift, and well control. Improving recovery from this field has been a priority – TAQA Bratani drilled successful producer and injector wells on Pelican last year, and plans a further three in 2011.
"We also believe there is further drilling potential in 2012 and beyond," the spokesman noted.
TAQA has an ongoing program to reinstate previously suspended wells connected to Central Cormorant's underwater manifold center (UMC). This program has involved regular pressure tests of the UMC flowline bundle's export lines to confirm pipeline integrity. The most recent tests were conducted in April, along with re-certification of the lines, to meet the requirements of Britain's Health & Safety Executive.
The Tern platform processes output from the Kestrel field, again delivering water injection, gas lift, and well control. Kestrel's infrastructure will be used to tie in production from the Falcon field. Development involves re-completion of a single subsea well on Falcon, tied back 4.5 km (2.8 mi) to the Kestrel P2 well via a 6-in. (15.2-cm) flexible production flowline and a 4-in. (10.2-cm) gas lift line. TAQA Bratani is also reviewing further development options for Kestrel.
Earlier this year, the company agreed for North Cormorant to host Antrim Energy's Causeway subsea oil development, 15 km (9.3 mi) east of the platform.
A formal development plan will be submitted later this year to Britain's Department of Energy and Climate Change, which should lead to first production in mid-2012. The main associated modifications to North Cormorant will be the installation of electric submersible pump facilities and a new production riser.
Last October, TAQA Bratani agreed to acquire Total's 81% operating interest in blocks 210/15a and 210/20d. These included the Otter oil field, where production at the time was averaging 8,000 b/d. Otter was brought on stream in the late 1990s via a subsea tieback to the Eider platform. By combining Otter and Eider under one operator, TAQA Bratani believes that optimizations can be made on distributing water injection to the various fields.
"Third-party business is a key part of our strategy," the spokesman said. "We believe we are preferred host for developments in the area, given our investment on 'uptime improvement' through the 'upgrade project.'"
Two years after the initial major transaction, TAQA Bratani acquired four exploration blocks from Shell/Esso, all adjacent to the Tern and Kestrel fields. Managing Director Leo Koot said at the time: "These blocks represent a clear opportunity to enhance our production while utilizing existing infrastructure." According to the spokesman, the company will pursue exploration of these blocks and others in the area awarded under UK offshore licensing rounds, to ensure continued development while the infrastructure is in place.
The UK Chancellor's recent decision to raise taxes on production from mature fields should have no near-term impact, the spokesman added.
More Offshore Issue Articles
Offshore Articles Archives
View Oil and Gas Articles on PennEnergy.com