Gene Kliewer
Technology Editor, Subsea & Seismic
Production to reach 1.8 bcf/d at full flow
Startup of Saudi Aramco's $8-billion Karan gas field project offshore Saudi Arabia is significant because it marks the first-ever non-associated gas development project in the country.

Setting platform topsides at Karan field.
At this point, five wells are flowing 120 MMcf/d on the way to a design capacity of 1.8 bcf/d by 2013. The field produces gas via a 110 km (68 mi) long subsea pipeline to the onshore Khursaniyah process facility. Plans call for approximately 20 total wells spread over four production platforms that tie in to a main platform with associated electrical power, communications, and remote monitoring and controls.
Karan originally was to target a production rate of 1 bcf/d at the initial workup in 2007. Subsequently, the target production was increased to 1.5 bcf/d and then again to today's 1.8 bcf/d. Even with this 80% increase, the project schedule was decreased by a year in order to meet rising in-country demand for natural gas.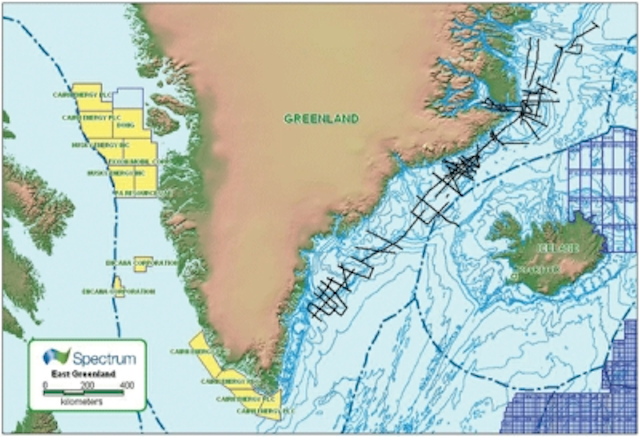 Platform base set and awaiting topsides installation.
Karan is designed to increase sales gas production capacity when linked to the Saudi Master Gas System and to provide fuel and feedstock to the petrochemical industries.
The discovery well, Karan-6 drilled in 2006, struck gas in Permian and Triassic carbonate sequences of the Khuff formation. With gross thickness of 1,000 ft (305 m), this is the thickest Khuff reservoir found to date in Saudi Arabia. The formation depth ranges from 10,500 ft to 13,700 ft (3,200 m to 4,176 m). Karan is in 40-60 m (131-197 m) water depth.
The offshore work at Karan is under a $1.2-billion contract awarded to J. Ray McDermott S.A. McDermott won the turnkey contract that included manufacturing and installing four wellhead platforms, each with gas, chemical injection, and controls facilities as well as a bridge-connected auxiliary platform, associated flare bridges and stacks, and construction of the 110-km subsea pipeline.
The fabrication scope included topsides and jackets weighing a total of 27,000 metric tons (29,762 tons) and used J. Ray's new cladding facility in Jebel Ali.
As part of that agreement, McDermott also will work on the procurement, fabrication, and installation in the Berri oil field and support structure for Karan.
The offshore work contract includes 120 km (75 mi) of 40-in field gas pipeline in addition to the 100 km 36-in pipeline to shore. McDermott was assigned the two flare structures with bridge, three gas handling platforms, and the wellhead platforms.
In 1Q 2009, Aramco awarded the onshore EPC contracts to Hyundai Engineering & Construction and to Petrofac. Hyundai is responsible for the six gas processing trains at Khursaniya, consisting of gas handling, sweetening, acid gas enrichment, gas dehydration, and propane refrigeration. Petrofac's contract covers the utilities and cogeneration facilities which includes 47 km (29 mi) of sales gas pipeline and upgrade of the plant electrical system and support facilities.
Getting to the point of construction and then startup took some turns and re-starts. In early 2009, Aramco reduced by $2 billion the total available to develop the field. This followed re-submission of bids from firms for the main EPC packages. Saudi Aramco wanted to spend less because oil and commodity prices had fallen and there was greater competition among contractors in a slowing work environment. Shortly thereafter, Saudi Aramco also eased the terms and conditions for contractors in a bid to reduce construction costs on Karan.
Karan Project Summary
Project Name: Karan Gas Field Development
Name of Operator: Saudi Aramco - Saudi Arabian Oil Co.
Budget: $8 billion through to completion
Main Contractors: GS Engineering, J Ray McDermott , Petrofac, Hyundai Engineering
Location: Khursaniyah, Eastern Province
More Offshore Issue Articles
Offshore Articles Archives
View Oil and Gas Articles on PennEnergy.com