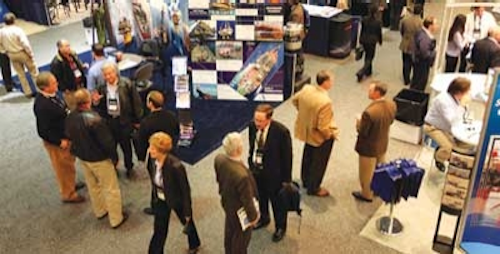 Eldon Ball • Houston
The offshore industry may see two new dry-tree semisubmersible concepts advance from the "technology acceptance" to "project readiness" level within the next few years, according to a paper at the recent Deep Offshore Technology Conference & Exhibition held in New Orleans.
The paper, authored by Ming-Yao Lee of Chevron Energy Technology Co., Philip Poll of Houston Offshore Engineering, and Jack Zeng of Kvaerner, discusses two dry-tree technology concepts that could result in potentially lower cost dry-tree solutions for ultra-deepwater development to increase recoverable reserves.
The market is currently limited to a single concept and is severely challenged when large payload is required, the authors said. A competitive alternative will spur improvement and cost reduction in current dry tree hosts for ultra deepwater.
Specifically, they said, a dry tree semi with integrated drilling and production systems can offer the following key benefits:
Increase recovery factors for ultra-deepwater Wilcox trend reservoirs
Provide large payload capabilities while overcoming TLP's water depth and spar's size, transportation and installation limitations
Enable quayside topsides installation and integration.
The paper demonstrated two feasible dry-tree semi concepts that have gone through intensive development efforts in the last several years:
The HOE PC Semi concept proposed to use eight columns rather than the usual four with optimized motions and combine with more typical riser tensioners as seen on spars
The Aker DTS concept, on the other hand, proposed to use "conventional" hull form with moderate motions and combine with longer stroke riser tensioners.
Nevertheless, the authors said that a common system and/or component level technology qualification has been identified for the riser tensioning system and its hull support structure. This will be a major step in order to achieve the concept maturity. Future engineering work on critical areas to improve the designs have also been recommended, and it will include:
Investigation of vortex induced motion (VIM) responses including model testing to assess its impact on design of riser and mooring systems
Detailed constructability review to understand the quayside integration limitations
Risk assessment to investigate simultaneous operations (SIMOPS) of a dry tree drilling and production semi with focus on the well bay area.
The authors believe that with collaboration seeking from all parties to provide adequate funding and development direction, the dry tree semi concepts can be advanced from the "technology acceptance" to "project readiness" level within the next few years.
Topsides, Platforms & Hulls
The 2012 Topsides, Platforms & Hulls Conference, to be held Jan. 31 – Feb. 2, 2012, in New Orleans, is the only conference dedicated to the design, engineering, construction, transportation, installation, and modification of topside structures, platforms, and hulls.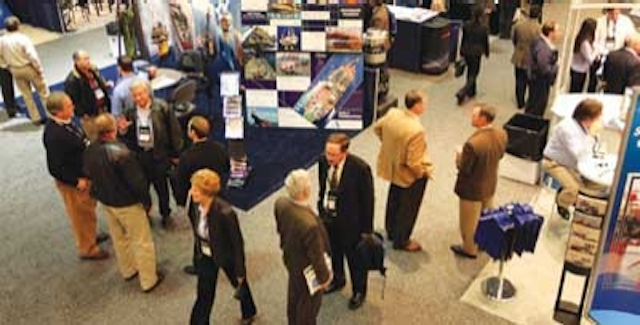 Last year's Topsides, Platforms & Hulls conference attracted 634 attendees from eight countries and 22 US states.
Last year's Topsides, Platforms & Hulls conference attracted 634 attendees from eight countries and 22 US states, and 94% of attendees indicated Topsides, Platforms & Hulls met or exceeded their expectations.
The 2012 conference focuses on sharing industry experiences through case histories and lessons learned, presented by those who have participated in the projects and activities discussed.
Technical sessions will cover topics such as:
Project review and lessons learned
Feasibility and concept selection
Concept selection/detail design
Operations
Construction/transportation/installation.
There will also be a closing panel discussion on decommissioning and redeployment.
The conference provides a unique networking opportunity for attendees to share technology and address issues with experts in their respective fields and to gain an understanding of the changes that are taking place within those technologies. For more information or to register, go towww.topsidesevent.com.
New giant discovery
Energy Analysts Wood Mackenzie say that the value of the Aldous/Avaldsnes discovery in the Norwegian North Sea could reach $13 billion.
"At the upper end of current expectations and based on currently commercial fields, the field could account for 20% of Norwegian oil supply from 2020, rising to over half by 2027, making a vital contribution to Norway's long-term oil production," said Geoff Gillies, North West Europe lead analyst.
"This would rank it as the third largest Norwegian oil discovery of all time, and the seventh largest find in the history of the North Sea," Gillies noted. "With the recoverable reserves estimate now ranging from 1.2-2.6 Bbbl of oil equivalent, the field could be worth between $6.7 billion and $13 billion."
Recent appraisal drilling, he aded, "not only proves the continuous geological structure across licenses PL265 and PL501, operated by Statoil and Lundin respectively, it also indicates higher porosity, higher oil saturation, and a net to gross ratio of close to 100%."
A unitization agreement still has to be established since the field straddles two licenses involving different co-venturers, but Gillies says it is a positive sign that the two operators have already formed a joint team to undertake conceptual development studies.
BOP risk assessment
ModuSpec and Scandpower, both members of Lloyds Group, are combining resources with risk management experts to develop a BOP monitor application for the RiskSpectrum software. The purpose, the companies say, is to improve monitoring of BOPs and reduce risks for this safety-critical piece of equipment.
The monitor is currently being designed to model BOPs from two manufacturers, with additional designs to follow, including conventional and multiplex.
"We are breaking new ground in assessing risk by developing the BOP Monitor," said Bjorn Inge Bakken, CEO for Scandpower AS. "What will make this risk model so valuable is the quality of the data used to carry-out the assessments in combination with the immediacy in which the results are received."
More Offshore Issue Articles
Offshore Articles Archives
View Oil and Gas Articles on PennEnergy.com