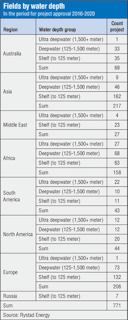 This month, Infield Systems provides a snapshot of global offshore field developments up to 2020. Europe and Asia have the potential to see the largest numbers of fields enter production during the next five years (28 and 24%, respectively). The mainstay of offshore field developments in Europe will continue to be located in the northwest, with 54% of the total number of fields forecast to come onstream located offshore the UK. Norway is another key European market. It has fewer but larger fields to develop than the UK such as Statoil's Johan Sverdrup field. The largest numbers of fields entering production in Asia are anticipated to be located in the southeast (65%), particularly in Malaysia and Indonesia. Activity in Asia is also supported by China and India; with the latter expected to see the developments of its first deepwater projects including ONGC's east coast Cluster 2.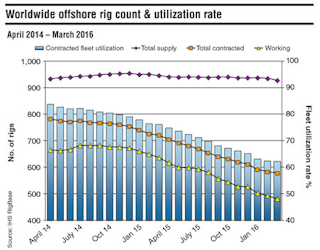 Africa is expected to see its share of offshore capex increase significantly compared with the historic period, with West Africa continuing to drive regional activity, particularly in Angola and Nigeria. Brazil is anticipated to dominate both capex and installations in Latin America, with the largest number of fields requiring investment located in ultra-deepwater such as Petrobras' Buzios multi-phase project.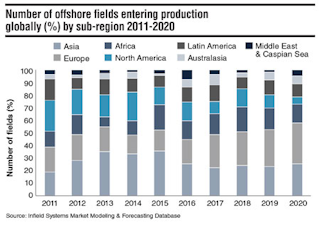 In North America, the US Gulf of Mexico (US GoM) is set to continue to dominate offshore capex and the number of fields coming onstream (65%). The largest number of developments expected to require investment in the US GoM are anticipated to be situated within water depths of more than 1,000 m/3,281 ft (81%). Australasia and the Middle East are expected to continue to see the lowest number of fields to come onstream. Fields located off Australia's northwest coast will be the main source of offshore activity in Australasia. Some fields will be tied back to onshore LNG export facilities, such as INPEX's Ichthys gas field, which have increased in number over recent years due to the country's ambition to become a major exporter of LNG. Australia will also see one of the world's first FLNG projects start operations, Shell's Prelude FLNG project in the Browse basin.
- George Griffiths, Senior Energy Researcher, Infield Systems