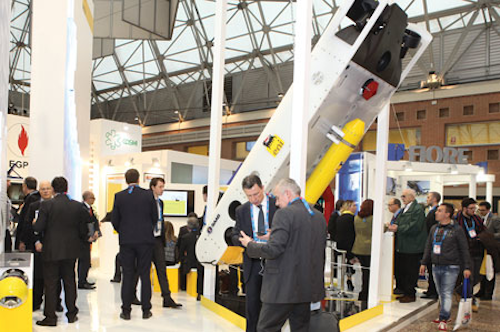 In 2015, the Offshore Mediterranean Conference and Exhibition (OMC) in Ravenna, Italy attracted over 18,900 participants. This represented an increase of 31% compared to the previous show, with 688 exhibiting companies from 69 countries.
The main theme of OMC 2017, to be staged in Ravenna from March 29-31, will be "Transition to a sustainable energy mix: the contribution of the oil and gas industry."
The conference will highlight how today's energy business must satisfy global production needs, grant larger access to energy for developing nations, and comply with the commitments on emissions.
This will call for intensive R&D into technologies such as carbon capture and storage; pursuing energy efficiency along the entire production chain; and above all, increasing the use of gas as a sustainable fuel.
Scene from the conference at OMC 2015.
Among the other subjects to be covered are:
The resilient oil industry: staying competitive with low oil prices.Speakers will examine how the oil and gas industry, with its technological capabilities and drive for innovation, is coping with restructuring its activities in order to sustain production during the prolonged period of lower oil prices.
Mediterranean basin: a new hub for gas.Significant offshore discoveries in the Eastern Mediterranean have opened new basins. The combined resources of Egypt, Cyprus, Israel, and Libya could lead to the creation of a new gas hub in the Mediterranean region, which over the next few years could become a major supplier to Europe.
Low carbon economy and the oil and gas industry.E&P companies and contractors will outline technology solutions and measures that could ensure a greener use of energy.
The exhibition area will cover the entire E&P chain, offshore and onshore, including geosciences, drilling, well systems/equipment, safety, and transportation.
Exhibiting companies will include IOCs and NOCs, contractors and service companies from Europe, Northern Africa, the Middle East and the USA; national pavilions drawing together companies from France, Iran, the UK, the Netherlands, USA); and various industry associations.
Updates on the program and exhibitors are available atwww.omc2017.it.