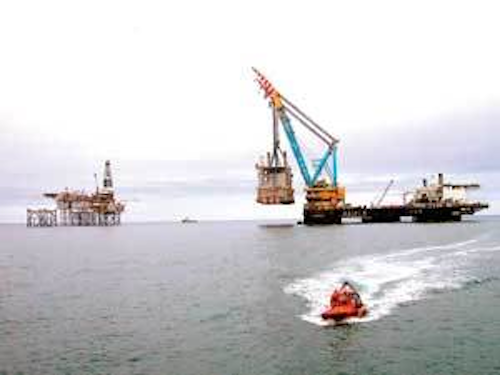 Buzzard, the largest new UK oilfield development of recent years, is due to start up by the end of this year. Operator Nexen Petroleum and its partners Petro-Canada, BG Group, and Edinburgh Oil and Gas are investing $2.87 billion (£1.5 billion) in the project, with the aim of recovering over 550 MMbbl. In place oil is estimated at 1.2 Bbbl.
Previous operator EnCana discovered the field in the Outer Moray Firth in the central North Sea in May 2001. The well encountered a 122-m (400-ft) gross oil column, which tested 6,547 b/d of oil and 1 MMcf/d of gas. A fast-track appraisal drilling program, including two production tests and one water production/injection test, established that Buzzard extended across four blocks, in a water depth of 317 m (1,040 ft).
After screening various concepts, the partners opted for a conventional development solution. This comprised a central production facility bridge-linked to separate wellhead, and production, utilities and quarters platforms. Subsea facilities were designed to supply injection water to two remote cluster locations. At peak, the complex will be able to process 200,000 b/d of oil and 60 MMcf/d of gas.
Ultimately, development may require 27 producer wells, eight of which will be onstream during startup (pre-drilling began in fall 2005). Nexen plans to maintain reservoir pressure via a waterflood program, employing a combination of produced water and treated seawater. Under a base-case plan, it also will drill 16 water injectors through two subsea manifolds positioned 3.2 km (2 mi) from the platforms - four of these wells being pre-drilled.
The system was designed to handle produced water at up to 275,000 b/d, injection water at up to 350,000 b/d, and seawater injection at a rate of 250,000 b/d. Late in the field's life, infill wells likely will be needed to further improve production. Should oil-based drilling muds be necessary, Nexen will either ship the cuttings to an onshore base for cleaning and disposal or reinject them into a dedicated cuttings disposal well.
Buzzard's 32°API crude will be exported from the production platform via a 457-mm (18-in) pipeline connecting to the Forties Pipeline System, 31 km (19 mi) distant. From there, the oil will proceed to landfall at Cruden Bay before heading to BP's Kinneil plant for further processing. The gas will be sent through a 254-mm (10-in) pipeline to the Captain 'T' point on the UK Frigg pipeline, which terminates at the St. Fergus gas terminal. Nexen estimates that the platform will become gas deficient for power generation within five to seven years of startup; the Frigg system owners have agreed to supply fuel gas at that point, in addition to current supplies for commissioning and startup.
The main installation program got under way in 2005. This involved installing the three platform jackets and the wellhead deck and tying in the water injection, gas, and oil export pipelines. In June this year, the Saipem crane bargeS7000 installed the production, utilities, and quarters decks, along with the connecting bridges and the flare boom.
Dragados Offshore in southern Spain fabricated the 12,000-metric ton (13,228-ton) production deck, with Heerema in Hartlepool, northern England, supplying the 11,000-metric ton (12,125-ton) utilities and quarters deck. Aker Kvaerner in Verdal, Norway, assembled the jackets, bridges, and flare boom. The final hookup and commissioning program started during the summer.
The production facility has been designed also to remove hydrogen sulfide. During recent development drilling, there has been more well-to-well variability in H2S concentrations than had been noted previously. Nexen is confident, however, that the existing equipment will allow it to manage this variability during the first two to three years of production. The company nevertheless is acquiring further reservoir data to determine whether additional kit might be needed. This could entail a further investment of around $250 million (£131 million).

Jeremy Beckman - Editor, Europe