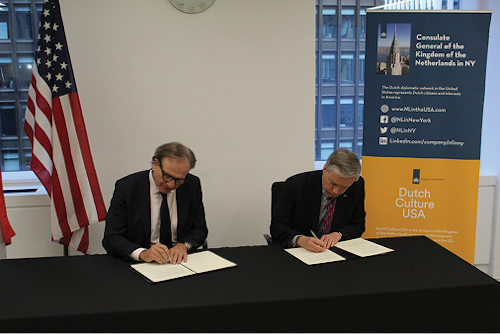 (Courtesy BOEM)
Offshore wind takes the next step globally
Global offshore wind cooperation took a step forward in early April as offshore wind regulators from around the world met as a group for the first time to discuss important issues related to this rapidly growing industry. Regulators for Australia, Canada, Denmark, Germany, The Netherlands, Norway, Scotland, the United Kingdom, and the United States gathered to share best practices and lessons learned with the goal of strengthening international cooperation in this important sector.
The Bureau of Ocean Energy Management (BOEM) hosted the first meeting of the Global Offshore Wind Regulators Forum in New York City, bringing together regulators from both experienced and emerging markets to share the latest regulatory and policy issues in offshore wind. The group discussed many topics, including offshore wind planning, leasing, and oversight. After yesterday's successful meeting, the forum intends to meet annually, with the next gathering to take place in Denmark in 2020.
BOEM's Acting Director Walter Cruickshank and the Consul General Dolph Hogewoning, on behalf of the Ministry of Foreign Affairs/Foreign Trade and Development Cooperation of the Kingdom of The Netherlands, signed a Memorandum of Understanding (MOU) to further strengthen bilateral cooperation on offshore wind. Recognizing the important role offshore wind plays in both jurisdictions, the MOU reinforces each country's commitment to share information, experiences, and best practices regarding offshore wind. The signing ceremony took place at the Consulate General of the Kingdom of The Netherlands in New York.
These initiatives build on long-standing collaborations already in place between BOEM and its international counterparts. In May, BOEM and the Kingdom of Denmark will mark three years of formal cooperation between their two governments on offshore wind.
Great Yarmouth wind farm gets marketing support
Great Yarmouth Borough Council has secured £98,000 from New Anglia Local Enterprise Partnership (LEP) toward a major branding and marketing campaign to position Great Yarmouth and Lowestoft as world leaders in offshore wind, maximizing visibility to potential investors and government.
A total of £98,000 of government funding has been secured from New Anglia LEP's Innovative Growth Fund for a two-year, £300,000 program, led by Great Yarmouth Borough Council in partnership with East Suffolk District Council, Norfolk County Council, and Suffolk County Council.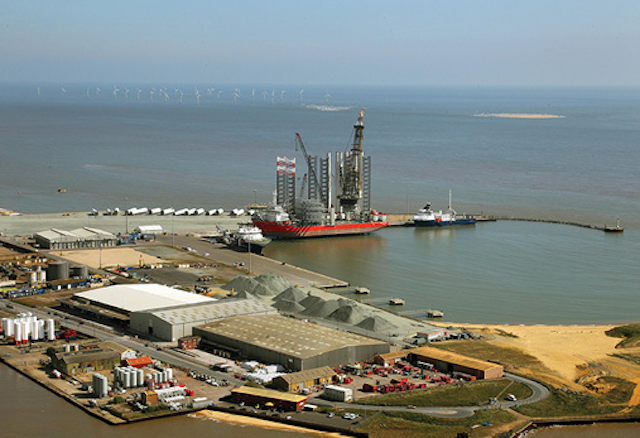 Offshore wind farm components in Great Yarmouth Outer Harbour.(Courtesy Mike Page)
The program will bring together private sector and other partners, such as the East of England Energy Group and the All Energy Industry Council, with shared, coherent branding, targeted, ongoing lobbying, promotion and representation at key conferences, trade shows, and events.
The aim is to build upon and continue existing successful work to attract new energy-related inward investment to the area, from major energy companies and supply chains, and ensure that leads to local opportunities: to high-value jobs, growth and private investment.
The news follows the recent announcement of the government's Offshore Wind Sector Deal, which was launched in Great Yarmouth and Lowestoft.
NOAA, BOEM, fishing industry sign MoU
NOAA Fisheries, BOEM, and the Responsible Offshore Development Alliance have signed a 10-year MOU that brings local and regional fishing interests together with federal regulators to collaborate on the science and process of offshore wind energy development on the Atlantic outer continental shelf.
Safe, reliable, and affordable domestic energy production powers the US economy, promotes jobs, and is critical to our nation's security. Offshore wind is an abundant, domestic energy resource that is close to major coastal load centers, providing an alternative to long-distance transmission or development of electricity generation in these land-constrained regions.