Increased seismic, studies shed new light on existing acreage
Jeremy Beckman
Editor, Europe
Basins in the eastern Mediterranean Sea are of increasing interest following the discovery of deepwater gas offshore Israel. However, some of the newly-licensed areas could be more prospective for oil, according to presentations at IRN's Oil & Gas International Licensing Summit in London earlier this year.
Interest is growing too in the North Atlantic since Statoil and Husky Energy proved oil earlier this decade in the deepwater Flemish Pass basin off Newfoundland & Labrador. The provincial government is now looking to ratchet up exploration much farther north, based partly on analysis of one of the world's largest-ever 2D seismic surveys over a frontier offshore province.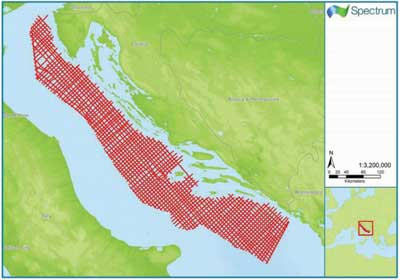 Seismic grid over acreage offshore Croatia. (Map courtesy Spectrum)
Croatia overhaul
Neil Hodgson, Spectrum ASA's executive vice president, Mediterranean and Middle East Region, outlined how his company supported Croatia and Lebanon's recent licensing rounds. Earlier this year, Croatia's government awarded licenses for 10 offshore exploration blocks to Marathon, OMV, Eni, Medoilgas Italia, and Croatian oil company INA.
Explorers new to this part of the Adriatic Sea, Hodgson said, are looking to find oil, not gas. To generate interest in the round, the government invited Spectrum to examine its existing petroleum database, including a review of its legacy seismic data. Much of this old 2D data was acquired by INA between the 1970s and 1990s, and most of it was in poor condition. INA was subsequently privatized and the data transferred to a new department.
"They didn't know what to do with the information," Hodgson explained, "so they asked us to build a data room for them, providing international oil companies with legacy data organized in such a way that it could be interpreted to establish basins and plays." Spectrum reprocessed some of the data, updating it with new algorithms to give a clearer picture of the geology, which Hodgson said makes it easier for oil companies to pinpoint source rocks and so on. Additionally, the company created a website for the government to promote the fact that it was planning a licensing round, inviting Croatian officials to various conferences to assist this process.
Aside from the legacy seismic, Spectrum scanned and re-digitized well logs from 51 offshore wells into a package that bidders could analyze. "We also acquired complementary new gravity and seep data sets [based on satellite images of thousands of seeps in an area covered by tourist boats]. This information is critical for licensing rounds, as current exploration involves a mixture of CSEM [controlled source electromagnetic], gravity, seep data, and remote sensing, all integrated to achieve a picture that makes interpretation more confident.
"We felt that most interested companies had looked at Croatia before. The issue in the past has been with the area's hydrocarbon system reservoir charge: If the industry believes there is not much potential, we won't get many IOCs knocking at the door. We had to create a narrative to address these facts, so we also acquired and interpreted nearly 15,000 km [9,321 mi] of new 2D seismic."
The resultant data allowed Spectrum to improve imaging of potentially prolific Triassic source rock – where this is deposited and where it appears to be mature, and to determine from this where structures might be present and how the basins might work. The company also used the new data to map out a Mesozoic carbonate platform play that had not been visible on the old INA seismic, and to explain why the earlier dry wells had missed their targets. If INA had been able to access this data, Hodgson said, it would have found hydrocarbons.
There are oilfields on the Italian side of the Adriatic, he pointed out; the prospects are closer to the source rocks on the Croatian side. Therefore, there is potential for oil in greater volumes. "Again, that insight is only available on the new data."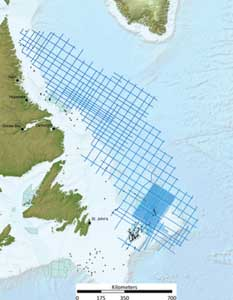 Map shows area offshore Newfoundland & Labrador covered by 2011-13 regional 2D seismic program. (Map courtesy Nalcor Energy)
Lebanon licensing preparations
Lebanon's government opened the country's first offshore licensing round in December 2012. No wells had previously been drilled off the country's shores, although the Lebanese offshore was covered extensively by a dense grid of 2D seismic. Some of this data was acquired by Spectrum in the early 2000s. The government also encouraged Spectrum and PGS to perform a multi-client 3D survey over 70% of the offshore area prior to opening the licensing round.
It is unusual to find this level of coverage in a frontier unexplored area, Hodgson said, "but the availability of 3D seismic definitely energizes a licensing round, knocking three years off the initial work program. Instead of spending the first term chasing seismic, they can prepare for drilling wells."
South of Lebanon, Noble Energy discovered the 8 to 9-tcf Tamar gas field in 2009 in the Israeli deepwater sector, followed by the 25-tcf Leviathan and 6-tcf Tanin finds. All of the wells drilled to date in the South Levantine basin have delivered very dry biogenic gas, as opposed to heavier thermogenic gas from source rocks, Hodgson explained.
"There is a feeling in the industry of, do we really want to find deep, dry gas in 2 km of water off Lebanon?," he asked.
"The Lebanese Petroleum Administration came together in 2012, but the license process could have been a turn-off to the IOCs if the perception was just of gas in really deepwater. So we felt it was our job to look at the hydrocarbon picture and generate a different story – again, we needed to create a narrative to capture the industry's imagination. The source rock for Tamar is Oligocene – it's too shallow to generate oil, although there is this capability deeper down. If you apply that picture to Lebanon, it may be that offshore oil is generated there."
Hodgson added: "If you follow the seismic reflectors northward Lebanon, the rocks are not 250 m [820 ft] thick, as in Tamar, but more like 1 km [0.6 mi] thick in the northern Levantine basin offshore Lebanon, where the quality is also best. The sands over Leviathan and Tamar both came from the source of the Nile River through the Nile Delta – they are very clean, filling up offshore Lebanon where the best reservoir in the area appears to be.
"In the southern half of the Lebanese offshore, in block 5, we have mapped 25 structures that are invisible on 2D, but clear on 3D seismic. That gives companies the chance to see big connected volumes of reservoirs. We can see potentially 30-60 tcf in these structures at Lower Miocene level, along with two large low-relief structures in the Upper Miocene."
PGS' seismic is over the near-shore Lebanese areas, from 50 to 1,100 m water depth (164-3,609 ft). Spectrum's coverage is over the western part, where water depths range from 1,100–1,500 m (3,609-4,921 ft). "It's not a huge difference in terms of exploration drilling, but that's where the big prospects are."
"In Croatia," Hodgson continued, "the Minister for the Economy wanted the licensing round to serve as a legacy to the country. So he put together a small, relatively young team to change the hydrocarbon law and set up an administrative body. They worked hard and made it happen. In Lebanon, the situation is much more complicated. The Lebanese Petroleum Administration comprises seven members, each from a different sect. Then the conflict in Syria arose, followed by the flight into Lebanon, a country of 2 million people, of 1.5 million Syrian refugees. That delayed the licensing round – each time the decrees were to be signed by Parliament, other matters arose that were much more important.
"Now Lebanon has stabilized, so the two decrees are back on the agenda for Parliament to sign and finally close the licensing round. That will energize the oil and gas community. They may also re-do the qualification exercise, giving opportunities to companies previously excluded from bidding. This situation has stopped Spectrum from promoting the round these past two years, but hopefully 2015 will be a success."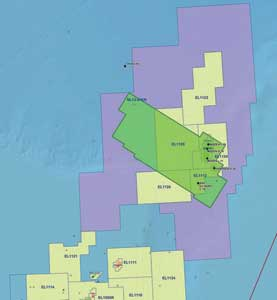 Area over eastern Newfoundland covered by EMGS 3D EM survey. (Image courtesy EMGS)
Iceland's experience
Iceland's Hydrocarbons Act became law in 2001 and the country opened its first offshore licensing round eight years later in January 2009, over areas in the north of the Dreki area offshore eastern Iceland. However, the deadline for applications of May 2009 proved to be too short – only two bids were submitted, and both were withdrawn shortly afterwards.
The timing was unfortunate, explained Thorarinn Sveinn Arnarson, hydrocarbon exploration manager for Iceland's National Energy Authority (NEA). "It coincided with the previous slump in the oil price, and it was a frontier area with only limited available data – at the time there were difficulties attracting funds for frontier exploration. We were also still working on our fiscal framework and got a lot of criticism for that, with no standard joint operating agreement [JOA] in place."
NEA sought meetings with applicants to ascertain what went wrong, and how it could improve the bid process in future. For the second Icelandic licensing round, NEA prepared a standard JOA, modeled on the Norwegian version, and rewrote the Hydrocarbons Act. "And we cooperated with Norway on gathering more data," Arnarson said. "So for the second round there was no pre-defined limit on the size of the license areas." Revised fiscal terms included a 5% levy on production and a corporate income tax rate of 20%.
During 2011, TGS performed a seabed sampling survey over the Jan Mayen Ridge area that connects Iceland with Norway. Results suggested evidence of a petroleum system, with seepage of Jurassic oil. This data was made available for the 2nd round over the North Dreki area, announced in late 2011, with the Norwegian state given the right to participate in 25% of any of the three licenses subsequently awarded in 2013.
The consortium of Faroe Petroleum, Petoro, and Iceland Petroleum has since relinquished license 2013/01, after completing the initial two-year work commitments. Their studies suggested that the presence of basalts on the eastern edge of the Dreki area would complicate imaging of underlying sedimentary sequences. However, Ithaca Energy and the Eykon Energy/CNOOC partnership are still committed to their work programs, and plan to acquire seismic this summer over their concessions under a vessel-share arrangement, according to Arnarson.
Newfoundland & Labrador
Nalcor Energy is the provincial energy company for the province of Newfoundland & Labrador. It holds minority interests in three of the main oilfield developments off Newfoundland – Hebron, White Rose, and Hibernia South Extension – and promotes oil and gas exploration in the province's established and emerging basins.
Dr. Richard Wright, Nalcor's exploration manager--oil and gas, said: "We are active at the front end of exploration, de-risking the province's basins and evaluating its offshore resources. We are not competing with private sector companies. If there is a discovery anywhere, Nalcor has the right to back in with 10%, so it is in our interest that the industry finds more, in order to maximize the province's resources."
Newfoundland & Labrador's offshore area extends over 1.5 million sq km (579,000 sq mi). To date, 150 exploration and appraisal wells have been drilled, of which 70 have been in the Jeanne d'Arc basin, where 3.5 Bbbl of discovered reserves are either in, or coming into production, Wright said. The province's other 20-plus basins are all frontier offshore plays, with until recently sparse seismic coverage. Nalcor has been evaluating all of them in terms of potential seal, trap and oil and gas charge, he added, via a series of commissioned studies designed to reduce the geological uncertainties.
One of Nalcor's first projects, in association with EADS Astrium, was a regional oil seep mapping and interpretation study in 2010 over the entire area offshore Newfoundland & Labrador south to Nova Scotia. This involved taking satellite images of natural seepage in various basins – not an easy task, with wind and waves constantly acting to disperse the various slicks, Wright pointed out.
Based on the results of this program and legacy gravity and magnetics data, Nalcor invested the following year in a three-year, multi-client 2D seismic survey with partners TGS and PGS which targeted the slope and deepwater plays off the Labrador Sea. The seismic lines were positioned to cover the areas of possible seepage highlighted in the Astrium survey, with data acquired from the shelf out to beyond the 200-nautical mile limit.
In 2012, the partners extended this survey to the southeast to cover the Orphan basin through the Flemish Pass to the outboard regions of the Flemish Cap. In addition, they acquired a 10 x 10-km (6.2 x 6.2-mi) detailed grid over the Flemish Pass in response to interest from the industry following the Statoil/Husky deepwater Mizzen oil discovery (the first oil find outside the Jeanne d'Arc basin, and subsequently followed by the same partnership's Bay du Nord and Harpoon discoveries). By the end of 2013 the seismic acquisition team had compiled 47,000 line km (29,204 mi) of new data in three seasons, one of the largest seismic surveys ever attempted, Wright claimed, and over an area 15% larger than the US Gulf of Mexico.
There has been further activity since, he added, with seismic boats operating offshore Labrador, eastern Newfoundland, and the region south to Nova Scotia. Last year, Nalcor started work with Norwegian contractor EMGS on a 13,500-sq km (5,212-sq mi) multi-client 3D electromagnetic campaign offshore eastern Newfoundland, designed in part to improve understanding of the geology in the vicinity of the recent discoveries.
According to Wright, Petro-Canada was the first to drill an exploration well in the Mizzen area in 2003, but did not have the benefit of long-offset seismic. Data from the recent surveys over Mizzen have revealed a strong anomaly down-dip.
"That caused consternation, because the resistivity was higher than the reading for the discovery location. The seismic amplitude appears to be stronger down-dip – there are lots of analogies in the North Sea," he said.
Analysis of the regional long-offset southern Labrador 2D data has identified a large tertiary dome feature at the mouth of a river system, and a tertiary fan in the same area of interest, Wright said. "There appear to be similar characteristics to the Forties field in the UK North Sea." The various campaigns have also brought to light analogies with the same play types that opened up deepwater Ghana, he added.
Late last year, Nalcor and Ikon Science Canada completed the first-ever regional pore pressure study for offshore Newfoundland & Labrador. This was designed to evaluate the eastern frontier slope and deepwater basins from northern Labrador to the Flemish Pass, including the newly discovered Chidley, Henley, and Holten basins in the Labrador Sea. Additionally, Nalcor and ION Geophysical are collaborating on a rock physics study, designed to help the industry identify potential hydrocarbon features and to distinguish sand from shale. Other planned studies include a seabed survey to understand heat flow imaging and to establish whether the known source rocks are related to oil seeps; a metocean study to examine wind, waves, currents, and iceberg movements; and analysis by Paris-based Beicip-Franlab of the various identified leads and prospects and the associated risks.
"The new data we've acquired represents the first large-scale program off eastern Canada for 25 years," Wright said, "but how do you assess the reservoirs over such a big area? We chose the deterministic route, focusing on smaller areas and their associated resource potential one at a time."
Last December, a consortium of ExxonMobil, Suncor Energy, and ConocoPhillips was awarded Parcel 1, a 266,139-ha (2,662-sq km) concession in Area C of the Flemish Pass basin, south of the discoveries, under the Canada-Newfoundland Labrador Offshore Petroleum Board (C-NLOPB) NL-13-01 bid round. Over the next few years, C-NLOPB plans a rolling cycle of parcel nomination and subsequent bid rounds over selected areas, with a longer schedule in the run-up to the awards in order to give the industry more time to assess the exploration potential.
In February, C-NLOPB invited nominations for a second sector in the Eastern Newfoundland Region (details of the first were announced last May). Also in February, the board said it had concluded its assessment of nominations for Sector NL01-LS in the Labrador South and Labrador Offshore areas, and anticipates issuing a call for bids in spring 2017.