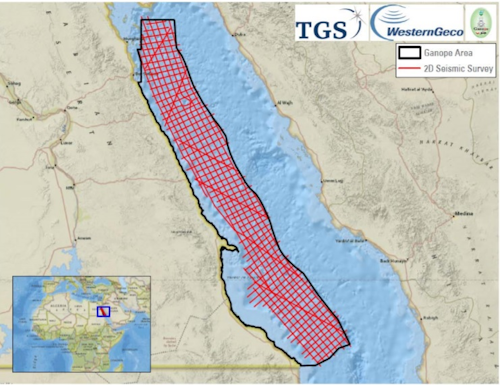 Offshore staff
ASKER, Norway – TGS has completed acquisition of a 10,000-km (6,214-mi) 2D long-offset, broadband multi-client seismic survey in the Egyptian Red Sea, and expects to deliver final data in December.
The project was part of an agreement with South Valley Egyptian Petroleum Holding Company (GANOPE) that givesSchlumberger and TGS a minimum 15-year period of exclusive multi-client rights in a ~70,000-sq km (27,027-sq mi) open offshore area in the Egyptian Red Sea.
Elsewhere, TGS has started acquiring 200,000 sq km (77,220 sq mi) of multi-beam data for its Brazil Southern Basins SeaSeep project, which will also include coring and geochemistry analysis.
The program is designed to mirror the recentGigante and Otos SeaSeep projects in the Gulf of Mexico, with final results to be released in late 2019.
05/09/2018